By Rachel reported on 7 July 2014
Keywords : Machicon
Singapore's first unique Japanese dating concept event takes on a different twist this year.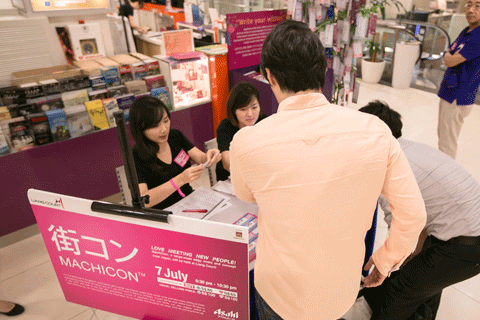 160 participants on its third run at Liang Court
On 7 July 2014, Machicon, a Japanese dating event organized by FOODRINK.Asia and HaiJapan.com, saw 160 participants on its third run at Liang Court shopping mall.
Participants this year have the good fortune of a convenient location at a central mall. With 12 different establishments involved in the event, everyone present was spoiled with choice as the cuisines offered ranged from Japanese, to Italian, to Vietnamese within the mall. This round of Machicon differed from the first two as it was held within close proximity of the participating outlets and there were more dining options to select from.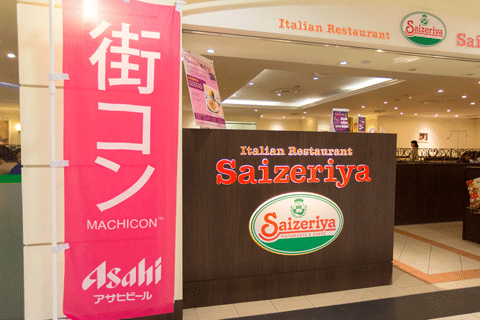 Japanese Italian "Saizeriya" also participated in Machicon.
The participating restaurants included Shin Yeh, Shakey's Pizza, Kensai, Trung Nguyen Café, Okinawan Diner, Nirai-Kanai, Yayoiken Japanese Restaurant, Ryoshi Sushi, Ikeikemaru Ryoshi Sushi, Ikeikemaru, Saizeriya, Tonkotsu Kazan Ramen, Dulcet & Studio, and Tamoya Udon.
The concept of the event was simple. Upon registration, participants will be visit their first restaurant which is allocated. Subsequently, at the end of every hour, participants got to decide their next destination where their meal was predetermined. Certain restaurants offered dishes to suit gender-specific palates. At each locale, participants got to mingle with others and bond over a complimentary pint of Asahi beer at each restaurant.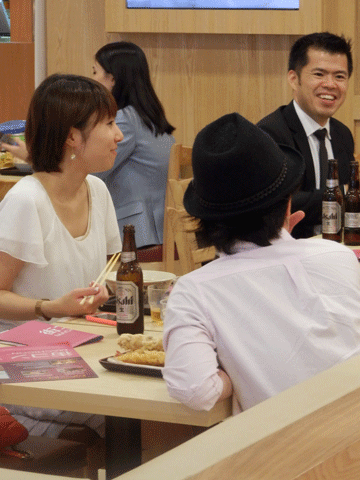 Enjoy with Asahi Super Dry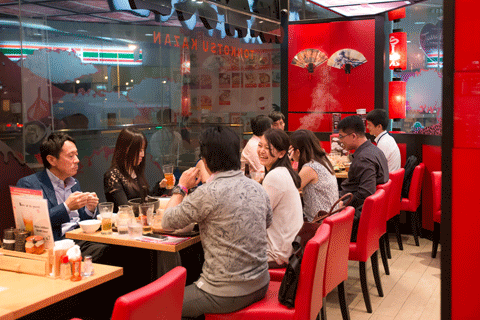 Mingle with others over Japanese cuisines mainly
This year's event was also different from the first two Machicons as more males signed up than females, perhaps attributing from the appealing draw that Machicon had previously attracted a majority of females.
Overall, the reception was positive. Jonathan Tan, 33, a financial advisor commented, "Machicon is an extremely good platform for people from many cultures to get to know each other and mingle. I signed up as I wanted to meet Japanese people in particular."
In addition, Miyoki Haruto, 29, a second-timer at Machicon said that she thoroughly enjoyed this year's event as she got to learn even more about the Singaporean culture through her interactions with both the male and female local participants.
Since its inception 25 February last year, Machicon has successfully ran three events and served up to a thousand people hoping to find friendship love, or a lasting professional network. For a night of delicious food and booze, early bird tickets go for SGD65 for women and SGD80 for men. The usual price is SGD100 for both sexes.
comments powered by

Disqus