November 28, 2013 02:58 PM
[Singapore]
By Craig Wilson Reported on November 13, 2013
Standing Sushi Bar focuses on providing high-quality traditional Japanese food at good value. Each piece is made by hand with fish that is sliced and prepared at each restaurant and therefore fresh fish sushi is available every day at an affordable price. Standing Sushi Bar has been around in Singapore for 4 years now and has been a consistent reliable source of good food differentiating itself from other many good Japanese restaurants in Singapore. It being around for a few years in the market delivering consistent quality makes it stand out from others in the market that quickly come and quickly go.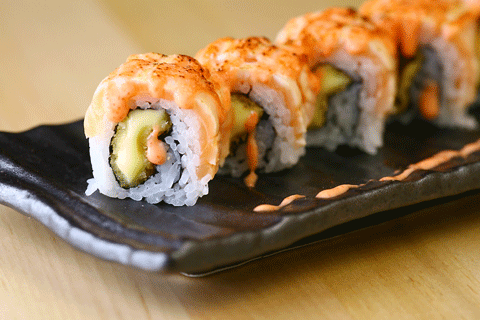 the Rockstar Roll
Standing Sushi Bar has another partner in the market called Tanuki Raw which is more of a fusion experience which makes it relatively straight forward in the market in being unique. Here you won't get the combination of Japanese-inspired sushi combined with the playfulness of American food-truck food (Cheeseburger sushi rolls, steak tartar donburi, etc.) anywhere else in the world let alone Singapore! The combination of a balcony looking over Orchard Road (the shopping paradise of Singapore) plus the unique food in the restaurant makes it a one-in-a-kind sort of place! Most other restaurants with balconies in the Orchard Road area are higher up but this restaurant balcony is on the 2nd floor which puts customers amidst the action of the busy shoppers.
Standing Sushi Bar has been around since August 2009, they have opened an outlet in Jakarta, Indonesia and are actively looking to expand in the region. They believe it is important for a Singapore chain to expand in the region as they feel Singapore is limiting due to the constraints of manpower and high overheads. Their main clientele is a mixture of expats and locals and visiting the Marina Bay Link Mall location they have the managerial crowd and at the Singapore Art Museum they have a wide range of people from the tourists to the local creative types that work in the area.
Local favourites and signature dishes are the sushi and sashimi but more specifically is the salmon sashimi and the Rockstar Roll (sushi roll with seared salmon over mozzarella cheese with mentaiko sauce).
Adjusting to the specific identity of each location, starting at Raffles Place (where executives can enjoy a quick lunch hour meal), Marina Bay Financial Centre (for quick and fast lunch), Ocean Financial Centre (great food for the fast business diner) to the Queen Street (Art Museum for a more relaxed and to take your time) they seem to handle it all even to the style of a family-orientated casual Japanese restaurant.
They believe competition will continue to grow as new players are coming in all the time and lots of existing restaurants closing. This is why Standing Sushi Bar will continue to deliver quality experiences to keep up with their reputation as a long time player in the field. Tanuki Raw offers a new concept very different from any other players in the market. Building new dishes by utilizing Japanese ingredients as an inspiration is what they would like to see.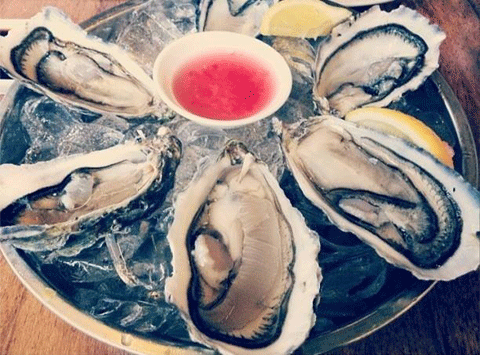 Fresh Oysters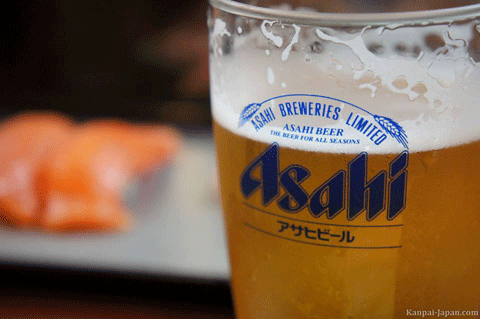 Asahi beer
Participating in Foodrink Singapore Pte. Ltd.'s Machicon some months ago the promotions available have been: Tanuki Raw happy hour S$2 fresh oysters, S$5 fresh salmon sashimi, S$10 strong martinis; Standing Sushi Bar Queens Street Mon-Thurs (check website) & Marina Bay Link Mall evening deal 5-9pm S$5 salmon sashimi, Asahi beer, others.
At Standing Sushi Bar they keep it as authentic as possible and atmospherically with the décor, music, etc., not strictly Japanese but focused on recreating traditional Japanese meals. At Tanuki Raw they are more playful and therefore the food would probably not be found in Japan or for that matter anywhere else in the world!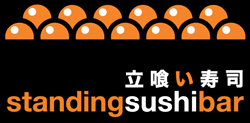 8 Queen Street, 8A Marina Boulevard, Singapore 188535
Tel.: +65 6333 1335
comments powered by

Disqus