November 22, 2013 08:18 PM
[Singapore]
By Craig Wilson Reported on October 29, 2013
Considering themselves a more Japanese-inspired establishment in a non-Japanese setting likened by their clientele to a basement joint in New York, US or a hole-in-wall down some alleyway in Melbourne, Australia this place is new and recently established. Not proclaiming themselves to serve out of the world food or fusion cuisine that none has ever seen but simple and accessible and well accompanied by beer, wine, sake in an ambient, cosy and warm setting.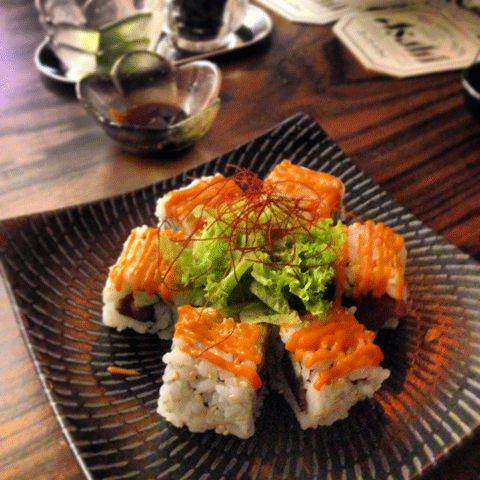 Spicymaguromaki
Established this year (2013) on the Lover's Cupid Valentines Day of the 14th February and with a newly started scaled down version of the Flying Squirrel and 'spin-off' called 'Workshop' at Alexandra Village specializing in simple food, coffee, pastry and alcoholic beverages. They are observing the F&B scene but as to further or regional expansion they are relatively new with there first F&B venture so they will take it step by step although the Flying Squirrel was conceptualized within a few months from discussing it over a few drinks.
There is a nice mixture of all demographics at the Flying Squirrel with personal Japanese friends regularly loving the good sushi / sashimi and expatriates working in the area who they've all got to know (even down to their preferred seats and regular orders). The Singaporean clientele are a mixture of people working in the area and some personal friends striking a good balance of a great mix of friendly down-to-earth people at the Flying Squirrel.
The local favourites and signature dishes are the TFS Maki and TFS Chirashi. The former a maki roll (cut pieces topped with different kinds of sashimi (eg. Hotate (scallop), Uni (sea-urchin), Amaebi (sweet shrimp) and more)) the latter a ball of rice topped with generous amounts of sashimi (eg. Hotate (scallop), Tako (octopus), Maguro (tuna), salmon and a long piece of Anago (seawater eel)).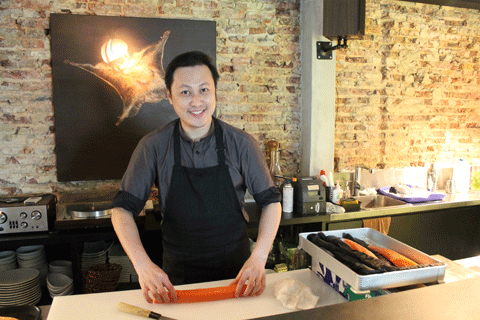 Headchef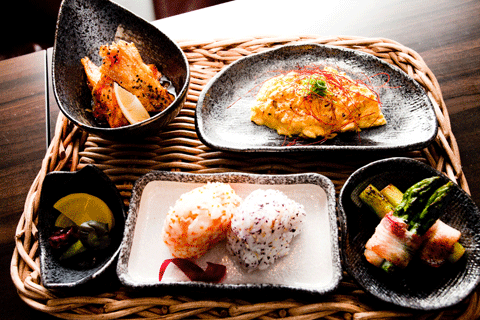 Chefbento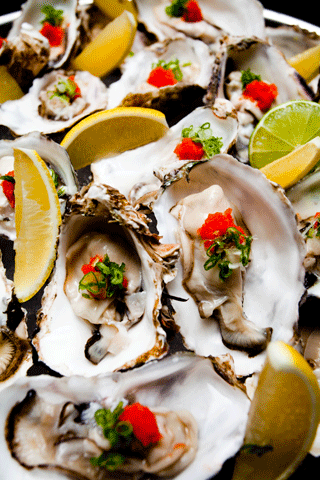 Freshoysters
Their unique selling point is for us to imagine a combination of good quality Japanese food in a relaxed non-pretentious NY setting with alternative pop/rock music with the occasional dose of old school hip-hop playing in the background. To top it off by some good Japanese beer or sake and an experience they can certainly offer and unlike any other place in Singapore to be seen. They don't have to make too much effort and this makes people feel more comfortable!
They believed it was a big risk to take a spot on Amoy St. and were worried about it's visibility but they felt that Singapore was now ready for a hole-in-the-wall concept that is quite well known in the overseas markets. The premises is small and only sits 30 places but fits into their strategy quite nicely letting people find out about it and then to tell their friends about this recent discovery!
The Japanese F&B market will continue to grow they believe and Japanese food is getting more and more popular as evident from the wide demographics of people that dine at the Flying Squirrel. They feel if new concepts come up in Singapore they are not out there to compete with them but the place is an extension of themselves and their personalities right down to the décor, food and how the staff conduct themselves and this is what they feel makes them unique and one of a kind. An introduction into new food and experiences will be demonstrated as they go along but they deeply mean that the place is a reflection of themselves as owners and they are not out to battle competition.
Tying up with
Hungrygowhere
and
Survival Chic
to announce events and alike they are always up for a game or a good party and have had some sake tasting events. Halloween themed set meals, holiday celebrations and likewise, it's all quite random which they like to keep as it's spontaneous.
They feel they can be authentic and similar to Japanese home cuisine and have some traditional cuts of sashimi and sushi but also their own original Maki creations such as the TFS Maki, Hana Maki and Spicy Maguro Maki. Dinner bites consist of truffled ebi fry, uni shooters, tangy udon pasta, Wagyu beef pates, foie gras aglio olio made with Ramen noodles and alike. For lovers of raw food it's certainly authentic enough they have told me and they consider that they do have some stuff inspired by Japanese cuisine with a dash of their own twist thrown in!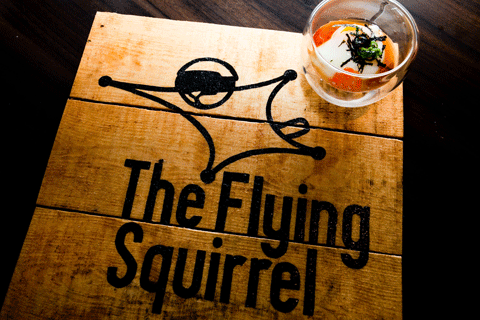 92 Amoy Street Singapore 069911
Tel.: +65 6226 2203
comments powered by

Disqus