November 7, 2013 01:27 PM
[Singapore]
By Craig Wilson Reported on October 29, 2013
Keywords : IKYU
IKYU is anything but typical. IKYU apposes Japanese restaurants from its concept-cuisine-post apocalyptic décor and rooted in age-old artisanal traditions. Owing to Chef Seki's artistic talent, mind and international experience IKYU boasts also an avant-garde and cosmopolitan feel to his establishment from 3 years as Chef de Cuisine at the renowned restaurant Hide Yamamoto at the Shoppes at Marina Bay Sands.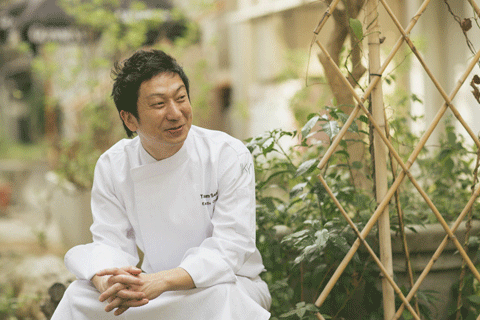 Chef Seki Takuma
IKYU discovers at a touch with its Japanese contemporary appeal. Chef Seki was schooled in classical Japanese cuisine and has worked in the US, France and Japan and demonstrates his pronounced western influences with the Japanese culinary idiom. Ranging from delectable salads to grilled and fried seafood to hearty meats and the freshness of sashimi and amazing nigiris and rolls the menu is broad, tantalizing and appealing.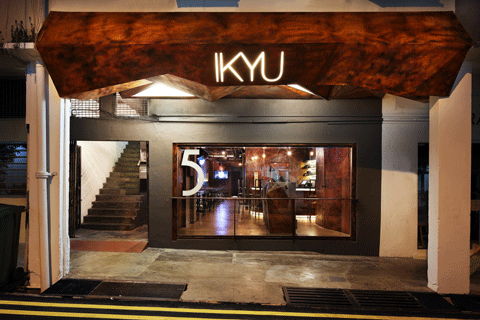 IKYU
The establishment of IKYU opened in Singapore officially in September 2013 and yes they agree that if the right opportunities come along they will consider expanding their business in Singapore and in the region. Their clients are a mixture of locals and expatriates (including Japanese) and the local market makes up a large proportion of their diners.
Local favourites and signature dishes are as follows. Clients enjoy the Omaskase 'leave it to the chef' menu which features seasonal changes. Other signature dishes include the Robata-grill (charcoal grill) sirloin steak using Miyazaki beef (the champions of all champions). Miyasaki Champion beef is an exclusive feature on the IKYU menu list. Considered the finest beef in Japan winning multiple national competitions (eg. National Competitive Exhibition of Wagyu (Zenkoku Wagyu Noryoku Kyoshinaki) better known as the Wagyu Olympics - twice unprecedented consecutive winner)! Other favourites include the Chefs Charcoal Edmame with Truffle / Sea Salt. Customers can also enjoy fresh sashimi, nigiri, sushi, and aburi sushi. Fresh fish arrives 3 times a week from the Tsukiji market (Japan). Also receiving wonderful reviews from the diners is the Iberico Pork Spare Rib Oriental Style marinated in Sake. Must tries is the Wasabi Cheesecake and Niigata rice ice-cream.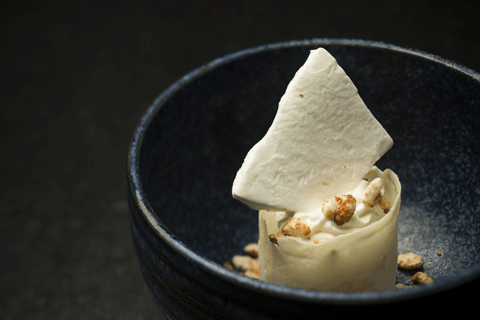 Dessert Sake Ice
IKYU seeks the perfect balance between simplicity and complexity with food saturated in Japanese tradition and the chef's 'touch of discovery'. Chef Seki has reinvented and revitalized the soul of Japanese food. Defying limits and definitions this establishment puts the surprise and wonder back into eating. This same philosophy transcends through the restaurant design and offering something out of the ordinary. Chef Seki is constantly seeking the best ingredients focusing more on provenance. Miyazaki Champion Beef and the Niigata Koshihikari rice (known as the 'jewel rice' in Japan - resilient, fragrant and delicate) are examples of this. Chef Seki believes 'cooking from the heart' and that the 'customers must be happy'.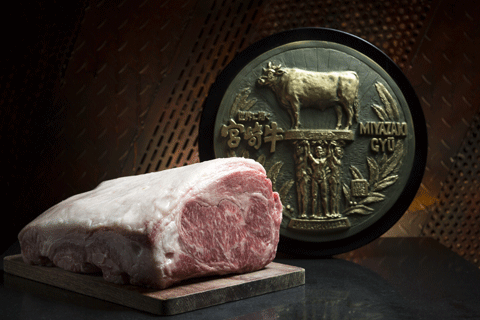 Miyazaki Champion Beef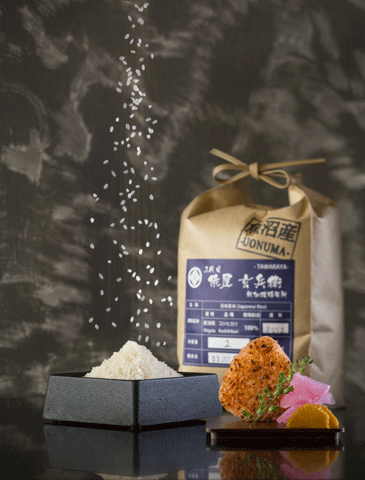 Niigata rice
The location agrees with the philosophy above. IKYU means 'take a break' where customers can relax and have a great time. Located just outside the CBD area is convenient for diners to drop in for lunch and / or after work taking a break from the hustle and bustle of the busy city area. The location has transformed from an old estate into much more of a hipster hot and new neighbourhood fitting with 'expecting the unexpected'. Also it being located outside the city area means that they can concentrate on bringing in the finest freshest Japanese ingredients at value prices for the diners.
They believe that competition will continue to grow and then many concepts are still under development. IKYU's 'traditional menu' is rooted and authentic and 80% of their ingredients are air-flown fresh 3 times a week from Japan.
At IKYU they organize monthly and quarterly festivities. In August 2013 they celebrated the official launch of the Miyazaki Champion Beef featuring a 2 week 5 course beef menu, 5 different cuts prepared in 5 different ways (Shabu Shabu rib-eye, Carpaccio tenderloin, Karubi Stew of short rib, Robata grill (charcoal grill) sirloin and aburi nigiri and maki rib-eye cap. 13th-30th November will be the special menu 'Gourmet Traveller through the Best of Japan' (Best ingredients from 15 Japanese Prefectures across geographical Japan - from Hokkaido-Kagoshima-Okinawa, the finest, best and famous). Over the Christmas and New Year period there will be the 'Festive Winter Wonderland and its 8 course Omakase menu.
5 Yong Siak Street Singapore 168643
Tel.: +65 9663 2003
comments powered by

Disqus