September 12, 2013 07:07 PM
[Singapore]
By Craig Wilson Reported on August 30, 2013
Keywords : Brewing
After some investigations into Home Brewing in Singapore I read up information on
Home Brew Singapore
and
iBrew Singapore
who are the 2 biggest home brew centres in Singapore. In this cosmopolitan city of SE Asia you do not require a license to brew your own beer up to 30 litres at one time for personal consumption. After this limit you will require a manufacturers license.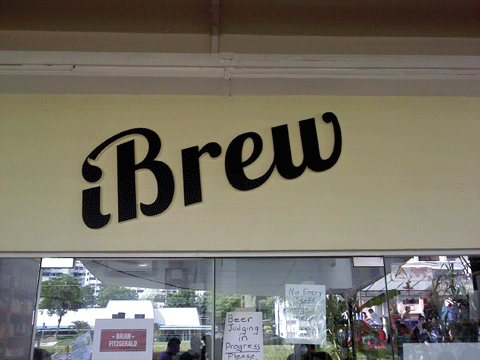 iBrew
Singapore has become enthusiastic about home brews and craft beers as the local beer has a lot to be desired by these enthusiasts. I have even noticed that there is such a group on MeetUp (Singapore's site for meeting people with the same interests and goals) that there is a home brew group which could be good learning for beginners and even the more experienced!
Next door to iBrew is the Craft Beer Shop which tickles all your true desires with a great selection of beers to choose from while you contemplate brewing your own beer a few doors down at the iBrew shop.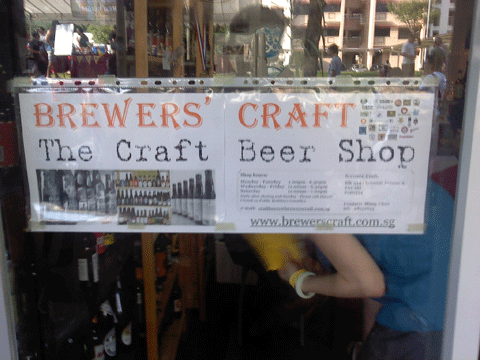 Craft Beer Shop
The iBrew Challenge is quite a small event but has a unique mixture of young and middle aged locals and foreigners (some with families). A small area in front of Block 354, Clementi Avenue 2 (a little difficult to find so follow the wondering expat / foreigner) is used for this event.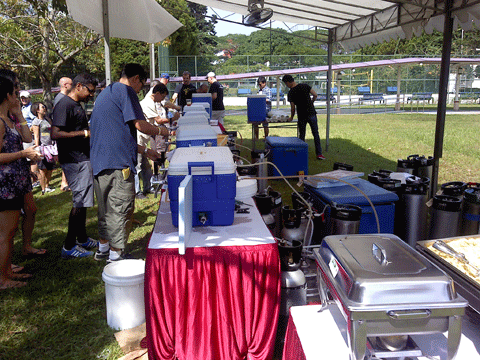 iBrew Challenge 2013 marquee
In front was a marquee and centre stage and lined along the shop front were tables and chairs occupied by people tucking into their beers and munching on food supplied (S$6 for 2 grilled sausages from the stand or S$10 for freshly prepared pork knuckle from the back of the iBrew shop). There was also Oxtail Stew and Mash Potato available.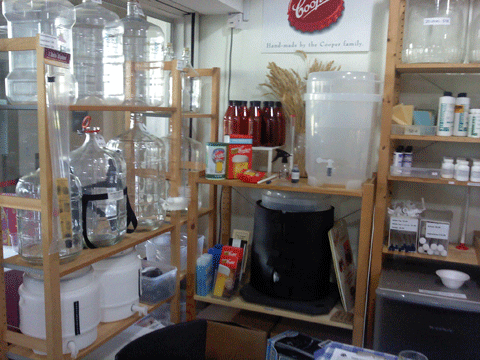 iBrew Shop
I was quite thirsty so after registering I came across a stall under the shelter of the shops serving Lime & Fennel and Ginger Ale ice cold drinks from a local concoctionist and was quite refreshed to then try some grilled sausages with French mustard. I then took a stab at this local Hitachino Nest Amber Ale 5.5% from Eastern Craft Distributor who I was told also have a local restaurant. This had good bite.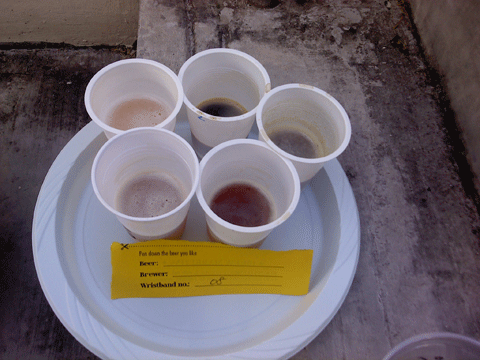 Top Keg
Then followed the Top Keg competition where you should choose on the cut out slip on your registration leaflet which you thought was the best out of the 5 Top Kegs. The kegs were put out and drinking cups were numbered 1 to 5 and you were given a small plate with your selection to sample. I chose the Average Day Porter 6% from John Wei (had a deep rich and subtle taste) and my 2nd personal choice was No Worries IPA 6% by Sean Fowler (a nice drinkable note to it), but the best beer chosen was Oktoberfest 5.2% by Craig Evenson which I didn't think was all that special and possibly too commercial.
They then had the speed drinking contest on the centre stage which was championed by the one who stepped up first. His record was 2.63 secs only to be broken at his 2nd round champion finale of 2.52 secs. The majority of the other candidates were between 3-4 secs with a couple of dismal performances.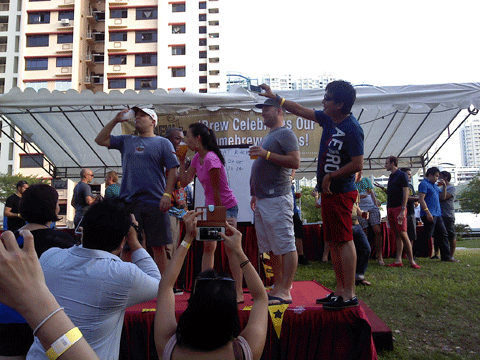 Winners of the Boat Race
There was then the boat race which consisted of 4 teams out of a maximum of 5 teams (2 men 1 woman) where the best was the 3rd team closely challenged by an all Singapore Asian team (the last team to compete).
Raymond and his wife are the founders of iBrew Singapore and I will hopefully be looking into purchasing an iBrew simple kit from them for $160 which can make 2 batches and be further used for further home brewing.
Blk 354, Clementi Avenue 2, #01-195 Singapore 120354
Tel.: +65 9002 0705
Opening Hours: Weds-Sat: 10am-6pm; Sun: 10am-2pm; Closed Mon-Tues
comments powered by

Disqus