September 6, 2013 01:08 PM
[Singapore]
By Craig Wilson Reported on August 31, 2013
Keywords : Survival Chic
I found Survival Chic through
Enternships: Internships
when I was looking for some exciting additional activities which I could get involved in Singapore and in the region through my old university in the UK careers page. They were offering an internship in Singapore and instead of getting the response about the internship they were glad to help me with the writing of this report.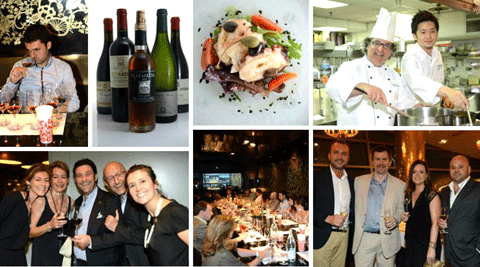 Wine Tasting
Survival Chic has just celebrated there 3rd year anniversary and for the past 3 years they have been published in many local and international publications including the Straits Times, the Business Times and Challenges (France). They offer short article write-ups including suitable photos which can be on Survival Chic itself or on food, wine, arts, leisure or the branding scene in Singapore or even on the topic of entrepreneurship.
The founders of Survival Chic Christophe and Virginia are totally crazy about food, wine, arts and events with a twist. After visiting 6 continents to make ends meet, living and working they have discovered that it takes effort to know the in's and out's of the best lifestyle experiences in the city. Friends-of-friends made their requests requesting for a 'survival kit' in smart cosmopolitan areas everywhere, a sort of shortcut to their minimum free time available. The 1yr MBA project at INSEAD Singapore gave birth to Survival Chic.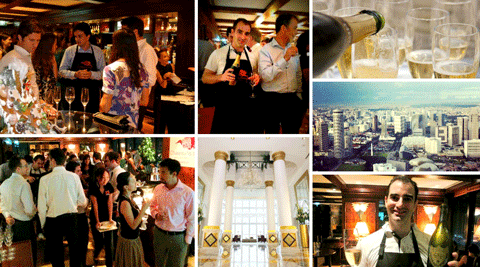 Champagne Tasting at the Tower Club
There were questions from Singaporeans and Expats whether this would work in Singapore and questioned the depth, breadth and quality of the lifestyle in this small city but over 3yrs Survival Chic has 20,000 members and followers, 600 suppliers and partners and 5,300 FB fans! They are also due to open their 2nd office in Cambodia.
They boast these important points:
•
3yr old lifestyle start-up created through an INSEAD project from founders that have lived, worked, traveled, wined & dined through 6 different continents.
•
Composed of a 'Chic Survival Kit' for clients who are busy executives and global cosmopolitans wanting to the get the most out of Singapore and SE Asia.
•
SC Members enjoy 30% discount on 50 of the top restaurants and complimentary and VIP invites to special events (about 30-40 per week).
•
Members and databases include 20,000+ executives and socialites from over 50 nations with ages ranging from 25-60.
•
Over 3yrs SC Members have socialized with icons such as Sharon Stone, Richard Branson, Tom Hanks, Robert Parker, Sophie Marceau and Michelin Star Chefs Ferran Adria and Guy Savoy.
•
SC has been featured in publications which include the Straits Times, the Business Times, Challenges, Affluent, Expat Living, and 'The Good Life' radio 938 Live.
•
SC creates originality, upscale and tailor-made events for such clients as Apple, the Dutch Royal House, Coca-Cola, Veolia, Cornell and the US Embassy.
•
Due to SC's Corporate Social Responsibility Program 330+ entrepreneurs are making a change in developing countries around the world.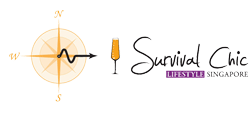 16 Raffles Quay, #33-03 Singapore 048581
Tel.: +65 8157 5910
comments powered by

Disqus