August 5, 2013 12:17 PM
[Singapore]
By Joyce Tan Reported on July 31, 2013
Keywords : smoked salmon
From what started as a method of preserving meat since time immemorial, the smoked salmon has become one of the world's favourite epicurean dishes, you'll be enticed to try! It's silky and smooth texture makes it chewy, and light hints of salt can be picked up, especially if your taste buds are taste-sensitive. Appearance wise, the smoked salmon has a distinct orange colour. In most cities and cultures, people prefer to have their meats cooked thoroughly so they can enjoy the strong wood-fire taste it exudes.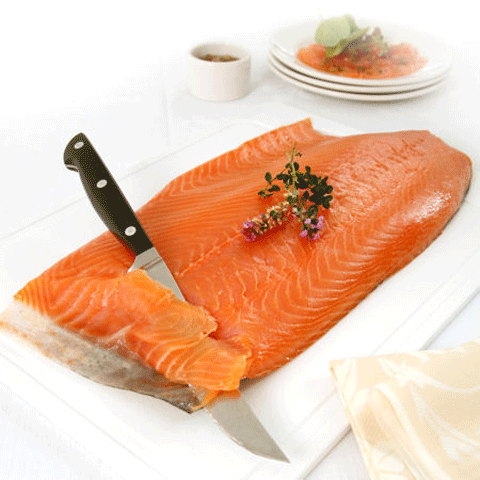 In Singapore, smoked salmon is considered a high-end dish worthy of both the middle- and upper-income man's palate. Then again, anyone is free to savour this exquisite delicacy as long they are prepared to pay. But it's not just a dish fit for a king - - Singaporeans of all stripes are willing to spend their dollars and cents on their favourite comfort foods, including smoked salmon. Here, we take a visit to three of Singapore's most affordable food places and restaurants to sample the fare.
Three Smoky Stops in Singapore
Ikea
Swedish furniture giant Ikea sure knows how to capture Singaporeans' appetite with its massive food centre, also known as either 'The Swedish Food Market', or 'IKEA Foods'. Chow down on Swedish-style smoked salmon and other tasty Swedish food products in a cosy atmosphere.
What to Expect: A healthy, rather, hearty serving of smoked salmon fillets with fresh leafy greens are arranged on a large plate in a neat manner. For salmon lovers, IKEA's smoked salmon will satisfy your fishy cravings.
Gourmet Plus
Situated at the corner of a two-storey shop house along Frankel Avenue, Gourmet Plus is new kid on the block; the restaurant is capable of whipping up tantalising French delicacies which cater to the taste buds of both Singaporeans and tourists. If you happen to be around the vicinity, do pop by the restaurant and try its smoked salmon and rocket sandwich on walnut bread.
What to Expect
: Salmon, salmon and more salmon, freshly smoked and served with leafy greens to form a mini mountain! A slice of walnut bread placed on its peak makes this dish look interesting.
Marche Bar & Bistro
While strolling around City Hall, you may have caught a glimpse of this newly opened restaurant and watering hole. Here, the food served is to die-for, particularly the Norwegian smoked salmon dishes.
What to Expect: Sweet and succulent, the restaurant and watering hole's Norwegian smoked salmon is cooked to perfection, you can sample its strong wood-fire taste with every bite.
comments powered by

Disqus