When you see long long queue with young girls in any town in Japan, there is famous Hawaiian style pancake restaurant on top of the queue. As our media introduced earlier, while Japanese girls are going crazy about hotcakes, one of the famous Hawaiian Pancake restaurant "Slappy Cakes" has joined Singapore scene this July. Their unique selling point is its D.I.Y Pancakes with personal choice of toppings. They are introducing the culture of D.I.Y cooking at restaurants from Japan as well a food art.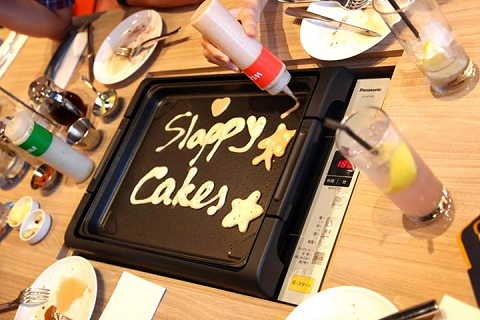 Enjoyment spread by itself to make pancakes.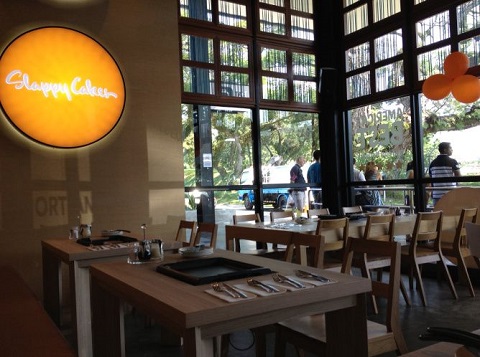 "Slappy Cakes" store.
Headquater "Adam Furerer" from Portland, U.S.A had gained its popularity as an "All Day Breakfast" restaurant. Japanese company, Milworks Ltd., had contracted for Asia market master franchising. After opening in Tokyo, followed by Indonesia, Philipine and on 12th July, they had joined Singapore market. Location chosen in Singapore is renewed shopping center "The Grand Stand" at horse racing course, where mainly focused on restaurant and food offering variety. The group had contracted franchising contract with successful Chinese restaurant chain company owned by local, Tung Lok who owns more than 40 outlets of Chinese cuisines in Indonesia, China, India, Japan and of course, Singapore. There is Tung Lok Peking duck restaurant beside Slappy Cakes.
Goodness of "Slappy Cakes" is the all day breakfast menu starts from 9 a.m. in the morning till 10 p.m. in the night. Also their unique selling point is its D.I.Y pancake. The restaurant offers perfectly warmed up hot plate, all the cooking necessary instruments and menu of butters and toppings. Not like Japan, where D.I.Y cooking at restaurant is commonly seen such as Japanese BBQ and Okonomiyaki pancake. Cooking your own food by your hand at restaurant is offering unique and also include artistic contents to the total experience to Asian customer. This fun dining concept had widely accepted and praised by Philippine media when they opened their store there.
American Pop Signboard Placed in front of the Restaurant.
Their menu starts off with butter which creates pancake base. There are 5 choices of buttermilk, whole grain, peanut butter, chocolate and zucchini. We had chosen recommended buttermilk and chocolate. There are 13 kinds of sweet choices including fresh fruits and chocolate chips, addition to that, there are 8 kinds of food topping such as pork sausage and crispy bacons. Topping on jams, honey and whip cream as a extra happiness. You can choose any topping as much and as you like.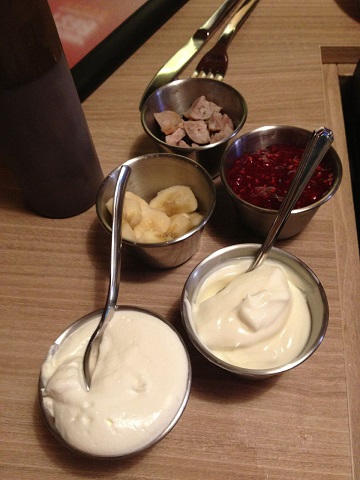 I choose the topping.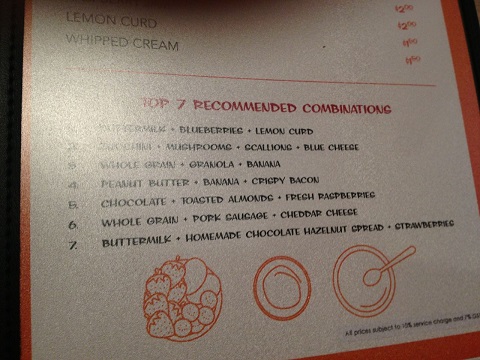 Top 7 Recommended Combination on the menu
We had decided to cook 2 very different pancakes. One is on chocolate butter sided by bananas sweeten with raspberry jam and whip cream. Second one is buttermilk with pork sausage and yoghurt.
Casual and happy mood restaurant is decorated with cute pictures of pancake towers and pop illustrations.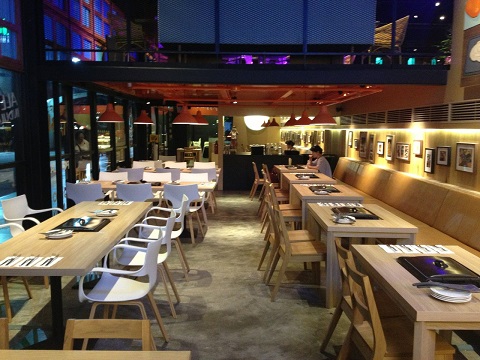 Store a pop.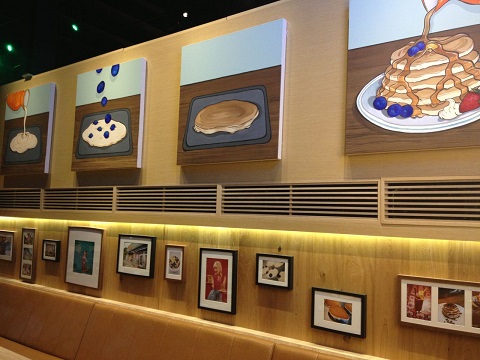 The illustration will decorated, I direct a pretty atmosphere.
The butter is served in tube bottle which is considered for customers to easily draw on the hot plates in a desired shape or art. Hotplate is heated at 180 degrees. As they make butter soft enough to fit in the tube and possibly the way they preserve, butter is almost in liquid form that made it very difficult to make expected fat pancake, rather flat and big round.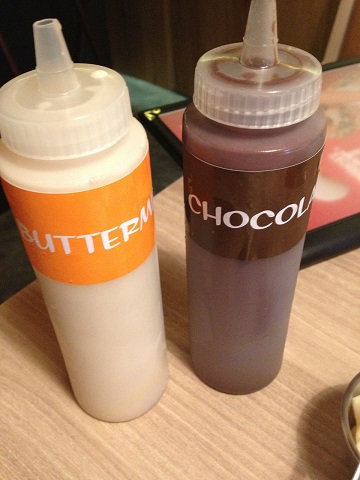 Because the tube type, it is easy to respond to make the various forms.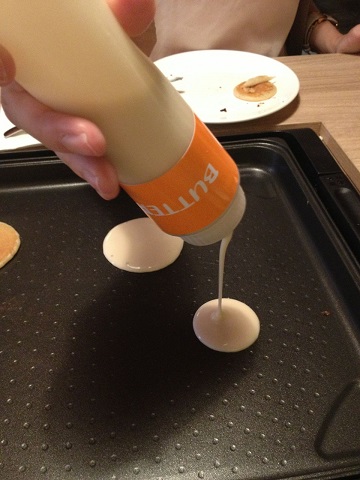 It is hard to make a thick pancake fluffy.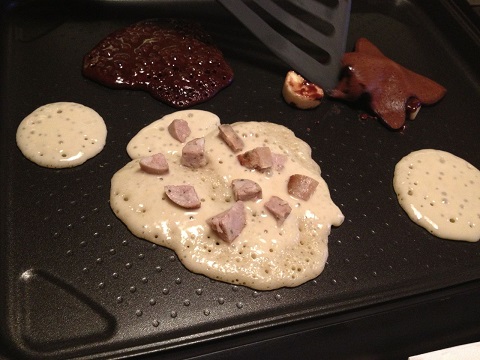 Quiet challenging!
When we face the actual butter on the hotplate, Anybody would imagine to create something cute and artful but it was pretty challenging. Also, idea lacking. It may be helpful if there is any idea giving pictures or illustration to remain the motive in customer's mind.
Menu is only pancakes. Drink menu offers original lemonade and coffee, teas. There a little realize that there is no ice-cream offered which is a must-have for dessert lovers especially all year summer country like Singapore. Since they are open at dinner timing, it will be even better to offer casual dishes such as salad or light appetizers in order to grab dinner customers in with extra sales.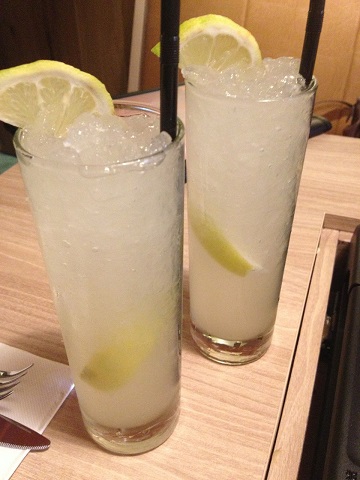 Original Lemonade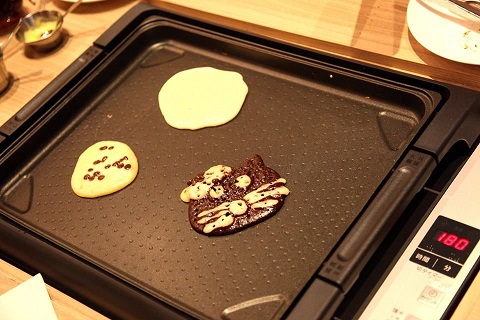 I play with decoration.
Pancake impression can never go out from breakfast. Light and casual meal consumed morning. Or else, pancake should be cute and photogenic looking dessert. Customers would naturally go for stomach fulfilling meal after lunch time. If they could improve on its menu by having side dishes and more toppings to meet all time crave, they could better utilize their business hour. There are obvious better choice restaurants in neighbor when customers visited the mall hungry. If they are intending to specialize in dessert shop, ice-cream and bunch of fruits choices are must-have for country like Singapore or even in Indonesia or Philippines. And its cuteness of the look plays extremely important for dessert shops especially to attract young ladies. Exaggerated toppings of colorful fruits and whipped creams made it so photogenic however D.I.Y. concept made it harder to attract customer visually.
comments powered by

Disqus