HortPark is a horticultural paradise, nestled amongst this beautiful park is the Vineyard comprising of the culinary best of three concepts from Creative Eateries featuring Thai, Italian and French cuisine with over 100 new and old world wine labels. While the adults enjoy the fine cuisine there is a dedicated kids corner on the weekend full of activities.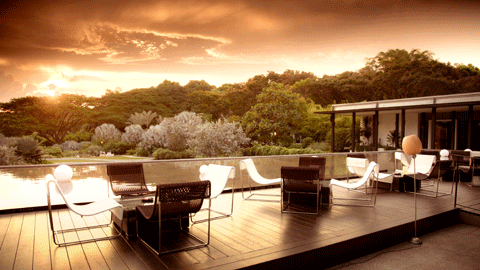 Vineyard at Hort Park waterfront
Capturing the outdoor culture of Australia's famous seafood markets and the freshest catch of the day on display and perhaps purchased or served at the restaurants at the jetty is the concept of the Fremantle Seafood Restaurant to bring Singaporeans closer to the famed Fremantle harbour port. Variety is the spice of life where chefs find inventive ways of serving the catch of the week. Flown in catches 3 times a week from Australia to Alaska you have much to choose from.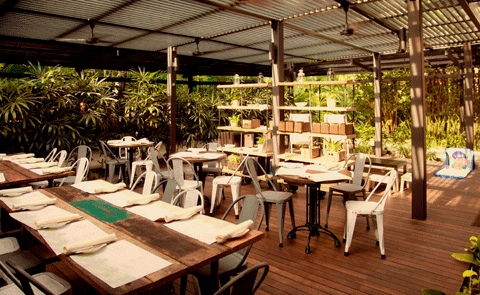 Vineyard at Hort Park patio
Hot Stones Steak and Seafood Restaurants serves your food preserving sealed natural juices on serpentine volcanic stone slabs. Prided in freshness of its produce, the freshness does most of the talking when it comes to this dining concept. Serving premium meats flown in from the US with a selection of chicken, pork, beef, lamb, fish, seafood and vegetables with specialties including Wagyu Beef selection and Kurobuta Pork (Berkshire Black Pig).
At Fremantle and Hot Stones there is a good mix of locals and tourists (mostly adults during the weekdays and families during the weekends). At Vineyard the clientele is mostly local, executives having lunch meetings and mothers with their children during lunch. For dinner the ages groups are 20-30 or 40-60. Vineyard is frequently used for special functions such as for birthdays and weddings.

Fremantle Seafood Market outdoor dining
The unique selling point for Fremantle is the outdoor experience by the waterfront while enjoying fresh seafood from Alaska, Australia and the Atlantic. Hot Stones uniqueness is the methods of cooking on serpentine volcanic stone slabs and the outdoor experience ensures that the smoke from the slabs is not a bother. Vineyard's pluses are the complementation of outdoor experience with the food and the wine. Diners can choose to face the waterfront and greenery at the patio or the indoor air-conditioned environment supplemented by the fireplace.
Creative Eateries are developing new concepts such as executive lunches and ice cream promotions for the children and have just recently changed their wine list for Hot Stones and Vineyard. If a new location is offered they will see if it is in their interest to tap into and develop a new concept to suit this location. The busiest times are usually dinner and promotions are during the less busy times (i.e. lunch and from 5pm-7.30pm).
33 Hyderabad Road HortPark #02-02 Singapore 1196578
Tel.: +65 6479 79777
Clarke Quay Blk 3E River Valley Road #01-05/06 Traders' Market Singapore 179024
Tel.: +65 6337 1838
Clarke Quay 3D River Valley Road #01-06, Stophouse Row Singapore 179023
Tel.: +65 6333 4868
comments powered by

Disqus