As our media has been continuously introducing how many hundreds of Ramen restaurants are existing in Singapore. And again, there is another new Tonkotsu Ramen restaurant "KISEKI" is opened at competitive district on 2nd July 2013. Singapore's business district of Tanjong Pager welcomed another ramen restaurant to join in and their opening promotion is giving out free ramen bowl if you tell the staff you saw on facebook. Of course, any topping had given free too!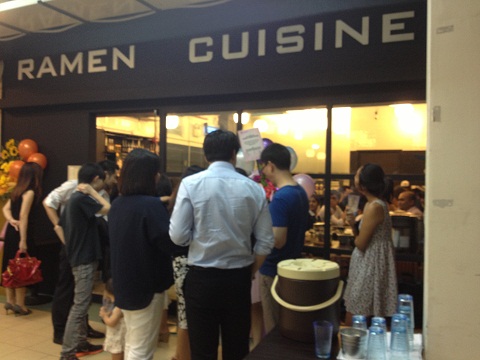 Tonkotsu Ramen restaurant "KISEKI"
Like anybody will grab such a good deal, long queue on lunch time and dinner time. Ice-water was placed for appreciating queuing on such a hot day.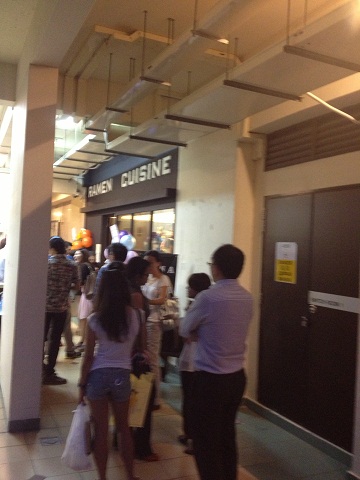 Queue was mostly made by locals.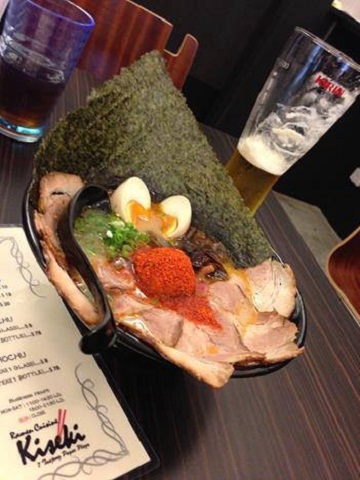 KISEKI Tonkotsu Ramen SPICY
"KISEKI" is located at grand floor of Tanjong Pager Plaza. Singaoprean's most favorite Tonkotsu ramen with less oily feel. The taste is made to meet customer needs as they want to stay healthy.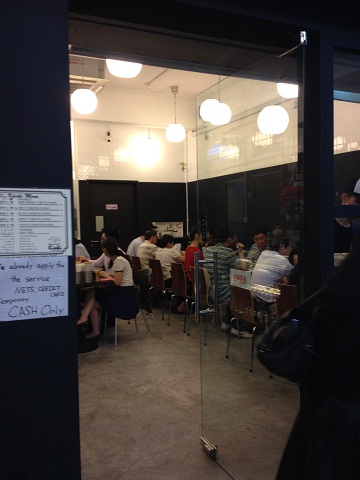 Very simple interior. Full house!
Tanjong Pager district have many office buildings and thousands of business men will have lunch around the neighborhood. If you have lunch at food court, it will only cost you aroun S$5 however as Ramen is considered as Japanese restaurant therefore high wages people works in Tanjong Pager does not mind spending three times more for Ramen Bowl. However their only concern is that ramen is not healthy. Therefore "KISEKI" came up with less oily Tonkotsu Ramen and hoping to increase customer visiting frequency. You can also choose to thicken or add the topping to make your own bowl which most of ramen restaurants offers a choice of thickness and toppings.
Walking 3 mins or less from "KISEKI", just across the road, there is 2 more Kyushu Ramen restaurants. We have peeked on those restaurants on same day. "Menya Sanji" have no queue in front of restaurant and around 30% of seats were filled however very popular restaurant of Keisuke group "Tonkotsu King" have long queue. "Tori King" which we have introduced on their opening previously is also located with in 7 minuts of walking from "KISEKI".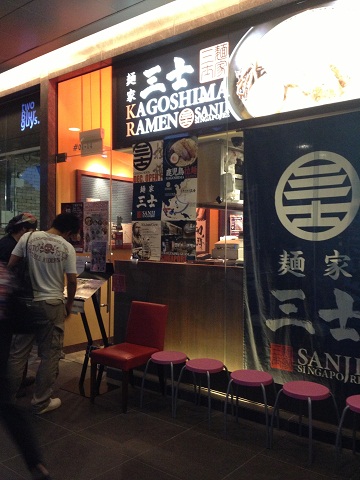 Menya Sanji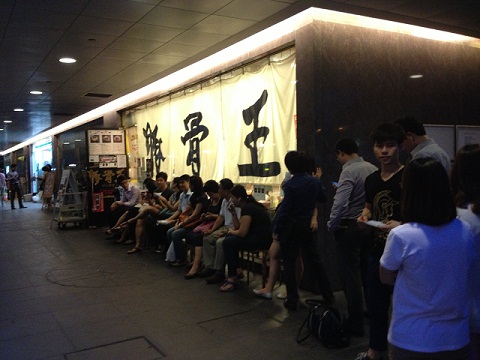 Usual queue at Tonkotsu King
"KISEKI" is started off from Mr. Kido who used to work for another popular restaurant "Ramen Bar Suzuki" located at Boat Quey. Their 4 kinds Tonkotsu soup has been loved by locals and the queue they make is always appealing another customer to try. "Ramen Bar Suzuki" had expanded into Ho Chi Min City, Vietnam this year.
Many Japanese staffs from Ramen restaurants see the market in Singapore and open their own. Another restaurant opened in April 2013, "Ramen Matsuri" is done by ex-staff of "Marutama Ramen" who owns 3 outlets in Singapore. They had reused the units at boat quay, 5 minutes walk from "Ramen Suzuki" where used to be another ramen restaurant.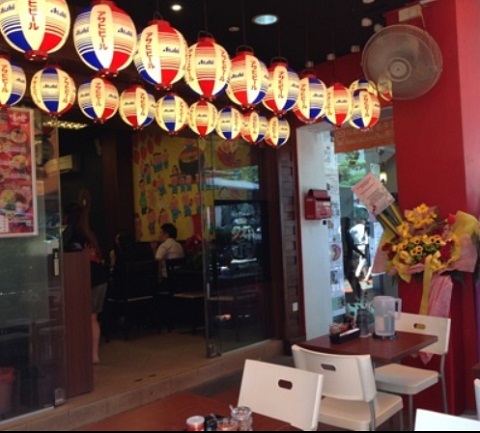 Ramen Matsuri
By joining competitive district and staffs opening their own ramen restaurants, Singapore ramen competition has never known when to end. As Singaporeans prefer Tonkotsu style, there will be and already have wide range of Tonkotsu Ramen. Those restaurants who had done expanding few outlets in Singapore has no way else to go except out from Singapore.
comments powered by

Disqus