July 2, 2013 04:21 PM
[Singapore]
By Joyce Tan Reported on June 30, 2013
Keywords : bar  cocktail  mixologist
Beverly Yeoh may be in her 20s but her appetite for business is huge. Always looking forward to the day she would become a businesswoman, she quit her cushy executive job in the later part of 2012 to set up her bar, Bitters & Love. With the support of her family and friends, she grew her contacts and opened a mini day café within her bar shortly after its launch.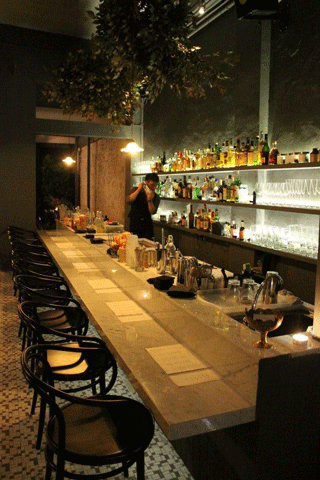 Bar Bitters & Love
Today, Bitters & Love and Shoebox Canteen attract a young and hip crowd to eat and drink. During the day, the café lures ravenous office workers into its space with its selection of restaurant-quality food and drinks. Black ribbed-glass doors separate the café from the bar. At night, the bar springs to life with its bespoke cocktails and mocktails not to be missed. Read on to find out more about Yeoh, her plans to establish Bitters & Love to be on par with the city's most popular chill out bars and speakeasies, and what motivated her to be an entrepreneur.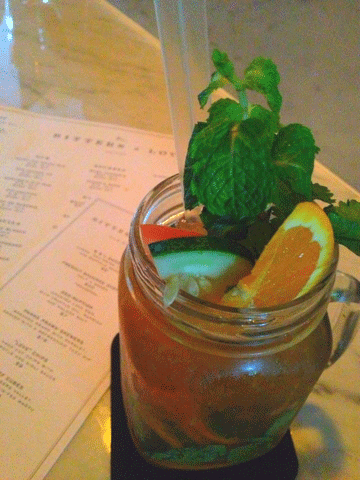 Cocktails by Din Hassan, mixologist
What were you doing before Bitters & Love?
BY: I was a corporate communications executive!
What was your ambition before you decided to open Bitters & Love?
BY:
I wanted to be a veterinarian - I love animals - and open my own clinic but that didn't happen.
Although things didn't turn out the way I wanted it to be, I absolutely have no complaints because I'm happy doing what I'm doing now.
When did you realize that you wanted to start your bar and mini café?
BY: That was sometime back in 2011 when I met Din Hassan, my barkeeper, mixologist, and business partner. His amazing concoctions blew me off and we started talking about what it would be like to open a bar...that's how Bitters & Love was born.
Can you share with our readers what inspired you to open Bitters & Love?
BY:
I've always wanted to be in business because my parents are businessmen and women. Business is in my blood.
Also, I have this indescribable need to sell things. While in school, I made and sold friendship bracelets to schoolmates; I also sold clothes on blogs.
Is it tough managing a team?
BY:
Contrary to popular belief, no. Managing a team is much easier than how others perceive it to be. This is part due to the fact that [the Bitters & Love team] love what they're doing.
On a personal note, I strongly believe in teamwork and giving my team members the respect they deserve as an employee, as well as the right to voice out their opinions for the better of the company.
To date, what have been the biggest rewards for you in running Bitters & Love?
BY: Well, when I see that my customers are happy with our services.
Do you believe in the phrase "work-life-balance"?
BY:
Yes, this is important if you want to live a happy life.
And that's what made me want to setup my own business. When I was working as a corporate executive, I had colleagues staying back 'til late just to complete a task that is part of an ongoing project.
Aside from establishing Bitters & Love, what goal(s) have you had to achieve?
BY: To build a strong brand for Bitters & Love. I'm not going to go into the 'how's' but I would like to refine and strengthen the bar's positioning to be the premium cocktail bar that offers affordable drinks in Singapore.
What advice can you give aspiring entrepreneurs?
BY: Believe in your business and make sure you see it done.
36 North Canal Road Singapore 059292
Phone:+65-6438-1836
comments powered by

Disqus