July 3, 2013 12:06 PM
[Singapore]
By Craig Wilson Reported on June 29, 2013
Keywords : rum
Buried in a beautiful residential area of Dunearn Road, behind the National Junior College (JC) and opposite the Hwa Chong Institution on Bukit Timah Road you can surprised by this little quiet neighbourhood. As the name of the restaurant suggests that it's hidden in the woods I would consider the name of 'private neck of the woods'. This though I was told was not there original concept but due to not finding a suitable location they decided to stick with this other original concept.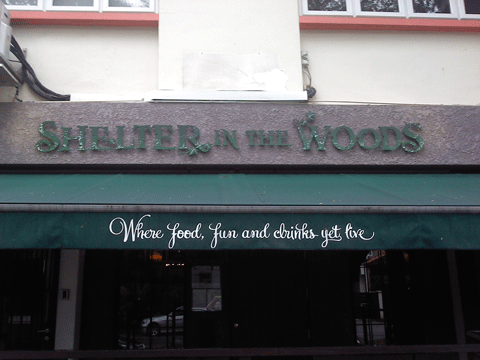 Shelter in the Woods
Opened in January 2013 the 'Shelter in the Woods' has gained popularity following a press release from the Sunday Times Life section and has been growing ever since. It was first more popular with the local expatriate residential community but now they find more locals who are willing to travel to discover this buried mystery. Now they tend to me more busy on the weekends then during the week.
Decorated in a 'tavern' theme restaurant with thick oak tables, long wooden bar, and earthy atmosphere where many of the local fusion rums are on offer and on display above and behind the bar. I was told the Passion Fruit and Chilli is the new taste of the month but the Lychee infusion is also very popular. I was challenged to the 'Signature' rum infusion at the end of the interview which left a long lasting after taste and certainly set me up for the evening.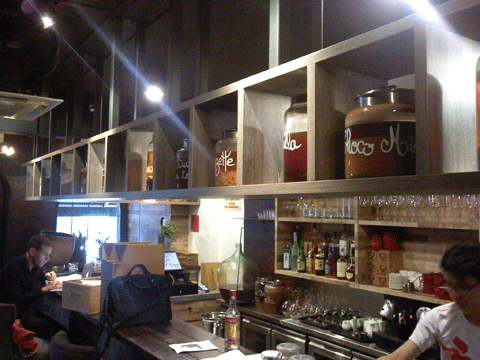 Bar & Rum Infusions
This 'Signature' rum infusion is a mixture of La Mauny Rum and Sugar Cane Syrup macerated in oak barrels, Orange and Lemon Peels, Tahitan Vanilla, Ginger and Tonka Beans. I was told that these rums take up to 5 months to mature and be ready to serve.
The rums are divided into Classic, Original Flavours (Chef's recipes) (e.g. Normandy (apples and calvados) and Suzette (a play on flavours of the famous crepe suzette) and Gourmand Flavours. Ones which look interesting are the candy and chocolate bars infusions such as 'Bounty'!
In the background on display is the rotisserie slowly baking at that time 2 suckling pigs which I was told takes from 3-5hrs to cook to perfection. They all seemed busy preparing for the evenings feast ahead in true hunting style!
Chef Patron, David Thien (French-Chinese Chef) grew up in restaurant kitchens in Bordeaux, gained experience in England at Cotswold House and then in Burgundy, France with 1 Michelin Star Domaine du Roncemay and 2 Michelin Star Chateau Cordeillan Bages. He then moved to Bora Bora with the culinary team of St. Regis Bora Bora and then to Singapore to St. Regis Singapore as Chef de Cuisine of LaBrezza before being promoted to Executive Sous Chef in 2009. In 2011 he moved to Resorts World Sentosa as Chef de Cuisine for Crockfords Grill and Sous Chef for L'atelier de Joel Robuchon.
22 Greenwood Avenue
Singapore 289219
Tel.: +65 6466 6225
comments powered by

Disqus