"The Grand Stand" has opened at the Bukit Timah Road in April 2013 where used to be horse racing field. The horse racing field built in 1933 and run out of business in 1999. Since then, part of the place had been occupied with shopping mall called Turf City where tenants were super markets and restaurants. This year, they had done major renovation and renewed the name to "The Grand Stand".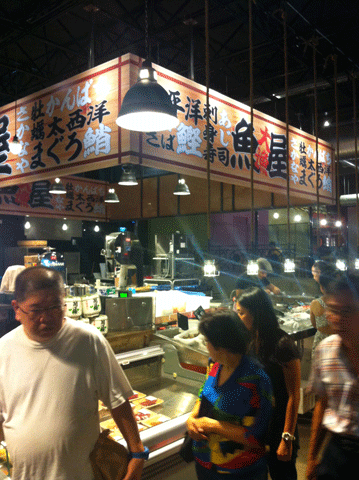 Singapore even this.
When the renovation idea raised on the table around April last year, the place was really empty and seems dead. We could not imagine any shopping center can be successful in such a location. The development was done by a Distribution Company called Cogent Holdings Limited. They had renovated 18thousand square meter only at investment of 1 billion Singapore Doller.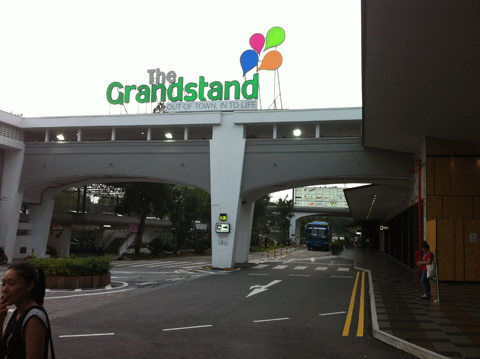 The Grand Stand. There is second hand car retails as well.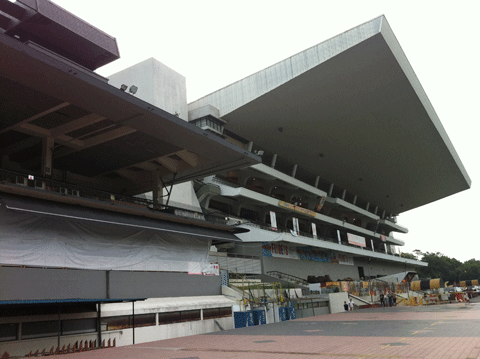 Upper box Seats have not yet renovated.
Racetrack became football field and car park. Restaurants, retail shops and private schools had taken the place where it used to be box seats for horse racing audience. Bukit Timah area is known for high status residence lives in landed houses. Many of high education schools are allocated and private school tenants are mainly targeting those students. The Grand Stand will be the family place-to-go for high status locals and Caucasian expats who live around the area.
The most popular spot is "Pasar Bella" where used up half of grand floor. Singapore's first farmer's market. There are 34 restaurants and retail shops in 2,600 square meter including, Organic super market, Butcher, Wine shops, Beer Shops. Small eat-in space is provided beside the retails stores. The place is inspired by Borough market in London and Pike Place Market in Seattle which suits the ex-horse racing location.
Most eye-catching Japanese concept F&B,"Oceans of the Seafood is outstanding among all attractive neighbours. It is a combination concept of seafood retail and Sushi restaurant in the 330 square meters. Fresh seafood is imported directly from Tsukiji Japan by ANA airline every day. It is just like a little Tsukiji appearing in Singapore.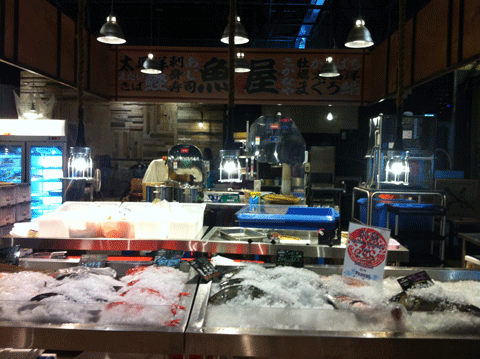 Seafood Retail Imported Directly from Tsukiji, Japan.
"Oceans of the Seafood" is managed by F&B company who owns Izakaya restaurant "Tomo"at Clark Quey and Esplanade. Company director and Singapore's F&B expert Mr. Andrew Tan had ever supervised cook for Emperor Showa and opened "Tomo" in 2008. Farner's market concept was produced by him. There are 3 Sushi chefs from Japan in the restaurant.
We had surprised when we take a look on the customers they have attracted, There are young couple around 20 years old at Sushi counter who had wisely ordered expensive dishes starting from Iseebi and many Sashimi favorites, The bill was approximately overS$100 and it was paid by a girl's credit card. There was another group of early 20s ordering Special Chirashi which is S$47 per bowl and adding some Sashimi on top of that. Manager of the restaurant told me there was a group of customer probably from financial business had had 1 .8 L large bottle of Japanese Sake on lunch time while checking market movement with their iPads. Bukit Timah definitely carries totally different group of customers to attract.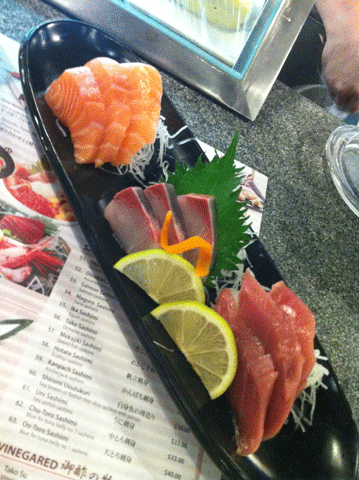 Sashimi Assortment 3 kinds S$25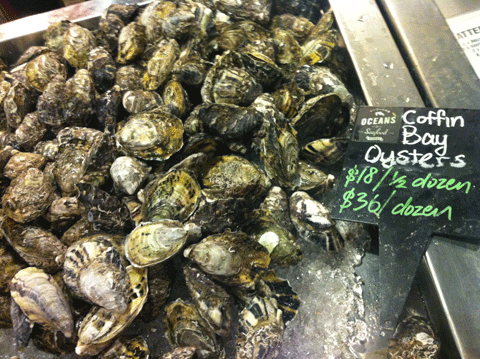 Affordable Fresh Oysters at S$18 for Half Dosen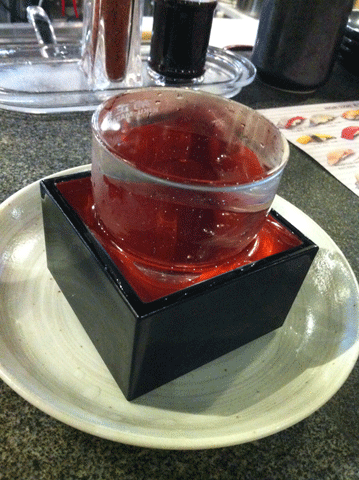 Sake is offered with Authentic Wooden Cup
"The Grand Stand" could attract none of Japanese F&B tenants when you see the place before renovation. However, "Oceans of the Seafoods" achieves sales of S$ 15 thousands on weekdays and twice more on weekends. This is the clear statement of how important it is to localize your business to fit the market.
comments powered by

Disqus