June 21, 2013 04:20 PM
[Singapore]
By Craig Wilson Reported on June 16, 2013
Keywords : chocolate
I was lucky enough to try out the Max Brenner outlet in VivoCity on a relatively quiet day where there weren't many shoppers. You can get here to Harbour Front MRT and then walk into the shopping mall. The Chocolate Bar is located at the back of the shopping mall with back doors to the waterfront if you want to take in some scenery before dipping into some indulgence.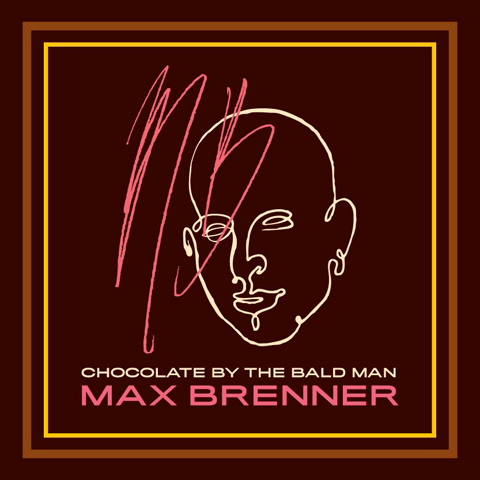 Max Brenner
I was not fortunate however to have sufficient feedback from the Operations Manager with regard to the questions I put to him although he did say that he would like to participate but directed the questions to his immediate boss. I will though tell you more of what his boss had to say.
More of a family dining cafe than a chocolate bar and although the premises seemed pretty basic for a luxury chocolate bar it did though have quite a range to offer. We were though told to stay away from the extra sweet stuff and go for the more mellow options. I was served with a small chocolate milkshake and extra lovely chocolate fudge cake with ice cream. This was truly delicious! My half brother tucked into a waffle and ice cream.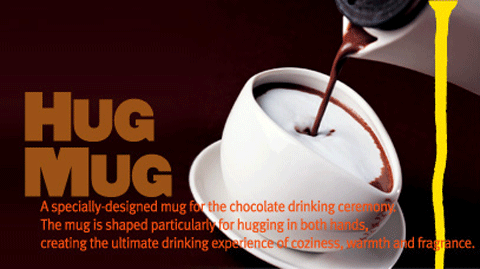 Hug Mug of Chocolate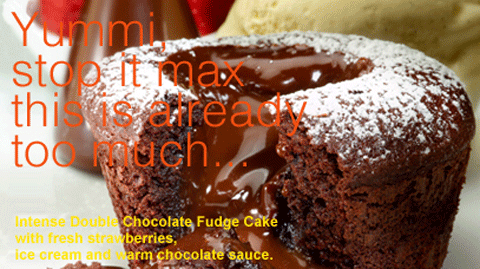 chocolate fudge cake
I was told that they target locals and tourists rather than businessmen or regular customers and that their unique selling point is to focus on just chocolates. They also wish to expand in the region of SE Asia and develop internationally and don't select prime locations but mostly family centric for some locations. They will be intending to change their menu but will still focus on chocolates still and were offered from VivoCity to locate their premises there. There are however no promotions and usually are more busy in the afternoons and evenings.
They boast that 'Chocolate is not just about Taste' and try to breed a chocolate culture about contradictory aspects and foundations of lives of people all around us. They've said that they don't need to invent anything and everything exists in our minds and hearts. It seems very popular in the U.S.A. and Australia and this seems to be adjusted to the coffee craze and the beer infatuation in Singapore.
They do though seem to be quite happy to live off their reputation rather than to promote themselves as truly the Chocolate Paradise of SE Asia and Singapore and might be joined by more stiff competition such as Laurent Bernard Chcolatier which I have seen at Robertson Walk near Mohamad Sultan Road and Robertson Quay.
■Max Brenner
i) 1 Harbour Front Walk, #01-116 VivoCity Singapore 098585
Tel.: +65 6278 4218
ii) 8 Raffles Avenue, #01-06/08 Esplanade Mall Singapore 039802
Tel.: +65 6235 9556
iii) 112 East Coast Road, #01-05 112 Katong Singapore 428802
Tel.: +65 6345 0616
comments powered by

Disqus