June 20, 2013 03:21 PM
[Malaysia]
By Craig Wilson Reported on June 15, 2013
Keywords : cafe
Discovery Café is where it's all happening for international tourists, local hangout bar, accommodation and a place for local students from the Multimedia University Malacca to drop by and have some real fun. This is the place as advertised clearly 'to see and to be seen!'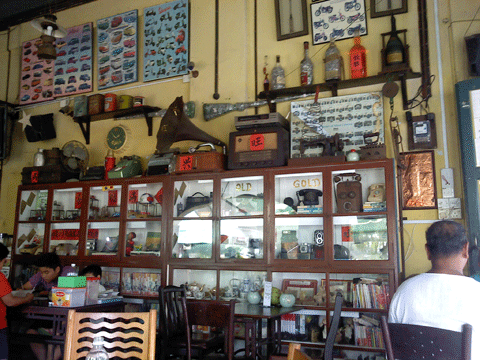 Discovery Café
Located right by the river on the corner of the bridge very near Chinatown and the tourist information and where all the nearby pubs and cafés are based along the riverside. The Discovery Café seems to be the place where people spend their day catching up things that they have to do and in the evening unwind and have some beers while watching live singers perform every night.
There are many beer promotions including the daring tower beers for guests to share or the traditional jug of beer and 3+1 beer options plus up to 10 beers on offer. If you are guest you will have special prices on Tiger and Carlsberg and bottled water to take to bed with you at the end of the night or to refresh yourself in the morning with some coffee, toast and fried egg (breakfast included in each night's stay approximately 30MYR per night for single room with fan plus hot shower).
You have Americans, South Africans, last night local Ugandans and Nigerians, Japanese and Koreans as well Caucasians so all types and all walks of life visit here.
The busy streets can be a little bit overwhelming but you just have to sit back and relax and let the noise disappear in the background chitta chatta and daily gossip. In the evening many people stop here in their cars and motorcycles to try the freshly prepared medicinal tea served from the evening until late in the night.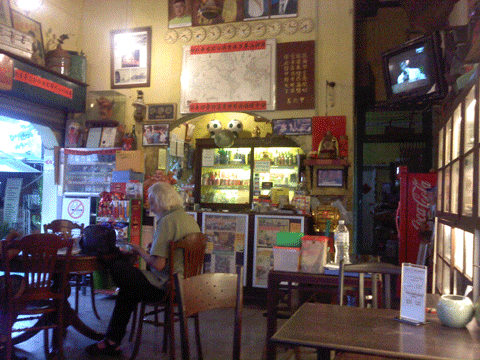 You just have to sit back and relax and let the noise disappear in the background chitta chatta and daily gossip.
With Chinatown and Little Indian right next door you can do a little stroll around and when you are too hot and bothered by the endless traffic you can come back to the outdoor seating and refresh yourself before continuing on your sightseeing or local sampling of the many varieties of food on offer here. You may also rent a bicycle here to take along the river or risk the traffic and venture out further depending on how brave you are.
Malacca is a local UNESCO Heritage Town so there's much to see. From Singapore you can a local Maju Coach from Johor Bahru Larkin bus station to Melaka Sentral or try direct from Singapore or return the same way in the other direction. There is the local public bus which takes you to the tourist information and central water fountain.
Malacca is about half way on to Kuala Lumpur so you could stop here on the way to the capital or this could be a nice trip to spend a long weekend which many Singaporeans tend to as it's only about 3 - 3 ½ hrs direct to Melaka Sentral from Johor Bahru or probably 4hrs from Singapore. The queues for immigration on the Singapore and Malaysia side can challenge your patience though.
3 Jalan Bunga Raya Malacca Malaysia
Tel.: +60 12 683 5606
comments powered by

Disqus