June 19, 2013 10:27 AM
[Singapore]
By Craig Wilson Reported on June 15, 2013
Located at the Old Upper Thompson Road area of shops, pubs, cafes and local hawker centres on both sides of the street Scoopz is a relatively quiet section. It would be probably best to go to Novena MRT and then get a bus or taxi but Marymount MRT is also nearby.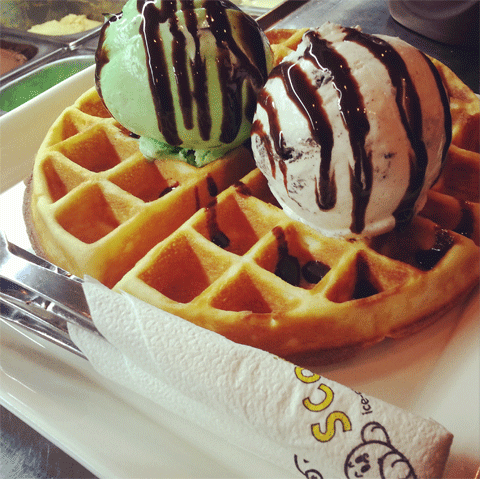 waffles and ice cream
This area unusually is a place for Ice Cream with Udders and Salted Caramel local competitors. Strangely visited by foreign tourists and expatriates and by local JC's such as Raffles Junior College and the Catholic Junior College. Local Ngee Ann Polytechnic and Nanyang Polytechnic are also nearby.
Scoopz is favoured by 'Word of Mouth' and 'Invitees' to family gatherings with such events as the Ice Cream Workshop @ S$40 per person (10% discount for corporate groups). This workshop includes Ice Cream Making (fundamentals) and Free Flow Ice Cream. Other events are the Kids Workshop and Kids Party @ S$9 per kid or S$14 per adult (min. 30 people).

Scoopz
The local partner of Scoopz Sau Mun said she's been working at the same place for over 10 years and she still finds it fun. She said she still has 1 or 2 scoops every now and then.
They are also located at Parkway Parade where they have expanded and moved from the basement to a larger seating area. This services the East Coast of Singapore and Marine Parade. Unaffected by the Big Players such as Ben & Jerry and Hagen Daz they are more affected by the local players Daily Scoop and Island Creamery. Chocolate Bars are not such a concern since they are usually based at big shopping areas and are aimed at the shoppers who don't mind spending their money. Planning is taken into account but because of the labour intensive nature of the job they would rather do this slowly.
Delivery and supplies are done from the Upper Thompson location for special events due to having a carpark outside. There is no online ordering but clients can pre-call to pick up their order.
Duran flavour is the most popular (voted No.1 by Simply Her magazine for the best in town). Couples like to share with the women preferring the more healthy tea and sour flavours and the men the more hearty heavy flavours such as Rum & Raisin or Chocolate Ganache. Cempedale (Jack Fruit family) is also a local favourite.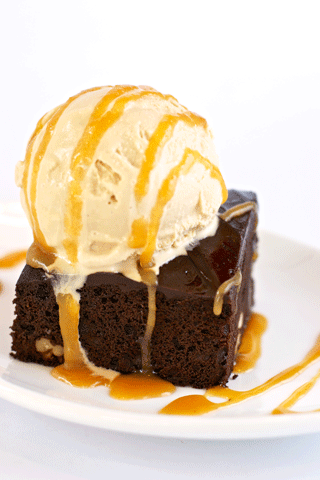 brownies and ice cream
1 x scoop @ S$3.20, 2 x scoops S$5.20, 16oz S$10, 32oz S$17. Waffles + 1 scoop (choice of Maple Syrup, Chocolate and Caramel Sauce) S$5.80 + S$2.00 for up to 4 additional scoops. They have Cheesecake, Brownies and Lava Cake and Local Coffee.
I was hoping to interview Dreyer Ice Cream in Singapore but this area in the country could be very popular for locals and local school kids and students. Why not try each place here and sample and taste all the local favourites? I had a sample of the mango sorbet with the frozen iceball ice cream and it certainly packed a distinct punch!
■Scoopz
222 Upper Thompson Road Singapore 574354
Phone: +65-6456-8698
comments powered by

Disqus