A glimpse at how Hong Kong's teahouse impacted Singaporean culture. From the popularity of silk stocking milk tea and Macau egg tarts to the long queues seen outside Hong Kong tea restaurants aka 'cha chaan tengs', it seems like Singaporeans are crazy about Cantonese food.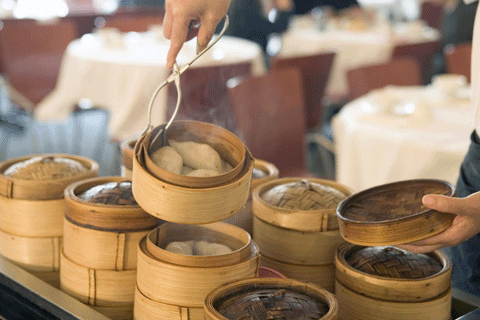 Open from day to night, Hong Kong tea restaurants whip up a variety of mouth-watering goodies. You'll be tempted to sit, eat, and 'Yum Cha' (drink tea)!
This fascination can be traced to the opening of Xin Wang Hong Kong café - a chain of red-and-yellow cha chaan tengs - at a time when the city was undergoing radical transformation following the 2008 Financial Crisis. As the city's people feel the pressure of a rising cost of living, more are working harder, clocking longer hours at work and opting to have their meals at affordable diners that open 'til late.
The result: cha chaan tengs are the preferred places to dine, thanks to their extensive selection of west meets east food and drinks that are priced affordably. Whether you're a budget conscious gourmet or someone who looks forward to a sumptuous meal after a hectic day's work, cha chaan tengs have it all.
What's interesting about such establishments is that they have shaped the way Singaporeans behave in public. Instead of complaining about long queues, Singaporeans are, surprisingly, willing to stand in line and patiently wait for their turn to come just to eat at a cha chaan teng!
This brings to point how cha chaan tengs play a positive role in coaxing Singaporeans to be more tolerant of each other than before.
In addition, cha chaan tengs help increase the country's overall budget spending. This in turn helps boost employment rates, thus contributing to the nation's overall growth. According to AsiaOne.com, in 2007, the average annual turnover from Hong Kong-styled tea restaurants is estimated to have hit SGD $50 million.
After all, food is viewed as crucial to the city's national identity and a unifying cultural thread; eating is a national pastime which helps bridge the cultural divide and builds a cohesive society.
So, who dares stand out and say that tea restaurants have little impact on Singapore's culture and stealth economic growth? We'd like to hear from you. Otherwise, let's drink tea at any of the city's cha chaan tengs!
comments powered by

Disqus