As Ramen is highly recognized worldwide and in the midst of the most competitive market in Singapore, The group is giving a role of front man to a popular ramen restaurant "Umauma" in order to create customer awareness to lead for hidden concept bar and Japanese Kaiseki dining without any advertisement or even signage. New business model of attracting customer by having separate role on each cuisine, as Ramen restaurant to create fast turnover business and high customer recognition which let the stylish hidden bar and Japanese fine dining to sustain its brand image but to lead quality customer who can repeatedly make use on the place.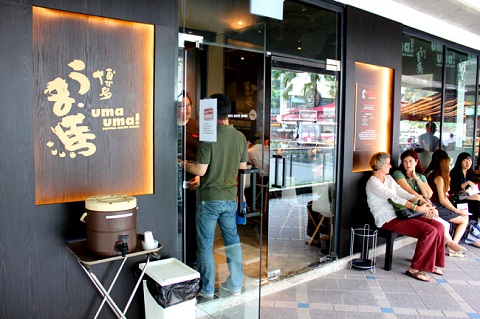 Ramen shops popular that can be matrix "Umauma".
"Sanbaro" is a very first ramen restaurant opened in Hakata in 1953 by the hand of Mr. Tejima. "Uma uma" is owned by his son, as Viger Ltd. Besides having 3 outlets in Fukuoka city, the group also extends in the latest shopping mall "Hikarie" in Shibuya and another outlet in Tokyo and also 1 outlet in forum shopping center at orchard road, Singapore.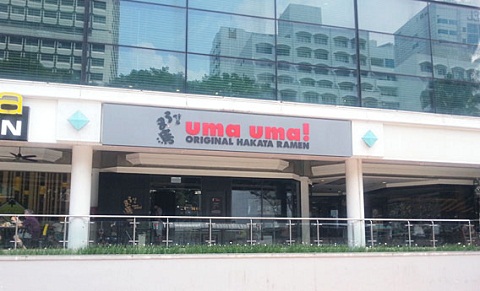 Umau uma! At Singapore Forum Shopping Center
Singapore ramen scene is highly competitive. There are over 300 numbers of ramen outlets in this tiny island. As we have introduced in FOODRINK NEWS previously, many of companies such as "Santoka", "8Ban Ramen" and "Ramen Play" are aggressively expanding into neighborhood Asian countries like Indonesia and Thailand.
When the group had tried join Singapore market, they had gained partnership from a clever business man/chef and the owner of Iggy's, Mr. Ignatius Chan. Iggy's where Mr. Chan commit as owner chef had mentioned in "The World Best Restaurant" since 2009 and also awarded as The Asian Best Restaurant 2012". He had cleverly make use of the high recognition word of "Ramen" as his marketing core, and create a new group company Iki Concept with Japanese Fine Kaiseki Dining "Yoshiyuki" and hidden bar "Horse's Mouth". Asyrum, an interior design company is populated by making hot restaurants in Singapore such as Lolla and Tanjong Beach Club had connected all three businesses within one to create the flow. "Uma uma" is located on front line of forum shopping center first floor, where it can be seen from passerby on Orchard Road. "Yoshiyuki" and "Horse's Mouth" is located on the basement connected by its secret staircase in "Uma uma" restaureant.
Fine Kaiseki Japanese restaurant "Yoshiyuki" can be seen on elegant entrance located in the Forum Shopping Center basement 1. The chef/director, Mr. Kashiwabara Yoshiyuki had hired by foreign ministry of Japan as a special Japanese chef for Japan ambassador in Singapore and San Francisco for past 7 years. Today, as a director of Iki Concept and head chef for "Yoshiyuki" is offering seasonal goodness in Kyoto style dining of Kaiseki. They had opened together as "Uma uma" on July 2012.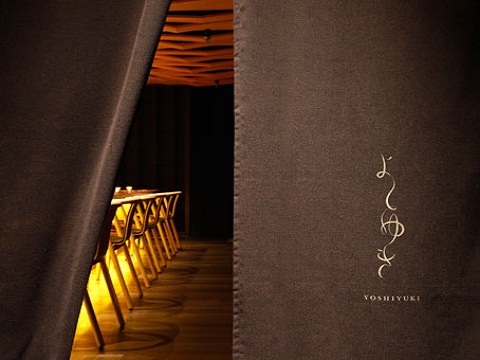 Japanese Kaiseki restaurant "Yoshiyuki"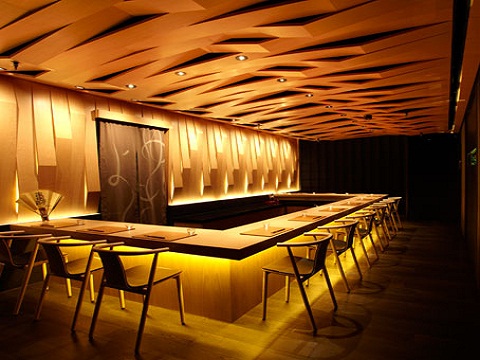 Kaiseki Japanese restaurant interior
"Horse's Mouth" is located direct door to door from "Yoshiyuki" and you can also go down the secret stair case beside the cashier of "Uma uma". Stylish and lounge-like bar is appealing quality customers who prefer to be more private and exclusive.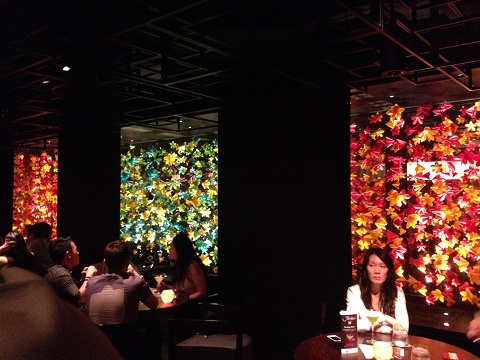 Local group and couples are having sweet time at lounge seats.
Beside their original cocktail menu, They also offer all menues of Uma um ramen coming directly from kitchen. The price of ramen bowls are At S$17 as slightly higher than usual menu of first floor but that can be counted as service and atmosphere fee. Mini size (S$11) is also offer only for the bar and last order is until 12 am, as first floor closes at 10pm. Thin noodle and light soup is perfect fit for a supper.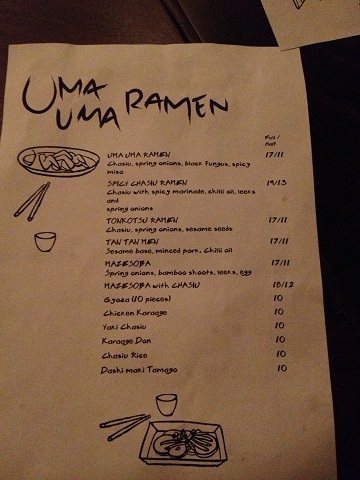 Ramen menu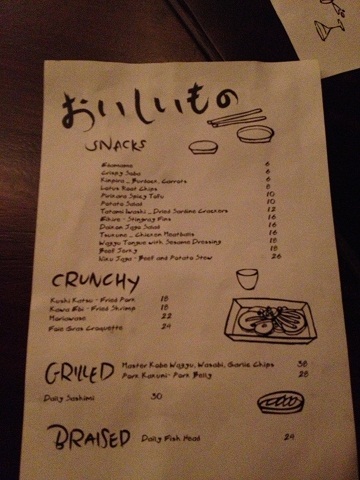 Finger Food menu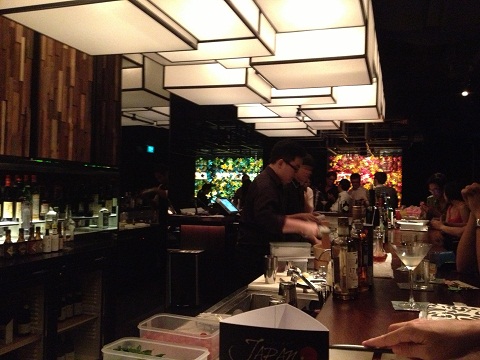 Horse's Mouth
Worldwide recognized chef values total offering rather than just making a restaurant popular. He utilized the competitive market of Ramen as a flow which leads to increase customer awareness of other hidden-conceptualized businesses located right beside each other. The branding let customer spend more at a time and increase repeaters. For Mr. Ignatius Chan, Ramen war is not there to join for increasing outlets but to creating a perfectly balanced cycle including the hot market of ramen to complete Singapore style night life. We cannot let out eyes off not only from his cooking but his business skills.
comments powered by

Disqus