June 11, 2013 12:37 PM
[Singapore]
By Joyce Tan Reported on June 11, 2013
Mention 'crab' and images of fire hydrant red colored shell creatures with large pincers and beady black eyes come to mind. For the gourmand, these images are incomplete without a wok or plate. Succulent, sweet, and chewy, crabs are delicious to have. Add either pepper, or chili and you'll get a savory version of this dish. Filled with proteins and fatty acids including zinc, iron, potassium, and magnesium calcium, crabs are a good source of essential nutrients.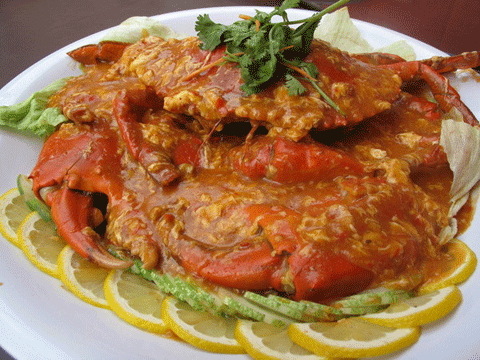 Crabs are a good source of essential nutrients.
Crabs are typically served in high-end restaurants and cooked in unimaginable ways (think Nyonya and herbal crabs!), thus appealing to the well-heeled. If you're looking for places in eastern Singapore to feast on crabs, areas like Geylang, East Coast, and Joo Chiat boast plenty of seafood restaurants offering drool-worthy crab dishes. To help newbies and veterans alike get their crab fix, Eastie Brekkie sieves out five of eastern Singapore's best seafood restaurants. Read on to see what new and exciting places you've yet to check out. Who knows, you could organize your very own crab tasting session with friends?
■Plaza Brasserie
The restaurant's crispy soft shell crab is cooked to perfection. Juicy meat oozes out of the crispy shell with every bite. We enjoyed the Nyonya curry crab, even though it was spicy. Other must-tries include the herbal crab, which is infused with a variety of herbs including red dates and dang gui (Chinese angelica root), and the quintessential Singapore-style chili crab.
Don't miss out on Plaza Brasserie's latest offering of seasonal crabs for the month of June, July, and August. You're guaranteed a crab-o-licious treat!
ADDRESS: 7500A Beach Road, Parkroyal Hotel on Beach Road
TEL: 65055710
■No Signboard Seafood
For an excellent serving of white pepper crab, No Signboard Seafood is the place to eat. This sweet and spicy dish exudes a tangy flavor which induces one to drool. The meat is juicy, making it chewy. Almost famous are the restaurant's Singapore-style black pepper crab and chili crab.
ADDRESS: No. 414 Geylang
TEL: 68423415
■Long Beach Seafood
The best place to savor crabs is Long Beach Seafood restaurant, an elegant and reliable diner whose claim to fame is its black pepper crab. Peppery and savory, the black pepper crab is cooked to perfection and is best paired with a glass of sparkling white. The restaurant also whips up reasonably good chili crabs.
ADDRESS: 25 Dempsey Road
TEL: 63232222
■Kim's Place Seafood restaurant
It's unlikely that you'll find an über peppery version of the Singapore-style black pepper crab than at Kim's Place Seafood restaurant. Served in a wok, the restaurant's black pepper crab is an explosion of unforgettable spicy flavors and fragrance.
ADDRESS: 43 Joo Chiat Place
TEL: 67421119
■Jumbo Seafood restaurant
Chili crabs are a specialty at Jumbo Seafood restaurant, a no-frills, semi air-conditioned Chinese seafood restaurant right smack in East Coast Park. Spicy and savory, the chili crab is cooked 'til its meat is soft, making it a chewy dish for the young and old to have. You'll be back for more goodies - it's a promise!
ADDRESS: 1206 East Coast Parkway, #01-07/08 East Coast Seafood Centre
TEL: 64423435
comments powered by

Disqus