There are many Japanese rice imported to overseas however most of them are rice polished in Japan. This new concept, Sandaime Tawaraya Kurobei imports unpolished rice in low temperature container and preserve, then polish the rice at own polishing factory located in Hong Kong and Singapore right before shipping out to customer via registered post. We have interviewed Mr. Sato who is director of the company as well as rice sommelier.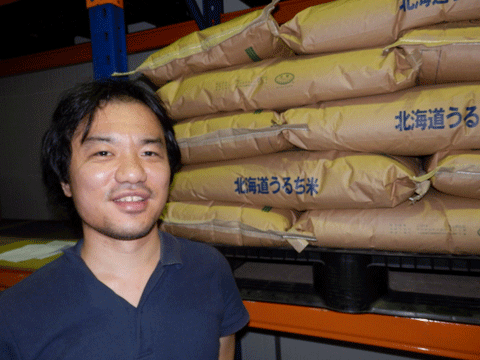 Company, Tawaraya does not exist in Japan. The business had started in 2009 by Mr. Deguchi Tomohiro who used to expat in Hong Kong for Japanese company. He found his business opportunity by empty market of tasty and Japanese-standard rice offered in Hong Kong. Mr. Sato joined its business model. The company offers the products to regular household and restaurants located in Hong Kong, Shanghai and Singapore. Singapore business had started in 2011. "Sandaime" mentioned in its long company name means third generation in Japanese however it is their first generation business and name is made out to create an established branding.
Singapore branch offers 4 kinds of rice, "Nanatsuboshi", "Yumepirika" and "Kazenokomochi"(Sticky rice) from Hokkaido and Uonumasan Koshihikari from Niigata. In Hong Kong offers more such as "Oborotsuki" from Hokkaido, "Akitakomachi" from Akita and "Koshihikari" from Nagano. They strictly carry only Japanese brands made in Japan. All rice kinds have gone through manufacturer check, specially cultivated agriculture product control and radiation examination. They utilize their local network where Mr.Deguchi is from Hokkaido and Mr.Sato is from Niigata where both are famous region for rice manufacturing. Mr.Sato mentioned "Global warming is affecting positively on taste of Hokkaido made rice." 
The rice are fully imported as unpolished condition directly from Japan by using low temperature container at 18 degree specially for rice and preserve at same temperature. There are no rice tax occurs in both Hong Kong and Singapore. Polish the rice right before shipping out to customer at their own rice polishing factory and ship using Kuroneko Yamato company to restaurants and households. They allocate warehouse and rice polishing factory at Hong Kong and Singapore. Shanghai shipment is done via Hong Kong branch. Their strength is the freshness of the rice which create obvious difference in aroma and its taste. There are choice of polishing level from unpolish, half and 70% and white rice. Rice bran extracted while polishing can be offered at free of charge.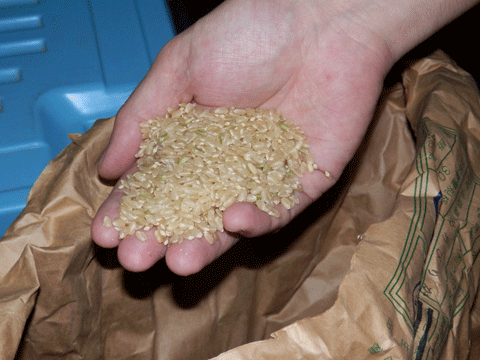 Unpolished rice are imported from Japan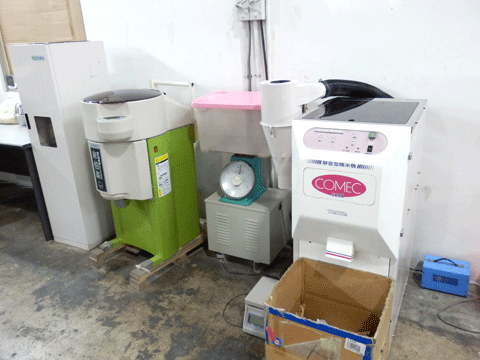 Own Rice Polishing Factory
Price for household is 10kg "Nanatsuboshi" at S$99, "Yumepirika" at S$119 and "Uonumasan Koshihikari" at S$129 including GST.  
There are around 40 F&B clients in Singapore such as fine Japanese Sushi dining and Japanese restaurant who is particular on rice offered including famous fine sushi dining at Marina Bay Sands and Many Japanese restaurants located at Cuppage Plaza.
Provide wooden signboard for restaurants who carry Hokkaido brands
Mr.Sato told us, "The cheapest rice you can get is Thai rice. The comparison of cost price for 1 bowl of rice is Thai rice at S$0.1 and Japanese rice offered from Tawaraya is S$0.5. The Japanese rice is so enjoyable by itself alone and the taste does not gone off even it is cold. Japanese rice are started to recognize definitely however many of them think it is for Sushi making usage but I want to sell the tasty rice without any additional toppings."
The company is working on its marketing by having tasting workshop at cooking school to let locals understand its original taste from rice. In Singapore most of the household clients are Japanese however 60% of Hong Kong household clients are targeted locals. As wealthy Singaporeans tend to cook at home more often recently therefore, there is higher chance in targeting local Singaporean families. Once recognition reaches Singaporean families, other non-Japanese restaurants may get interested carrying Japanese rice as their choice.  
comments powered by

Disqus