June 3, 2013 10:28 AM
[Singapore]
By Joyce Tan Reported on May 29, 2013
Keywords : chicken rice
Hainanese chicken rice is a quintessentially Singaporean cuisine making it a must-have for anyone living in the city. FOODRINK NEWS ASIA sieves out four of the city's best Hainanese chicken rice stalls, so you'll know where to go for a tasty serving!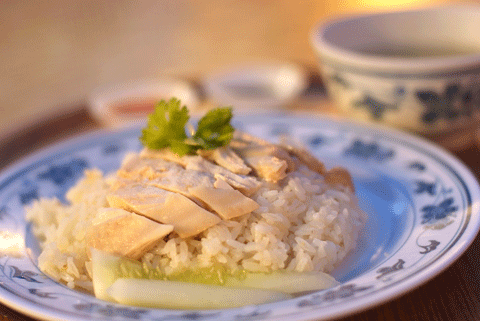 This is how steamed Hainanese chicken rice looks!
Fragrant and flavorful, Hainanese chicken rice is a simple dish composed of juicy slivers of chicken infused with ginger, drizzled with a soy-based sauce and served on a bed of white rice steamed in chicken broth and oil. The rich flavor of the rice evokes an uplifting aroma that whets appetites.
Introduced by the Hainanese people in the early 1800s, Hainanese chicken rice is an offshoot of "Wenchang Chicken," a well-known dish from Hainan, China, and is sometimes called "Singaporean Chicken Rice". Since the Hainanese are one of the city's early settlers, the Hainanese chicken rice automatically becomes Singapore's unofficial national dish. From its humble beginnings at roadside hawker stalls to the air-conditioned comforts of high-end restaurants and hotels, Hainanese chicken rice has grown to become one of the city's most outstanding and classic national dishes. It is a must-try dish for anyone eating their way through the city. If you're craving Hainanese chicken rice, read on to find out where in Singapore can you treat yourself to an excellent plate of Hainanese chicken rice.
■Hainanese Delicacy
Why you'll love it: For good chicken rice, Hainanese Delicacy is not to be missed on your way around Singapore. The steamed chicken served at this stall is cooked to perfection, and oozes sweet juice, making it chewy. The rice is so good you can taste the chicken essence from the bones.
Where to find it: 14 Scotts Road, #05-116, Far East Plaza, Orchard
■Boon Tong Kee
Why you'll love it: This no-frills chicken rice restaurant offers two types of chicken rice, Hainanese-style and Cantonese-style, with the former being more popular. Delicate and moist, the chicken served is chewy, making it an ideal dish for anyone. The chili is spicy yet flavorful, and complements the meat and rice well.
Inspired by the city people's way of life, Boon Tong Kee's creations are largely based on the preferences and taste of Singaporeans.
Where to find it: 401 Balestier Road, Balestier; 425 River Valley Road, Clarke Quay
■Tian Tian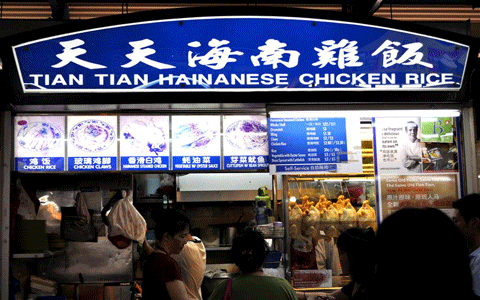 Tian Tian Chicken rice stall
Why you'll love it: Believe it or not, the magic of Tian Tian's chicken rice lies in the oily rice, which garnered positive reviews from one of the world's best chefs, celebrity chef Anthony Bourdian, who said: "The rice [at this stall] is so good that you can [literally] eat it on its own!" The stall's homemade chili sauce is made with lime juice to give you an added flavor. The chicken is tender and moist, and complements the stall's homemade chili sauce.
Where to find it: 443 Joo Chiat Road, Joo Chiat
■Big Bird Chicken Rice Restaurant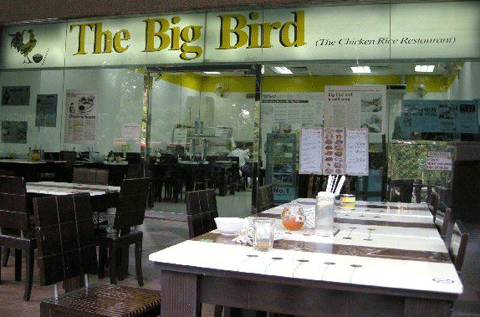 Big Bird stall
Why you'll love it: Foodies will tell you this homey and sometimes steamy chicken rice restaurant is the place to eat, thanks to the numerous reviews stuck on to the stall's glass doors. The chicken is steamed overnight to enhance its well-rounded, complex flavor and the rice served is moist - a great combination of flavors and textures in one serving.
Where to find it: 271 Bukit Timah Road, #01-07, Balmoral Plaza
comments powered by

Disqus