Thai cuisine restaurant, Mango Tree has been opening its outlets one after another in various shopping malls. Eight outlets were opened in 2002, followed by one outlet in Omiya in March and two outlets in Grand Front Osaka in April this year. Currently there are19 outlets altogether, in cities such as Sendai, Omiya, Tokyo, Osaka, Fukuoka and Nagasaki. Thai cuisine was popular during Japan's so-called bubble economy in the 80s. With the new Prime Minister's economic policy 'Abenomics', the popularity of Thai cuisine may make a come-back once again. We asked CEO Mr. Kojima on his thoughts behind the company's rapid expansion.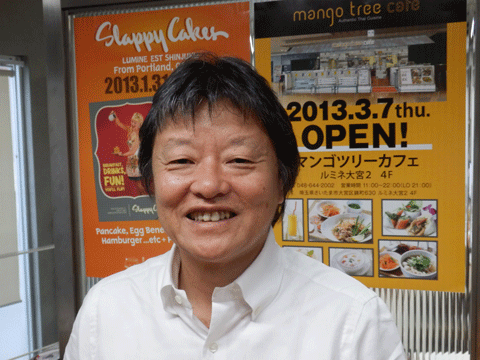 Mr. Yoshio Kojima, President and CEO of Coca Restaurant Japan Co., Ltd.
The very first outlet of Mango Tree opened in Bangkok, Thailand. In 1990, Mr. Phithaya, owner of Coca Restaurant, known for its Thai Suki (Thai-style sukiyaki) which was also popular in Japan, opened Mango Tree in a renovated traditional Thai mansion build 100 years ago. It is a sophisticated Thai fine dining. The second outlet opened in London in 2002. During the same year, its third outlet opened in Maru-biru (common name for Marunouchi Building) in Tokyo. The opening of other outlets followed in other major cities around the world such as Dubai, Hong Kong and Manila. It is also scheduled to open a new outlet in Washington D.C. in July this year. The Mango Tree brand now carries 70 outlets in 14 countries. Since 1992, Coca Restaurant Japan Co., Ltd. has been in charge of the management of Coca Restaurant and Mango Tree outlets across Japan.
In 2006, Mango Tree Café was introduced as a sister brand of Mango Tree. The business category further expanded by introducing take-out only outlet Mango Tree Deli in 2007 and Mango Tree Kitchen for both dine-in and take-out in 2012. Fine dining Mango Tree has two outlets which are located in Maru-biru in Tokyo and Grand Front Osaka. There are 11 Mango Tree Café outlets in Shinjuku, Ikebukuro, Yurakucho, Yokohama, Osaka, Sendai, Ebisu, Toyosu, Fukuoka (FC) and Nagasaki (FC). One outlet in Shinagawa carries a bar together with its café. There are 3 Mango Tree Deli located in Shibuya Hikarie, Shinjuku Isetan and Yokohama Porta. Two Mango Tree Kitchen in Tokyo Station Grandsta and Grand Front Osaka.
Mr. Kojima, the representative of Coca Restaurant Japan since its establishment, says, "We have work hard to create a market for Thai cuisine for 10 years since our very first outlet. And we have maintained our No.1 position in the market ever since. We hear customers say, Mango Tree is the go-to place for Thai food."
"The popularity of Thai food grew when the popularity of Chinese food declined. Customers can identify what is authentic and what is not. Our sales have always been ever-increasing. These past few years we have been opening outlets in rural areas, although we were concerned of their (lack of) acceptance at first. Once we opened our outlets, we noticed they were no different (than our customers in major cities). Especially we were most concerned opening our outlets in the Kansai area due to the lack of Thai food restaurants in the region. We opened Mango Tree Café there and (despite our concerns) the sales show no sign of dropping. Therefore we opened another two outlets in Grand Front in April this year. One is Mango Tree, which is the same as the outlet in Maru-biru. At Maru-biru, each customer spends an average of 9,000 yen, where as in Osaka, we positioned the outlet as a brasserie so each customer only spends about 6,000 yen on the average. Their lunch buffet is 2,500 yen but there is always a long queue of customers waiting to get in. Another outlet is Mango Tree Kitchen. We decided to focus on Khao Man Gai (chicken rice) for our Osaka outlet. And that was the right decision to make."
Mango Tree Osaka (8F South Wing, Grand Front Osaka)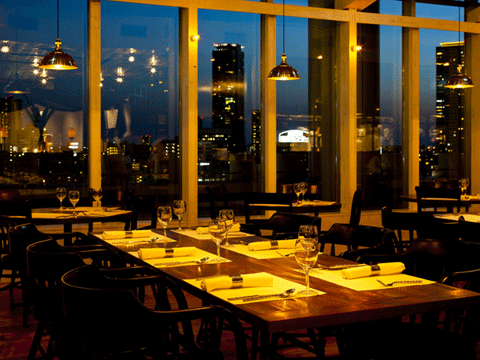 Beautiful night view.
Mango Tree Kitchen (B1 Umekita Hiroba, Grand Front Osaka). The outlet is also called Khao Man Gai.
Khao Man Gai (chicken rice)
"We saw more opportunity in Kobe and Kyoto, and in order to be able to put our full force into the Kansai region, we established our company's Osaka Branch. We are aiming to open outlets in cities as long as there are 500 thousand to 1 million people. Rural areas are different from Tohan (Tokyo and Osaka) so we are working out a less complex version of Thai cuisine. We definitely want to open outlets in Hokkaido, Niigata and Hiroshima as well."
Mango Tree Café's customer profile is 75% female in their 20s to 40s. We saw a quick come back even after the recent disaster (in Tohoku). Women are more courageous. We have more and more female customers coming alone. They spend about one to one and a half hours drinking wine and enjoying foods they like. Even at night, we see female loner customers. Some of them come alone and spend more than 10,000 yen at Mango Tree (Maru-biru). More of our customers come in a group of women, rather than a mix with male companions. It seems as though women are more innovative, and men stick with their conservative minds just going to Japanese restaurants. Women like new and exciting (stimulating) things. Hence, Thai cuisine fits perfectly. Hot pepper is considered good for health and also there is less fat (in Thai dishes). Moreover, spicy food is addictive. So, every element is in our favor."
Thai dishes are healthy because they use abundant amounts of vegetables. Simple Japanese or Italian dishes can be made at home, but it is difficult to make Thai dishes. Women seem to think that if you are going to pay for food, why not pay for something that you cannot make at home. (They will think) "I am tired of Italian, and French is too much of a hassle." So for a casual meal, Thai, Spanish and Mexican cuisine comes to mind.
"Gapao sells well at the Tokyo Station Grandsta Mango Tree outlet (the name of the outlet is also called Gapao). Out of the monthly sales of 15 million yen, 60% is from the sales of Gapao. It is also served at the Café. Gapao and Green Curry are well known Thai dishes."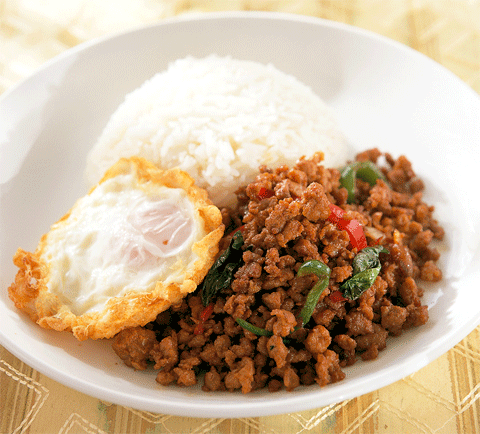 Gapao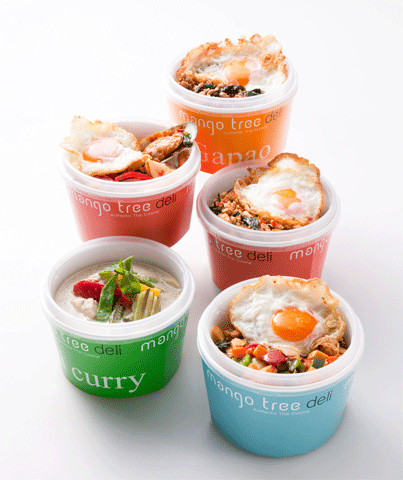 Bento (lunch box) from Mango Tree Kitchen
"Every year we try our best to make our dishes as similar as possible to the authentic Thai tastes. We constantly study Thailand's street stall menus and home cooked meals. More people are travelling to Thailand and are familiar with the authentic Thai taste. You cannot get away with merely 'Thai-styled' dishes. There are five Thai chefs in our Maru-biru outlet and also in other major outlets. They are the ones who teach the Japanese chefs."
At the Main outlet in Bangkok, we have the staff hand out coupons that can be used in Mango Tree outlets within Japan. This is how we have expanded our customer base over the years. If you only follow the trend, you will not last long. And so, we focused in acquiring our customer base in a slow but steady way.
"The menus and tastes are different in every Mango Tree outlet. Handmade is important, and the taste will differ if different people make them. This is something a big corporation will not be able to do. Our concept is to always keep our company as an individual proprietorship. Interior is also not our priority. We want to challenge the market with our food and service. With only interior, you will not last long. Customers find it more genuine when there is less money spent on interior."
"We can definitely manage 50-60 outlets. However, expanding our business is not our goal. We prefer to grow but maintain a good balance of adequate outlet numbers and adequate profit.
Mr. Kojima has cultivated the Thai cuisine market for over 20 years including the days of Coca Restaurants. In my recalling, ethnic cuisine gained popularity during the so-called bubble economy and among that was Thai cuisine. At that time, Thai-suki (the name originated from Thai-style sukiyaki) was introduced to Japan and the boom began. This was actually towards the end of the so-called bubble economy, but for us living in the midst of it, we had no idea it was coming to an end. As the economy starts to look more optimistic with the new 'Abenomics' in place, people will start to take more adventures. I predict another ethnic food boom to come our way soon.
comments powered by

Disqus