May 24, 2013 09:05 AM
[Singapore]
By Joyce Tan Reported on May 22, 2013
Mmm...Katong laksa! Super spicy and delicious, this highly affordable dish can be eaten with a spoon. Find out where in Katong you can go for a flavorful and sinful (READ: fattening!) bowl of Katong laksa that's worth your money and transportation fare.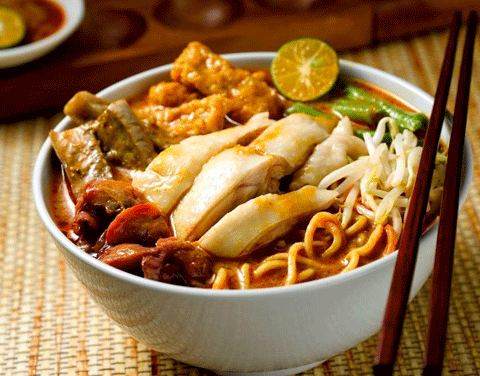 Laksa
Laksa is a popular Peranakan dish making it a must-have for anyone eating their way through the city and for the adventurous foodie. Katong is an area in the eastern part of Singapore that's best known for its Peranakan influences and the Katong laksa - a spicy coconut seafood rice noodle soup dish unique to the area. So proud are the area's stall owners of their dish, a war has broken out sometime in the 90s' about who invented the dish! Until today, this issue remains unresolved.
What makes the Katong laksa special that stall owners are fighting to claim ownership of this dish are its savory and spicy flavors. Rather than mee tai mak (mouse tail) noodles, however, the Peranakans living in the area preferred beehoon (rice vermicelli) noodles, and altered the recipe a little to create a spicier version to the original Peranakan laksa. The noodles are cut up into much smaller servings, hence, can be eaten with a spoon. Thus came about the Katong laksa. Without much ado, here are two popular stalls which sell Katong laksa you'll love.
■48 Roxy Laksa
Don't be fooled by the stall's no-frills appearance - 48 Roxy Laksa is famous for its silky rice vermicelli noodles and smooth gravy, and commands a strong following like a superstar. If you love nice smelling gravies, you'll be pleased to know the stall uses fresh coconut milk to make its gravy. The only thing lacking are cockles, which give the dish its deep sea flavor.
48 Roxy Laksa was one of the earlier contenders for the coveted Katong laksa title.
Where to go: East Coast Lagoon Food Ville
■328 Katong Laksa
It's often said that the magic is in the broth and 328 Katong Laksa's gravy lives up to this saying. Albeit watery, the gravy packs a punch of savory and sweet flavors that balances out the spices used to give the dish its piquant flavor. This helps to enhance the flavors of the ingredients without taking away its original taste. What we liked about this stall is its efficient service. Here, queues move fast, you don't have to wait for more than five minutes before your bowl is served.
For the benefit of those who don't know, this stall's Katong laksa is popular among local and foreign celebrities like Anthony Bourdian and Jacky Wu!
Where to go: 216 East Coast Road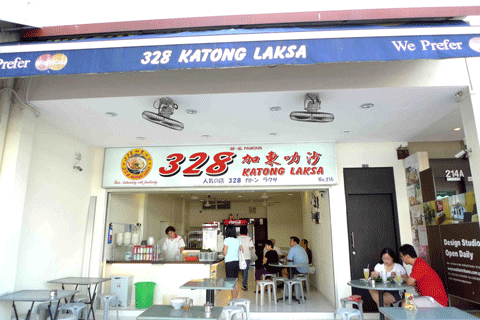 328 Katong Laksa
■Marine Parade Katong Laksa
This stall's Katong laksa is known for its thin and savory gravy, which does not mask away the flavors of the other ingredients. Additionally, the stall claims to be the oldest Katong laksa stall in the area - a call for attention!
Where to go: #01-64, 50 East Coast Road, Roxy Square
____________________________________________________
What's in a bowl of Katong laksa
A typical bowl of laksa consists of seafood and vegetables dipped in a rich, creamy, and fragrant smelling gravy that whets appetites. You can pick up scents of fresh coconut fragrance from the distance!
comments powered by

Disqus