Hidden away in this place they call 'Paradise', previously a British Colonial area in the 1950s, then the Central Manpower Base which then became an area for local Carpet Retailers before it became a Central Restaurant Hub in the last 8 years. Near the Botanical Gardens, close to Holland Village, Botanic Gardens and Farrer Road MRT Dempsey is full of new discoveries. Somewhat difficult to get to by foot and by bus so a taxi or a driving partner is the best option. Although I was told that there are shuttle buses every hour to Orchard Road and you may leave your car safely and take a taxi at the end of the night or use the valet service for $37.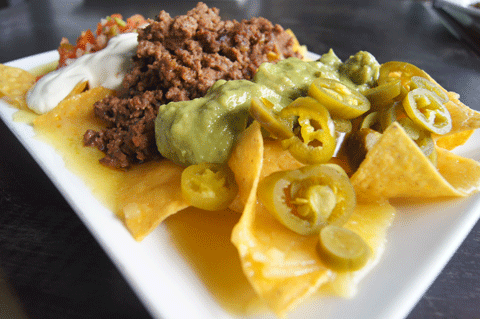 Nachos at La Salsa
Apart from the great amount of cars parking, looking for places to park or cars already parked there is a great choice of places to drink and eat and even do a bit of shopping to take home. Such places as Jones the Grocer and Culina Gourmet Boutique & Bistro gives you a chance to get what you want and then relax a little before the drive back home.
I chose La Salsa which has been around for 4 years and is actually surprisingly linked to Cha Cha Cha at Holland Village in my previous report due to its Mexican theme and the fact that they know each other. From the outside it seems quite quiet but in this little village I think the idea is to relax and enjoy a little after a hard days day at work.
This place is a welcoming release from the outdoors with ambient and soothing atmosphere with welcoming staff and an onboard resident soloist named Morgan playing relaxing music on weekdays in the evening. They have great entertainment on the weekends transforming the place with laser display, live shows and singing waiters to unwind and enjoy while you dig in to the morrish pub grub and Mexican specialties.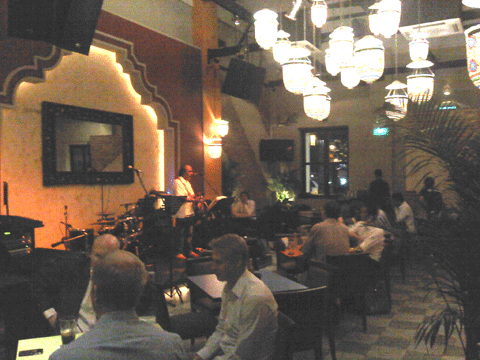 Live entertainment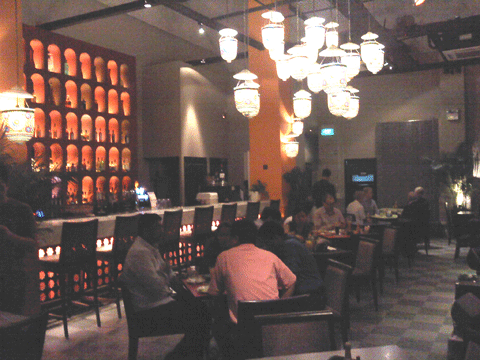 Dining Area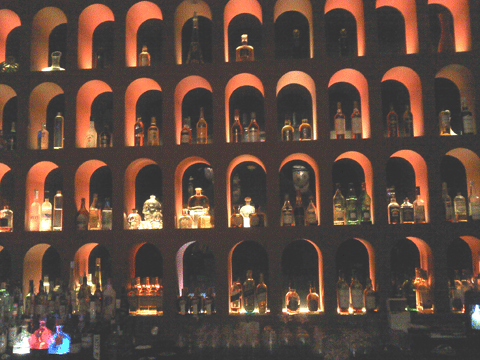 Back bar
I understood that they take care of their own staff's education and immediate future and respect that their staff can do their job properly without much supervision which adds to an easy going but prompt dedicated attitude to the service. This place is available for private events and functions and has also entertained weddings and networking events. A great place for office meetings to talk about the days events and business matters and experience the chill-out zone of this area while tucking in to spicy compilations.
Late night dining on weekdays and they are open from 12pm until 12am with last orders at 11pm for main courses but pub finger food until closing and on the weekend they close at 2am and main courses can be ordered an hour before closing.
For refreshments the ice cold Frozen Margaritas (I recommend the lime concoction) and Sangria for something less punchy. Sitting at the bar or the surrounding tables or alfresco whichever takes your fancy.
Recommended are the Bacon Wraps with Jalapenos or the Quesadilla (thoroughly enjoyed the Chorizo version) and it's important to remember that Mexican food is larger than normal so its best to get messy and there is no need to get dressed for the occasion. With homemade salsa, sizzling Fajitas with flour tortillas, sour cream and condiments, Chimichanga deep fried remaining moist on the inside and crisp on the outside, Burritos pan seared, Enchilladas oven grilled and deserts such as Caramel Flan and Three Milk Cake wrapped in Mango.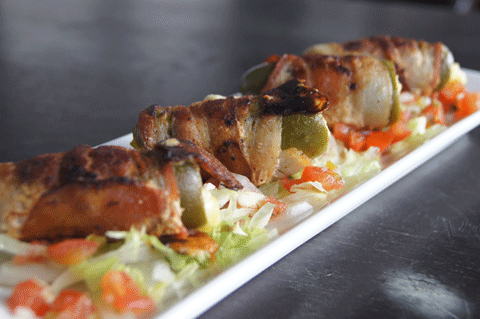 Bacon Wraps with Jalapenos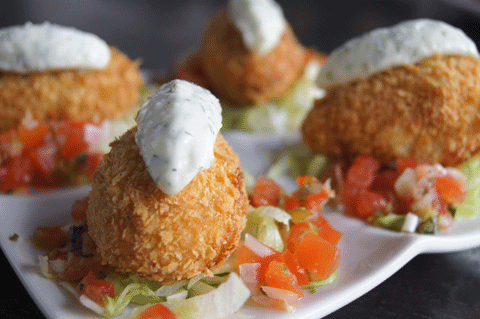 Crab Cakes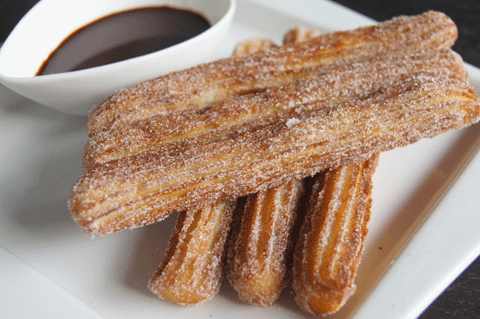 Churros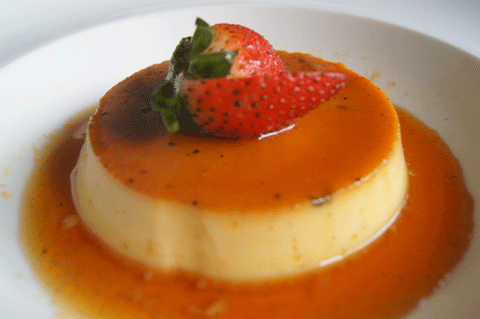 Caramel Flan
So if you are considering a great weekend or a casual weekday evening you should explore this hidden/enchanting place and receive a warm welcome from the kind hosts and staff, sit back and enjoy the pleasant atmosphere and entertainment of La Salsa.
Mexican Restaurant Bar
11 Dempsey Road #01-17
Singapore 249673
Tel.: +65 6475 6976
comments powered by

Disqus