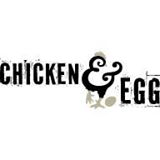 PT CREATIVE FOOD, Indonesia opened Chicken & Egg on May 1st, 2013 and located at Cilandak Town Square (Citos) Lower Ground as their first restaurant project. Chicken & Egg is a unique dining concept, choreographed to offer our guests a simple dining experience in an upscale and casual restaurant. Chicken & Egg open from breakfast to late dinner.
Directed by Edo Widjaja, executive Chef, Chicken & Egg offers a wide range of menu items, created from original and innovative recipes like Spit-roasted Indonesian Spiced Chicken, Chicken & Egg "Tapas Style" and Chicken Macaroni. In line with the chicken menu, the egg recipes are good and simply creative in their distinctive presentation and cooking method such as the Gourmet Omelettes, Fried Egg "Thai" Style and the Sweet Shoope for a sweet finish to share. All the chickens are sourced from the healthiest free-range farms available and do not contain any hasty hormones or antibiotics.
The bar is featuring a very special, unique and innovative selection of cocktails from Passion Fruit MOJITO to their own Ice Tea collection. The cocktail list demonstrates creative interpretation of the classics, but without alcohol, prepared the original way shaken or stirred by mixologists.
The restaurant design by EDG Design San Francisco is a twist between casual and elegance. The stylish 120 seat restaurant offers the guests the choice of indoor and outdoor comfortable lounges. At Chicken & Egg, it is first all about food, but conviviality and comfort are the other elements to insure that special moments are created.
Cilandak Town Square (Citos)
Ground Floor Unit 012, 014, 016
Tel: 021 - 75920233
Operation hours:
Breakfast
Sun-Thu:7.00AM - 11.00 AM Fri-Sat & PH:7.00AM - 11.00 AM
Lunch & Dinner
comments powered by

Disqus