May 16, 2013 11:37 AM
[Singapore}
By Craig Wilson Reported on May 10, 2013
Keywords : Korea  Tanjong Pagar
With over 50 Korean restaurants in the area Tanjong Pagar has been hit by a wave of interest from Koreans leaving their everyday job in business and IT and moving into the booming market. The local manager says it's a new trend here and has always been interested in the F&B industry and is in partnership with 3 others. Together they set up this new business which opened 9 months ago and believe in its authenticity.
■
SuPulae
80 Tanjong Pagar Road Singapore 088501
Tel.: +65 6225 2248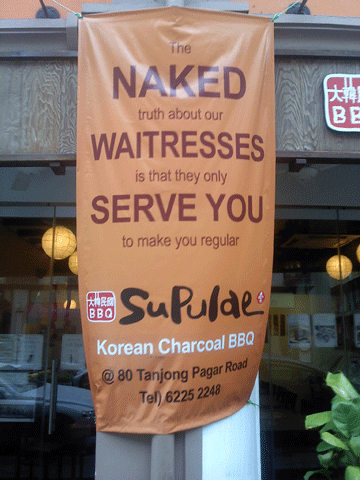 The Naked truth about our waitress is that they only serve you to make you regular. Not "NAKED WAITRESSES SERVE YOU"
From being a regular visitor of the area due to its vibrant nightlife and diversity of pubs, clubs, cafes, restaurants, unusual shops and it being popular with the younger generation and young professionals I have noticed they are starting to revamp the area and give it a new facelift. Towering over Tanjong Pagar is the highest residence building and close by the office blocks and Tanjong Pagar and Outram Park MRT shooting off in various directions.
SuPulae says that 70% of their customers are Singaporeans and 30% Westerners, Japanese, Mainland China and Koreans. Everyone wants to try everything and then go off to the nearby Korean Karaoke bars to continue their night.
With the Korean Food & Beverage industry on the increase and where business is good and with such entertainment as Korean movies, drama and song they all want to sample the delights Korean style!
SuPulae is open from 6pm Mon-Thurs & Sun until 12am (midnight) and Fri-Sat until 2am. There are large queues on the weekends so be prepared to wait as most people choose to do. This Open Air Warehouse Factory design of the interior is air-conditioned and a very smart and clean establishment. There is also Korean Television for those who want to be closer to home. They were all willing to help and show off all they had to offer and I was very impressed!
The heart of this place is the Charcoal Gas Ignited BBQs on every table where Beef and Chicken are grilled and soup is prepared. The Beef Spareribs are the most popular with the men and the Marinated Ribs with the women. Singaporeans prefer the set menus as they are unsure what to order and is designed for 2 people but they also like to try other selections and experiment. I was told that at a later stage they will have a set menu for more than 2 people. The Charcoal grill is not spicy but the hot and spicy variation is very popular and can tantalize the most challenging individuals.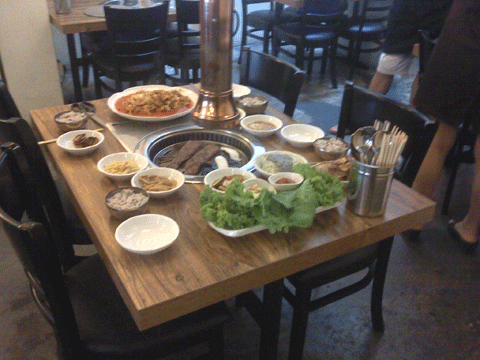 Charcoal BBQ set up
They have daily promotions and the current 2 bottles for S$6 each is going down a treat I heard through the grapevine. They have Korean Wines such as Soju (similar to Saki) @ S$15 (current promotion) and Makulli (Rice Wine) @ S$18.
It takes time to cook so be prepared to by there at least an hour and drink a little on these Charcoal BBQ fitted tables with adjustable fume extracts hanging from the ventilation shafts fixed to the ceiling overhead and the place warms up pretty quickly!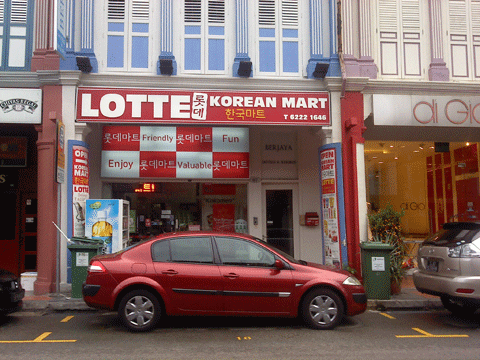 LOTTE Korean Mart
So with the local Korean mart nearby for shopping, the many bars to enjoy and choose from let Tanjong Pagar be a new experience for you and sample and experiment to this kind of fashionable hideaway and enjoy the evening!
comments powered by

Disqus