May 9, 2013 12:33 PM
[Singapore]
By Craig Wilson Reported on May 8, 2013
Keywords : Porterhouse  steak
Lawrence Tan is a family orientated restaurateur who has been in the F&B business for over 35 years and has seen Singapore change from the idyllic lifestyle of the 70s and 80s to a more busy and dynamic city of stress and hard work. He reflects that for his family life is busy and he doesn't have much time to spend at home. He feels that his restaurant needs the support and teamwork that he is able to offer and it's his own little family here at Killiney Road, Singapore.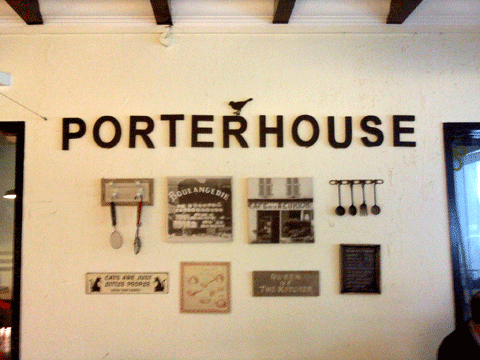 Porterhouse, Restaurant & Bar
Porterhouse is the only bar in the vicinity of this up and coming area near Lee Kuan Yew's residence which is heavily guarded but hidden away between Orchard Road and River Valley Road and close to Somerset MRT.
There is quite a selection of eateries next door and down the row of establishments ranging from Japanese to Thai to Vietnamese along with fresh sandwiches and take away style choices for the busy neighbourhood.
Porterhouse has a bar outlet called Butcher's Bar which is popular for an afternoon or evening drink to catch up with friends and watching the passes by in the typical seating Singapore outdoor environment and fashion. Porterhouse also has outdoor seating available.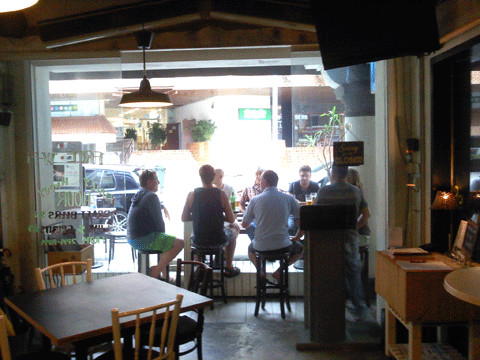 Butcher's Bar Outside
Porterhouse has a variety of cuisine and there's a lot to choose from and from the 16th May 2013 they will be revamping their menu to also deliver for those who are not particular about steaks but still want to enjoy the atmosphere. They will be offering more choices in the main menu and a tapas selection which will all be made in the Josper charcoal conventional oven where Porterhouse were one of the first to have such a style of cooking.
Meals start around 4pm but corporate clients can have a private business lunches and also reserve a private room for groups of more than 6 people.
Steaks are from AUS/US Grain Fed, Corn Fed or Grass Fed cattle and are cooked in the Josper oven after being vacuum sealed and placed in warm water for 6hrs so the meat is tender and then chargrilled to perfection while the inside remains juicy and tender. They use Apple Wood with their cooking which gives a certain fragrance.
There are different cuts of 240g of Ribeye, Tenderloin or Sirloin and bigger portions of Porterhouse of up to 1kg which is enough for 4 ladies or 4 gentlemen with appertisers to start. ASADO steak is the Japanese market recommendation which melts in the mouth and sounds truly delicious! They have a range of sauces including the Porterhouse Moo Moo cooked with the juices to enhance the flavour. Porterhouse is the best mixture of meat comprising of tenderloin (which is lean and tender) and striploin (which is slightly fatty).
Butcher's Bar is more casual and also has the same menu and a snack menu as well but these will be recreated after the 16th May 2013.
They have a good wine selection with Spanish table wines and a special selection which Lawrence Tan said it's 'feeling to believing' and 'guests know what they are getting' and all prices are printed on the bottles. They have received positive feedback for this. So you will have to investigate to see what they have on offer but it looks pretty impressive!
■Porterhouse, Restaurant & Bar
111/113 Killiney Road Singapore 820299
Tel.: +65 6732 5113
comments powered by

Disqus