May 8, 2013 09:31 AM
[Singapore]
By Craig Wilson Reported on May 3, 2013
A fresh perspective on family dining Japanese style! I must say as a British Westerner I don't get a chance to see many Japanese restaurants which display a mixture of Singapore and Japanese intrigue as the Tampopo family restaurant. There is a nice big sign from the outside showing off the character and theme of the premises and you feel the need to investigate.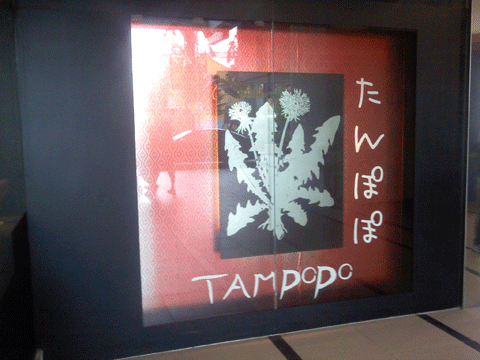 Tampopo operated by Creative Food Concept Pte. Ltd.
On arrival the waiters looked ready and set for the lunch hour due to come soon and I was given a brief explanation into the tap and order style where your order is delivered on a conveyer belt and dished on to your table when it's ready. This was a new fashion brought in from Japan I was told in 2008. The other seating area is more for direct waiters service and then the wide and varied selection of the special monthly and seasonal promotions and specialties and the main menu.
Catering for all ages and the disabled you are made to feel that this is unusual and distinct food at a reasonable price. Tampopo is the pioneer for Black Pig specials from USA which are more tender and juicy than the usual every day pork that you can taste in Asia. Cultivated, excercised, bred for customer satisfaction you can choose from which section and which parts. The recommended Top Grade has the right mixture of fat and meat than the more meaty pork. Other parts are the Jowl (Cheek), Leg, Shoulder Loin or Belly (most fatty part).
One tantalizing trial could be the Deluxe Tampopo Black Pig Shabu Ramen. Ramen's here were nominated as one of the best in the Straits Times for the reasonable and large portions.
Tampopo create the best dish they can for every part of the Black Pig. The Director has sampled his signature dishes and continues to do so and brings them back to Singapore.
The 3 signature dishes are Black Pig, Ramen (imported Hokkaido & Kyushu) and Tonkatsu (fried pork cutlet) but they do have some healthy options as well! Tonkatsu Curry is a nice favourite and the Seafood selection consists of prawns, fish and oyster and they also have some Pork Cutlet Choices such as fine fillets rolled with toppings without the need of tenderizing.
The Bread Crumbs used are from Hokkaido which give a special golden and crispy texture when coating pork cutlets and are shipped from Japan along with many of their other products and Fresh Fish is delivered twice a week. The noodles are a special secret imported from Japan and have distinct bite and chewieness to their texture (almost al dente).
I was told that it's important to have authenticity even though they might be a little more expensive! Fresh quality in fine and family dining style partner reasonable prices and high standard here at Tampopo!
Whereas Locals prefer to choose the lunchbox menus because of their variety and affordability with children's setbox choices there are also many other tempters. Mini Steam Boat (Black Pig Mini Shabu Shabu which means 'Swish Swish') and Wafu Steak (popular with young executives), a variety of seafood in different styles (including the unusual Baby Squid eaten whole and quite delicious), Shashimi Sushi (fresh twice a week), Blue Fin Tuna, Chirashi Sushi and Maki.
At Liang Court off River Valley Road and between Clarke Quay and Robertson Quay (Clarke Quay MRT) there are over 300 items to choose from where the slightly smaller location at Takashimaya has approximately 200 items but most are specials! At Takashimaya there is also the fine dining for professionals, executives, etc. called Tampopo Grand. Here there is a more seasonal variety on offer that the more casual Tampopo at Liang Court.
I was also showed the Tampopo Deli which is a quick and easy version of the family style big brother and is mainly designed for take aways where hot rice can be served after you purchase bento and the more fast food type buffet service with 'quick and eat' style customers. The other more aesthetically pleasing and more for the busy mother's and ones with a sweet tooth is the Dulcet & Studio (1st year Anniversary) specializing in Cream Puffs and chiffon cakes. They also let out this establishment to special events such as cooking classes and jewelry displays for sale. Cakes are made in the morning and during the day and you can see the busy bakery on show while you tuck in!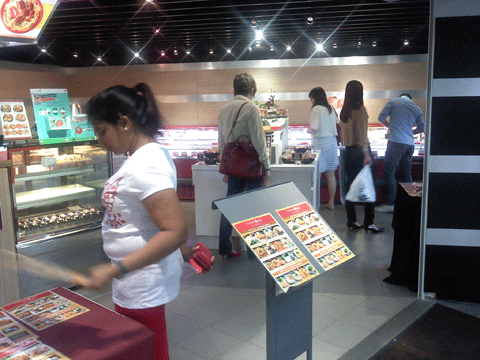 Tampopo Deli Counters
■Tampopo (family dining), Tampopo Deli (Take Away & Buffet), Dulcet & Studio (Patisserie & Bakery & Special Functions)
177 River Valley Rd., #01-23/24 & #B1-16 & #01-41/42 Liang Court Shopping Centre
Singapore 179030
Tampopo Tel:+65 6338 3186 Open:11.30am to 10.30pm Sun. 11am to 10.30pm
Tampopo Deli Tel.:+65 6338 7386 Open:10am to 9pm
Dulcet & Studio Tel.+65 6338 9248 Open:10am to 10pm
Also Tampopo (family dining) & Tampopo Brand (fine dining) at Takashimaya, Orchard Rd., Singapore
Operated by Creative Food Concept Pte. Ltd.
comments powered by

Disqus