May 6, 2013 11:19 AM
[Singapore]
By Joyce Tan Reported on May 2, 2013
Keywords : Peranakan
A combination of Chinese and Malay cooking styles, Peranakan food is a must-try when eating your way through the city. Find out where in Singapore you can go for excellent Peranakan food that's worth every cent. You'll thank FOODRINK NEWS for helping you locate the city's best Peranakan restaurants and eateries. Go read!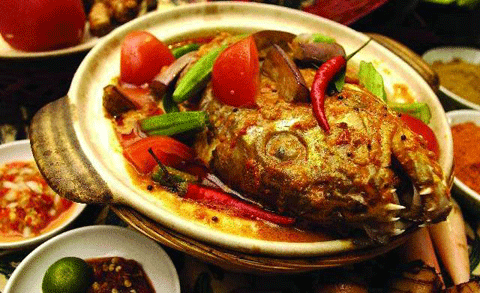 Peranakan fish head. Mmm...Peranakan food! Savor the very best of Singapore's Peranakan food.
If taste is anything to go by, Peranakan or Nonya food is probably one of the city's most popular cuisines. Its creations are largely based on the Malay style of cooking touched with Chinese influence, making it a unique type of cuisine. The liberal use of spices and herbs like lemongrass, chilies, and tamarind paste to enhance the flavor of each dish creates a rich cuisine of braised dishes, stews, and curries.
A Peranakan meal would be incomplete without the usual suspects such as fresh leafy bamboo shoots and toasted shrimp paste with squeezed lime juice. Cordon bleu Peranakan cuisine involves a lot of cutting, chopping, skinning, pounding, and grinding of raw ingredients.
Just as there are many types of Malay food, Peranakan food too, have many different types, varying in flavor, texture, and cooking techniques, and appealing to all kinds of people. In Singapore, dishes are influenced by Indonesian culture, featuring the use of coconut milk. Perennial favorites include the itek tim (sour duck soup), babi pongtay (stewed pork with fermented soya beans), sambal terung (stir-fried eggplants with chili), belachan prawns (prawns in chili paste), sambal udang with petai beans (prawns fried with sambal chili paste and petai beans), and kuih dar dar (coconut pancakes). Here are four places where you can go for authentic Peranakan food in the city.
■Baba Inn & Lounge
Boasting a causal yet chic setting to enjoy lasting favorites that are piously prepared with care, Baba Inn & Lounge is an intimate Peranakan restaurant that serves one of the city's best sambal belachan.
Where to go: #01-03, 103 Frankel Avenue, Singapore 458225
■Ivin's Peranakan Cuisine
Offering excellent Peranakan fares at highly affordable prices since the late 1970s, Ivin's Peranakan cuisine relies on time honored family recipes to bring out the spicy flavors of its food. Must-tries are the restaurant's fish curry, babi panggang (roasted pork belly), and classic ayam buah keluak.
Where to go: 21 Binjai Park, Singapore 589827
■My Peranakan Spice Box
Don't be fooled by the casual appearance of this eatery - the food served here is nothing short of tasty. Right smack in Toa Payoh Central, this causal eatery whips up an extensive variety of affordable dishes like the ayam buah keluak (chicken and keluak), Nonya chap chye (mixed vegetables in soup), and seafood assam pedas (sour and spicy fish).
Where to go: Block 190, Lorong 6 Toa Payoh, #01-528, Singapore 310190
■The Blue Ginger Restaurant
There's no mistaking the restaurant's signature dish: food reviewers and bloggers have flooded the search engines with tons of temptingly presented images and flavorful descriptions of its ayam panggang (chicken marinated in sweet ginger sauce). Tender, juicy slivers of chicken, dipped in coconut milk rich in exotic spices exude a fragrant and piquant flavor that's undeniably tasty! You'll definitely keep returning for more of the restaurant's mouth-watering goodness.
Where to go: 97 Tanjong Pagar Road, Singapore 088518
comments powered by

Disqus