May 2, 2013 11:48 AM
[Singapore]
By Masaaki Yasuda Reported on April 24, 2013
Tokyo Sushi Academy opened a new sushi school at Chinatown Point on April 15. The first launch in Singapore. Sushi popularity has continued in the world and sushi chefs are wanted. In order to foster sushi chefs in Southeast Asia of rapid growth, The academy established a school in Singapore as a hub in Southeast Asia and is anticipating the advance to Indonesia, Thailand and other countries.
133 New Bridge Road, Chinatown Point #B2-17, Singapore 059413
Phone: +65-6444-7828
Tomi Horiguchi, director of Tokyo Sushi Academy
Courses for professionals are sushi course and Japanese cuisine course attending one month 6 hours twice a week. Fees are S$2000 and S$2400 respectively. And two hours' courses for hobbyists, mainly housewives, are sushi course and decoration sushi course. S$180 and S$150 respectively. It was a good start than anticipated that professionals collected 6 persons, half Japaneses and Singaporeans and hobbyists collected 30 persons, mostly Japanese housewives.
The school in Tokyo opened in 2002. Initially, two months short-term training courses for foreigners was popular, but foreigners have decreased because of strong yen especially after Great East Japan Earthquake in 2011. Japaneses have increased to reverse and to train sushi chef full-fledged course of one year has become a main current.
"Students who say that would like to work overseas has increased. Even though they have never been abroad. Today in Japan people do not know how to become sushi chefs. Apprenticeship in old days has changed to school now. 40% of the graduates go abroad directly, 40% is trained in Japan for a while with the aim of overseas and 20% remains in Japan. Now, jobs of sushi chefs are required from Europe and Australia", Horiguchi said. Tokyo Sushi Academy also has opened the website "Sushi JOB" to introduce sushi chef jobs overseas. The academy has sent out Japanese sushi chefs abroad widely.
Tokyo Sushi Academy directly operates two all-you-can-eat sushi restaurants named "Sushi Academy" in Tokyo. It has become a hot topic that students cook sushi at those restaurants. In addition, one directly managed restaurant in Guangzhou city, China. In Shanghai the academy will open upscale sushi restaurant "Ginza Iwa" that won the Michelin one-star in Japan and one casual sushi restaurant. "Tokyo Sushi Academy's image is to train the sushi chef of the casual line, but will have premium line in order to increase the brand power of the school" Horiguchi said.
The time being, Singapore school expands both for professionals and hobbyists. There is no competitor on route in either people.
Horiguchi said "Singapore is hub and flagship to make us lead to the next stage. Our credit will increase by placing the school in the center of various information. It is a foothold to advance Indonesia and Thailand." There are similar sushi schools in key locations around the world, but not in Southeast Asia. It looks like the base of supply of sushi chefs in Southeast Asia where sushi demand is still growing.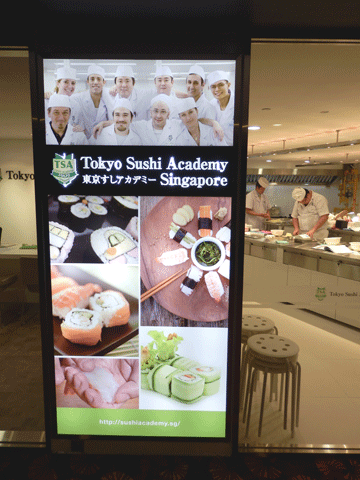 Signboard. On holidays, crowd of people watch training scene.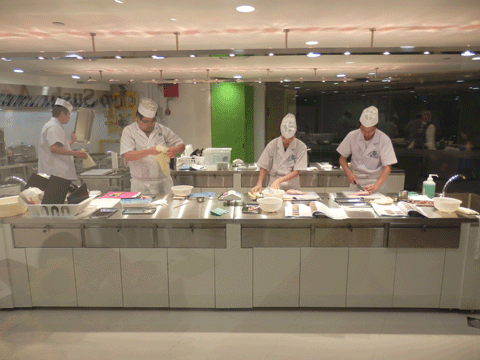 On training
Singaporean western chef also learn sushi.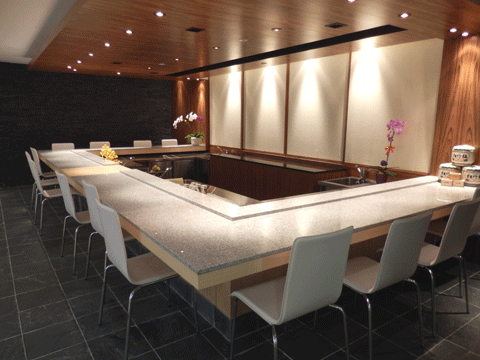 Tasting room. In future, seminar will be held here.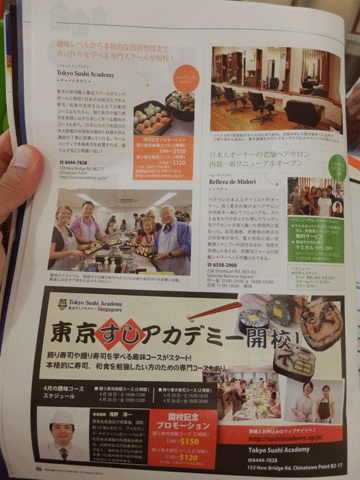 Ad in the local free paper
comments powered by

Disqus