May 1, 2013 05:34 PM
[Singapore]
By Masaaki Yasuda Participateed on January 18
Keywords : competition  FBMA  server
On April 30, the final tournament of the Singapore National Restaurant Skills Competition was held at hotel Conrad Centennial where young chefs and servers compete each other. The winner was Conrad Centennial team among 24 teams applied. Food and Beverage Managers' Association (FBMA) has organized the event for three years.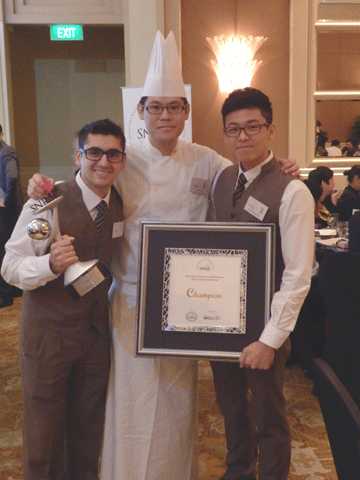 Conrad Centennial team, the winner
Entry can be done by the team of 1 chef and 2 servers. Eligible to participate less than assistant manager. Initial screening was held on April 1. 24 groups showing off their skills, such as a table setting in front of the judges. 9 top teams were selected to challenge the finals on April 30th. Assuming the lunch, 9 tables and 3 simulated customers each table were prepared. I participated as a simulated customer in charge of Inter Continental team.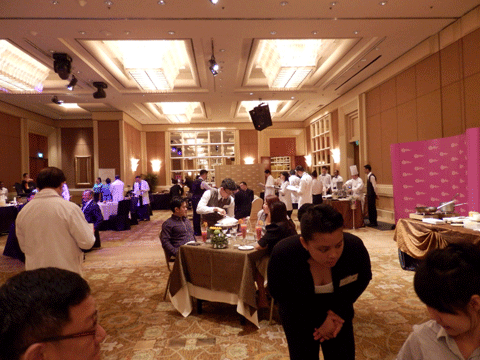 Luncheon competition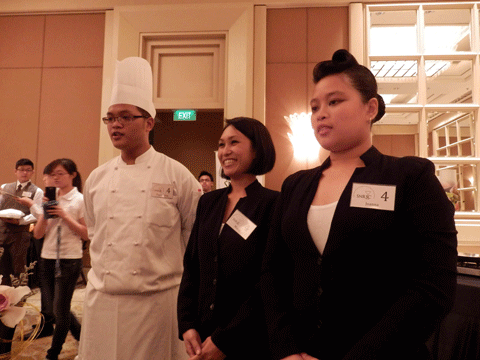 1 chef and 2 servers of Inter Continental team. The following menus are made by the team.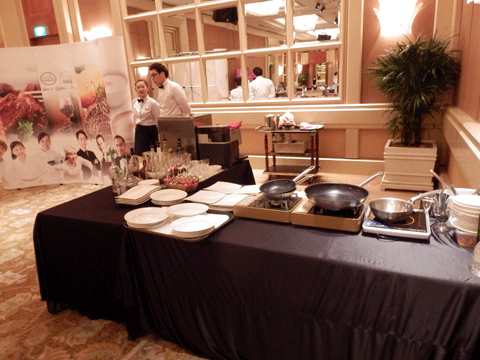 Cooking corner of chef
Chef cook at the corner near the table. Servers serve dishes, make Mocktail (non-alcoholic cocktail) in front of customers, explain wines, bake crepe suzettes and make coffee at last. The theme imposed are appetizer of shrimp, main of chicken and coffee with whiskey.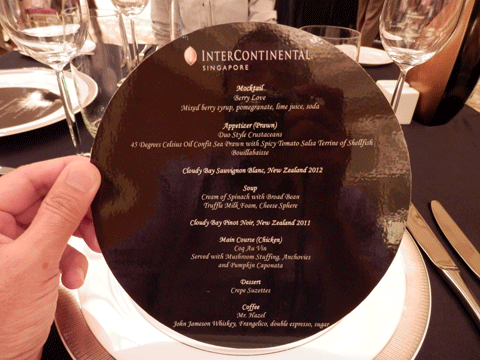 Printed menu of Inter Continental team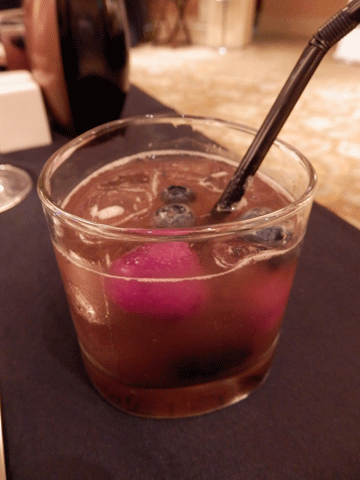 Original Mocktail "Berry Love"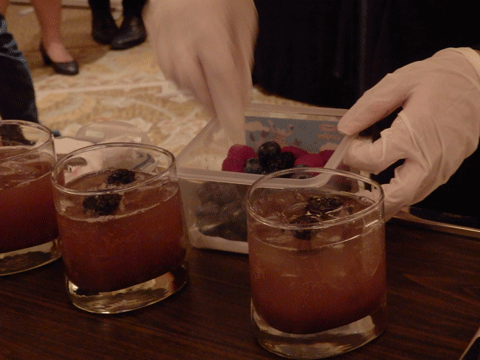 When you touch raw things, rubber gloves are required.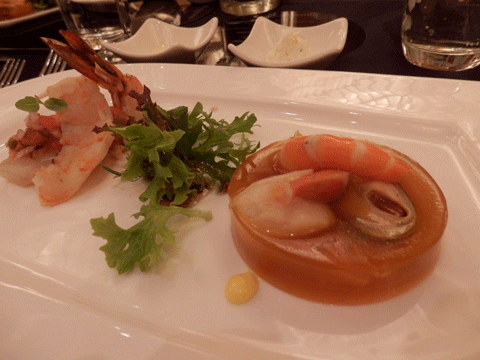 Appetizer of shrimp
Select wines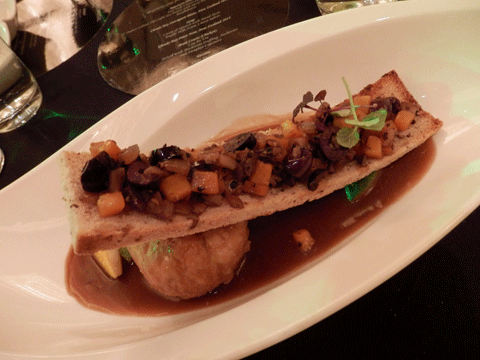 Main dish of chicken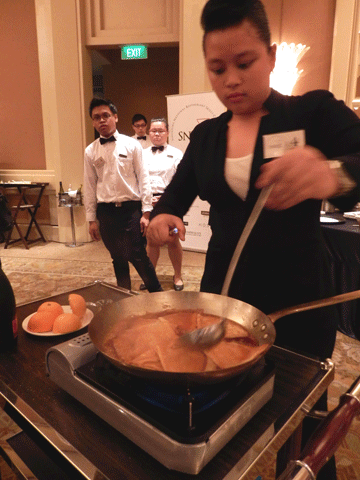 Crepe Suzette is nervous. The common theme.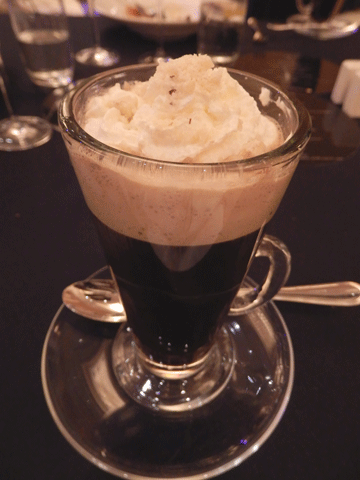 Coffee adding Irish Whiskey and hazel nuts
Unfortunately some dishes are disappointed me because of its low quality. Judges are roaming around and sometimes request customers to comment impressions. Tension among the team has been transmitted to close to me.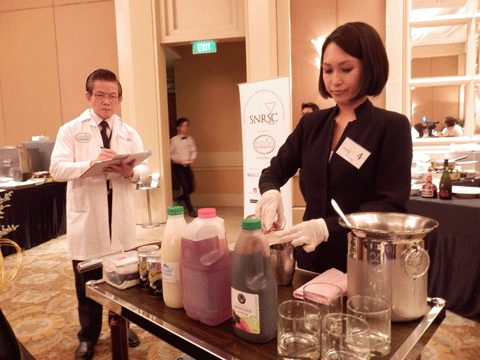 Judge close to the server
Winning team was announced at a dinner party the same night. In addition, people who have contributed to F&B industry in Singapore are rewarded and gave speech. Every speeches are very humorous and received raptures. I realized that people eating out are full of vigor at any country.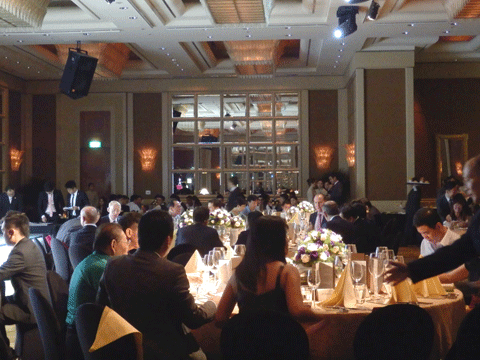 Dinner party of 300 participants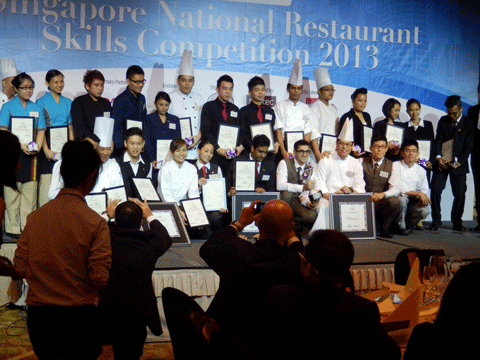 All the teams
Government agency Workforce Development Agency(WDA) has cooperated. Every year visa of foreign workers has been severe. WDA wants to operate restaurants efficiently with the Singaporeans. Wong Hong Kuan, chief executives picked up a story of Chinese hot pot chain "Hai Di Lao" to make a person work to multi-purpose.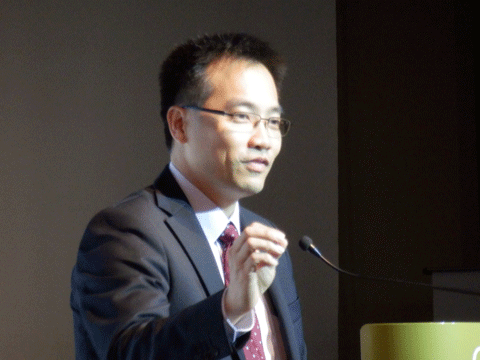 Wong Hong Kuan氏、WDA。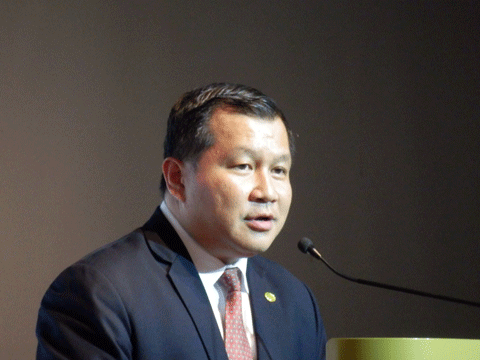 Cheong Hai Poh氏、FBMA。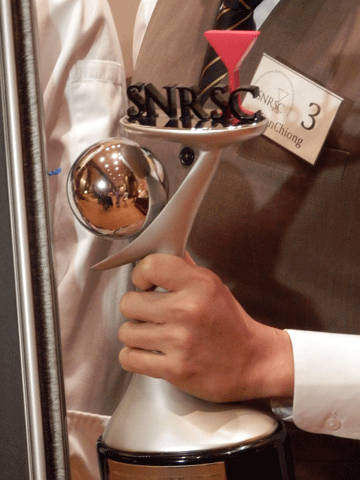 Trophy and prize of S$3000
President of FBMA, Cheong Hai Poh proposed to try to keep thinking what the service of Singapore own. In addition, Mr. Chung has built up the partnership with Germany, Indonesia, Malaysia, Cambodia to make FBMA international.
comments powered by

Disqus