A great hide away off Changi Road with nearest MRT stations Kembangan or Eunos. It's quite a walk from these MRT stations so you may be advised to take a taxi or get a nice cold refreshment after you're walk along the hussle and bussle of Changi Road.
The atmosphere is very pleasant and quiet and I was even greeted by a neighborly parrot from the next door pet shop saying 'hello' and 'how do you do?' when I sat down outside.
Tables are presented outside in a friendly and family orientated open porch where inside is quite a fair size dining area with an open coffee/kitchen area to one side of the premises. Next to this serving area is the Garden Slug 'Shelf of Stuff for Sale' comprising of T-shirts, coffee mugs, take-away plastic cups, soap bars and other souvenirs. Outside has some welcoming plants to make the place more authentically green.
Here you have a weekly 'a la carte' menu with specialties of the week and an everyday menu where I was told that the 'All Day Breakfasts' list are the top sellers and most popular. They cater for vegetarians (indicated by a 'leaf' symbol), favourites (indicated by a 'thumbs up' symbol) and a healthy option (indicated by a 'F' symbol).
From what I've seen they really try to please the taste buds of any difficult, hard to satisfy and enthusiastic customer and has a healthy option for most tempting concoctions which you see people happily tucking into or which makes your mouth water when you dip your eyes into the written selection.
The waiters/waitresses look content and pleased with showing off their display of cakes from their cake showcase and their 'choc ice cake on a stick' which must be a delight for the young children and hungry mothers.
There's a book cabinet of travel books for those passes by or those with interests around the world and another 'Shelf of Stuff for Sale' in the main restaurant area. When I was here last I had my laptop with me and was hoping to catch up on some overdue work and was welcomed with a cool and chilled drink and took advantage of the WIFI and their assortment of travel / weird and wonderful books of the world and had something else to cool me down before the evening set in and it was time to go home.
What took my fancy was the 'Let's dig in platter' option for S$19.50 (feeds 4) - Tofu Batons, Zucchini Fingers, Mushroom Munchkins, Calamari Rings, Wasuga Wings, Potato Wedges, served with an assortment of delightful dips.
Another tantalizing idea is the 'All Day Big Breakfast' - S$18.90 serving the whole works for the challenged or standard 'All Day Breakfast' - S$12.90 or the vegetarian option 'All Day Vegetarian Breakfast - S$12.90. There are also simpler and healthier options as well but would make a fantastic start to the day or for a content and happy start to the weekend!
If you're into something a little bit special then you can ask them about their 'Truffle-some Shrooms Pesto Pasta which caught my eye even before I sat down at S$23.50 from the weekly 'a la carte' menu.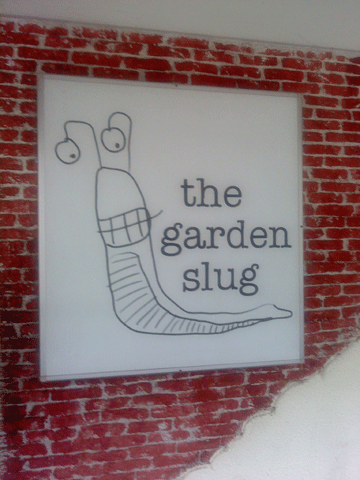 The Garden Slug LLP
55 Lorong L Telok Kurau
Off Changi Road (Kembangan / Eunos MRT)
#01-59/61 Bright Centre
Singapore 425500
Tel/Fax (65) 6346 0504
Contact: Mishal Maru (Operation Supervisor)
(65) 9106 5092
comments powered by

Disqus