"Tasty Japanese BBQ restaurant Itokacho" owned by major Japanese Izakaya group Tsubohachi since June 2010 has arrived in Singapore this December 2012. This is the 2nd outlet expanded to Singapore beside "Tsubohachi". The group utilizes network gained from mother company Sumikin Bussan Ltd., and continue its expanding towards South East Asia.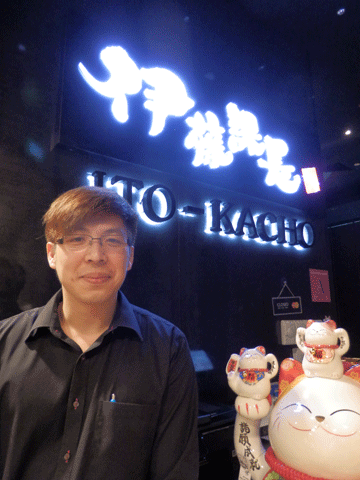 Singapore franchising owner Mr. Lin Zhen Hong
"Itokacho" first Singapore outlet is located on 4th floor at Mandarin gallery, shopping mall equipped within 5 star hotel, Meritus Mandarin on Orchard road. There are many Japanese restaurant in the same floor such as "Ippudo" and "Sujyu". On 2nd floor, there is "Tonkatsu Ma Maison" operated by Nagoya's long established western restaurant, Ma Maison.
Japanese BBQ restaurant "Ito Kacho" has 3 outlets in Japan and main dish is intestines. The name is inspired by intestine names in Japanese. The restaurants in Japan are casual dining offers 480yen to 580yen (S$6 to S$7.50) per dishes and budget around 3,500yen (S$45) per person. However they had made Singapore outlet in different concept. 
"Ito Kacho" in Singapore defines as fine Japanese BBQ restaurant. Elegant wooden made signboard and interior layout where inside of the restaurant is covered which makes it chic and exclusive feel. They also equipped with huge wine cellar and seats are exclusively spaced. Their main dish is Kuroge Wagyu from Kyushu and budget is about S$80 to S$100 per person.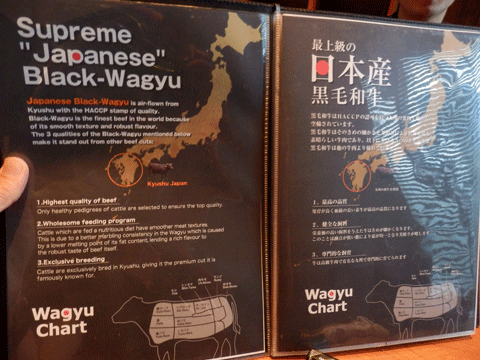 Choices are Black Wagyu from Kyushu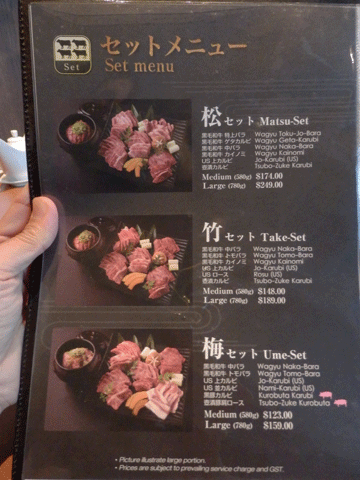 3 kinds of set Menu is S$123, S$148, S$174 (Each 580g)
The restaurant is operated by Singapore's "Itokacho" franchisee Ito-Kacho Holdings Pte Ltd. It was the first F&B business started by mother company, Sumin Kin Bussan's client. Tsubohachi Japan has no capital involved in this business.
Tsubohachi New business development department Sub-manager, Mr. Yamaguchi who is temporary helping out the start of Singapore Ito Kacho, has told us "Tsubohachi franchising system had been well recognized. We own brands of "Tsubohachi", "Ito Kacho" and "AKANE". Izakaya business in Singapore is already grown up and highly competitive. As I heard Mandarin Gallery has good customer profile so we have decided to add value on what we already have as Japanese menu of "Tsubohachi" with BBQ cuisine. He had also involved in first Singapore opening of "Tsubohachi" in May 2009.
For intestines, Only Australian beef can be imported in Singapore and import of intestine from Japanese beef is prohibited. They thought BBQ cuisine is more adoptable rather than offering intestines. They imports Japanese Kuroge Wagyu from only company in Kyushu whose import is authorized by Singapore immigration. They bring in whole guts of Tomobara meat and separate into each part in Singapore.
"We offer U.S. Beef but mainly Wagyu beef. Wagyu beef is more popular because of its softness. Wagyu beef contains more fats. We offer U.S. when we encounter customer request for less fats. Customers are less sensitive about radiation effect today."  
"Customer defines Japanese BBQ and Japanese food separately. Sometimes they don't have BBQs and enjoy just with Japanese foods. We have succeeded to bring in 2 demands at a restaurant."  
Mr. Yamaguchi told us "Our restaurant entrance looks just like a fine dining but hard to define what cuisine we offer. We want to make it clearer towards customer to define what is our specialty at a first look. We want to add more decollation at the entrance. Our customers are 50% locals, 30% Japanese and 20% is Indonesian and Caucasians. Our Indonesian customer is high status group who visits private hospital at Orchard. Japanese tells us it looks so much different compare to Ito Kacho in Japan and asks why we don't offer intestines like Japan. Lunch menu budget is around S$30 to S$40. Our staffs are starting to get used to the operation so we had extended our menus from March. I am trying to let local get in charge and able to operate without my existence."  
Korean BBQ is much more popular in South East Asia. They offer at much cheaper price such as S$20 to S$30 at buffet style but no quality. As Singaporeans are more conscious on food safety, many of them avoid monosodium glutamate which is used in Korean BBQ.
Franchising owner Mr. Lin Zhen Hong told us "There are too little Japanese BBQ restaurants in Singapore. I understand Japan made Wagyu is expensive but if we can manage to offer them at reasonable price, customer will come. My vision is expanding to all over South East Asia so I chose the company name as Ito Kacho holdings. " He looks ahead towards his business expansion at future stage.
Mr. Eguchi from Tsubohachi group development manager told us, group will expand towards South East Asia using franchising method. Ito Kacho Singapore has good advantage of having 2 cuisines in a restaurant which style offer Japanese BBQ and Japanese food.  
Mr. Eguchi told us, "There is no explanation required for good Wagyu. Japanese Wagyu has higher recognition in Japan however foreign beef is recognized better in overseas. "AKANE", a restaurant managed by same group, is bringing good impression for whole group as relaxing atmosphere and good food in private rooms. "Tsubohachi" positioning in overseas is very difficult as it will be easily define as family restaurant.  
The group strength of food distribution comes from the worldwide network done by mother company, Sumikane Bussan. As for Singapore branch is operated by local well-known company which is strong enough to attract the market. Tsubohachi group has huge chance on expanding wisely into South East Asia, from ice-breaking starting from Singapore branch as their good exposure to the market.
comments powered by

Disqus