April 9, 2013 10:27 AM
[Singapore]
By Craig Wilson Interviewed on April 4, 2013
Keywords : cafe  coffee  home roast
Hidden away near Marina Bay and close to Tanjong Pagar and Chinatown Kampong Bahru represents a lot of the old style buildings of Singapore. At night many of the surrounding bars are buzzing with life with young ladies tempting their customers. The Strangers' Reunion is busy throughout the day with young people and foreigners hoping to catch up on some old gossip or a chance to take a break from the busy city.
The cafe has a rustic atmosphere with a range of comfortable-old fashioned-practical-'Alice in Wonderland' type furniture and has a very pleasant temperature to sit and relax. The staff are all busy preparing various orders in the open kitchen or serving guests or replenishing empty water glasses with ice cold water.
There are many choices to choose from to tempt the palette which everyone seems very pleased with. It's not just about the home roasted coffee here but a chance to think away the hours and relax while the staff make it their duty to make you feel at home.
They are suppose to be expanding to another two buildings next door where the original cafe will be a training centre.
It will remain always be talked about to the people who know this hidden gem of home roasted coffee.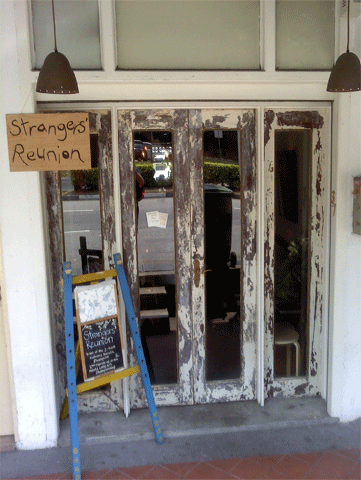 Strangers' Reunion
37 Kampong Bahru Road, Singapore 169356
Open Wednesday-Monday 9am-10pm
Closed Tuesdays
Tel.: 6222 3947
Home of the 3-time National Barista Championship &
2nd runner-up in the World Latte Art Championship
comments powered by

Disqus