Among competitive Singapore Japanese F&B market, new restaurant has bloomed this March 2013. The restaurant offers affordable and high quality Shabu Shabu of A5 ranked Wagyu and Pork Shabu Shabu only at S$90. As their opening promotion deal, they are having 50% among set menus and drinks. The restaurant had invited various people from F&B industry at their pre-opening period to gain fruitful opinions as well as to spread positive rumors among the market. On their grand opening date on 27th March, capacity of 122 seating were filled with reservation.
■「AZMAYA 」
30 Robertson Quay #01-12/13
Singapore 238251
Tel: +65 6737 6863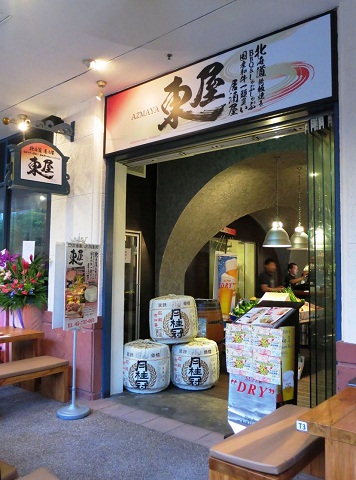 AZMAYA Entrance. Atmosphere of Japanese will definitely grab Singaporean's heart
On grand opening date on 27th March 2013, 80% of customers were Japanese men. 50% off opening promotion deal which you can enjoy all-you-can-eat A5 ranked Wagyu beef at only S$45 per person was held. Any Japanese would run for this offer. In result, more meat eater men were quick enough to grab the reservations.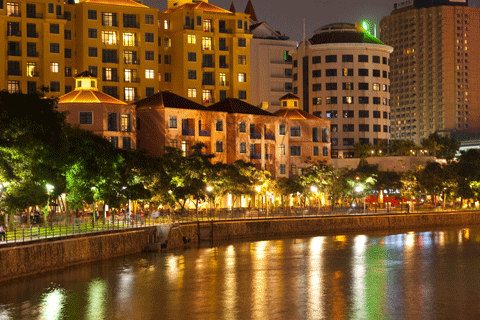 Great location at Robertson Quay riverside.
Location chosen was at one of the most popular F&B district, Robertson quay. They had took over the ex-Italian restaurant location sized 2,000 square feet and recreate as AZMAYA at low initial cost. AZMAYA is located between famous Italian restaurant and Sushi restaurant which made it convinient for customers to explain the exact location of this new restaurant.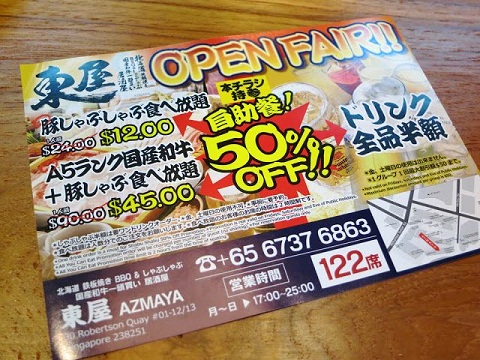 Promotion Flyer
It is fifty-fifty join venture of young enterpreneur KT Holding director Mr. Tsuchiya Toyo and Mr.Ido Masaru whose group owns 180 restaurants in Japan. Operating and concept is depended to Mr.Tsuchiya and restaurant named from Mr. Tsuchiya's name as well. As a front man, Mr. Tsuchiya immigrated to Singapore to start off with Japanese sweets business. While his stay, he had utilized his personality to work on networking among F&B industry which result him to have successful grand opening day of AZMAYA.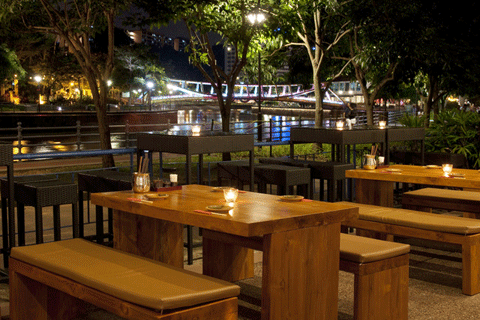 Terrace Seating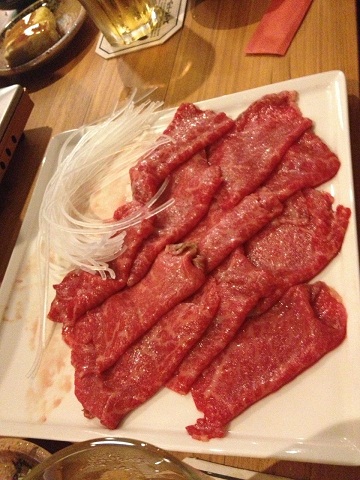 A5 ranked Japanese made Wagyu Beef
The price range and quality balance can be done because they buy a whole cow and import to Singapore via air. The quality Wagyu beef taste so indulging and juicy on your tongue.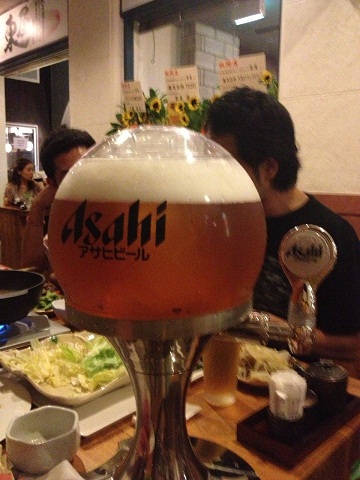 Round Shaped Asahi Beer Jugs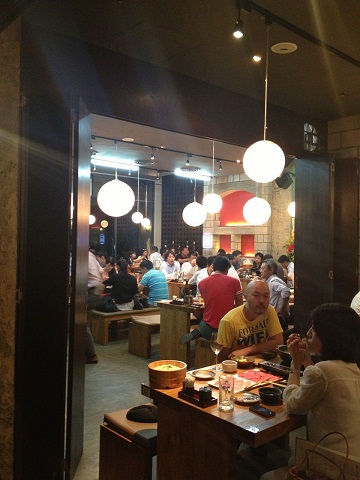 Semi Private Table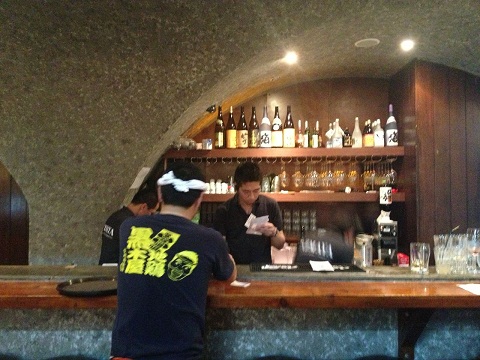 Reused the stylish kitchen layout where it used to be Italian restaurant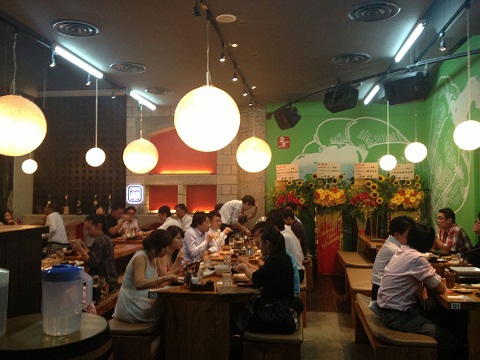 Inside of the restaurants are also filled with new comers
Beside regular Shabu Shabu menu, they have originsl menu named "Snow dome" which is using meringue soy bean and Japanese soup inspired from Meringue hot pot populated in Tokyo, Teppanyaki, Pork Shabu Shabu and wide range of Izakaya style menus. Pork Shabu Shabu set is at S$24, Wagyu and Pork Shabu set is S$90. There are party friendly al a carte course menu price varies from S$39, S$49, S$59, S$120.
Japanese will make a frequent use of restaurant which meets their needs of price, quality of menu and location. Locals will follow and try out the Japanese people's favorite Japanese restaurants. Mr. Tsuchiya is making out this dream cycle in Singapore market. We are expecting high on young and individual entrepreneur growth in this competitive F&B industry.
comments powered by

Disqus