TOKYO SKYTREE shows no sign of slowing its popularity, even now after a year since its opening on May 22 last year. View Restaurant "634 musashi" located 345m high is operated by Tobu Hotel. The sales are 2 million yen per day contributed by many tourists. In order to maintain a strong economy of opening, musashi will change its target from tourists to repeaters and will revamp the menu on May 22. I attended the tasting session.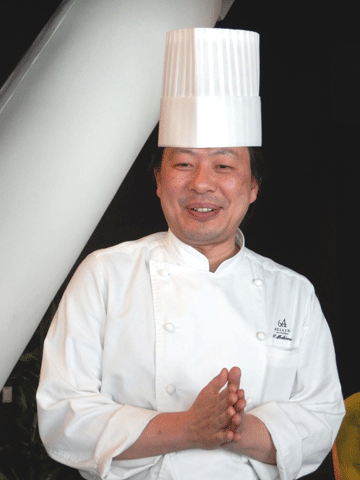 Naoya Makimura, chef
On March 27, Tobu Hotel Management Co., Ltd. operating musashi held a tasting session. Despite bad weather and week day, the premises are crowded with tourists as usual. To climb up to musashi, I went to the reception counter especially for musashi located the same hall as tourists use. Receptionists led me to the shortcut to the line where tourists wait. There was no private elevator and so, my excitement was dampened. Use permit is not obtained even though a private elevator has actually been provided. If customers go up in the private elevator from the driveway of the basement, the motivation will spread further.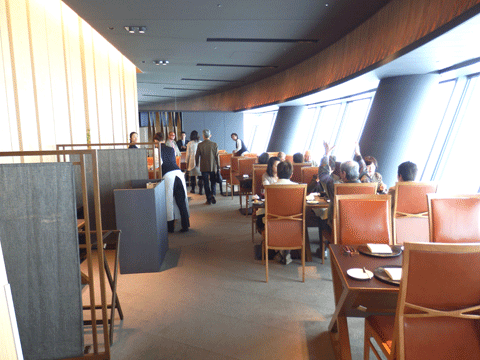 Inside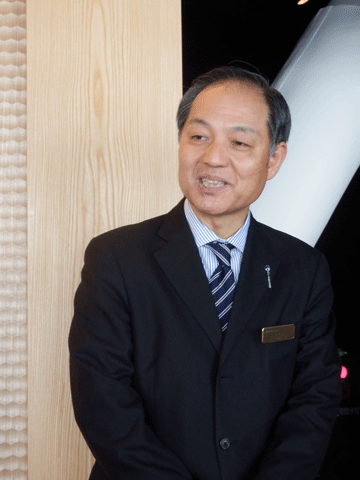 Operator, Mr. Shigenori Sakami, ceo of Tobu Hotel Management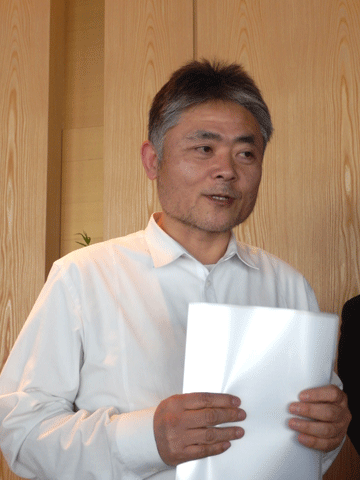 Producer, Mr. daisuku Miyashita, corporate officer of Celux Holdings.
The producer is Mr. Daisuke Miyashita, Celux Holdings, Inc. Celux is good at acquisitions and renovations of restaurants, and runs about 40 outlets including Lobster chain "Red Lobster" and Japanese cuisine "Kurayamizaka Miyashita". Mr. Miyashita is the founder of Kurayamizaka Miyashita and has produced hot spring spa and Japanese restaurants. Then in October 2011, he was entrusted by Tobu Hotel Management as the producer of musashi.
The chef, Mr. Naoya Makimura served as chefs of famous restaurants like "Maison Paul Bocuse" in Daikanyama, Tokyo. He has been the chef of musashi since when it opened. As the concept of SKYTREE was the Japanese culture in Edo period initially, he started Japanese cuisine. Now he cooks Neo Japanese called TOKYO CUISINE which is conscious of the Edo-Tokyo to collaborate Japanese cuisine with the techniques of French. Current courses are 5,000 yen and 7,000 yen for lunch and 13,860 yen, 17,325 yen, 20,790 yen for dinner. Those prices include both tax and service charges and also include elevator charges, usually 2,000 yen per an adult. It is not high prices in the relaxing space of only 94 seats in 400 square meters. And so you can enjoy the night view of Tokyo while dining.
From this May, he will change the menu on the theme of "fusion of French elegance and Edo stylish". I have tasted the experimental menu. The main goal is to shift the customers from tourists to repeaters. And to increase the sales of alcohol drinks, which are now 20% among the total sales, he will enrich the assortment of wine and sake. To liven up the first anniversary he will offer a special menu from May 22.
In tasting the chef Makimura offered the collaboration of French cuisine and Japanese wabi-sabi. The other restaurants cannot keep up with musashi located on SKYTREE view deck. I want to shine as the leading Japanese restaurants, such as entertaining foreign VIPs.
<Tasting dishes>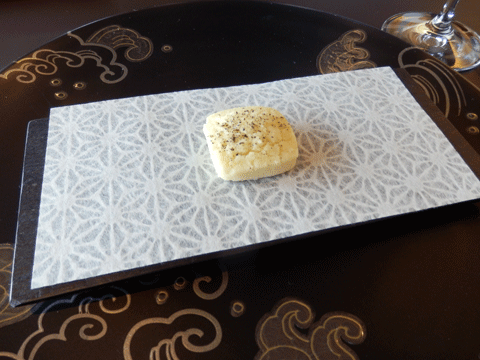 Salty Shortbread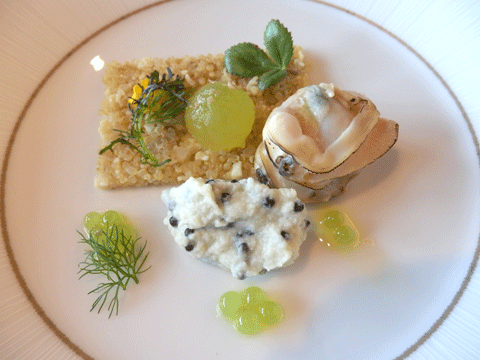 Roasted Clam and Fresh Melon with Caviar and Fennel Sauce.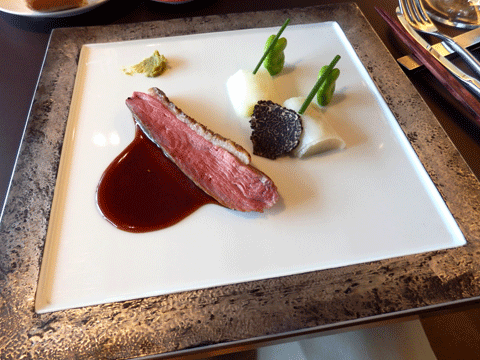 Roasted Breast of Challans Duck with Red Wine Sauce flavored with Yuzu Pepper.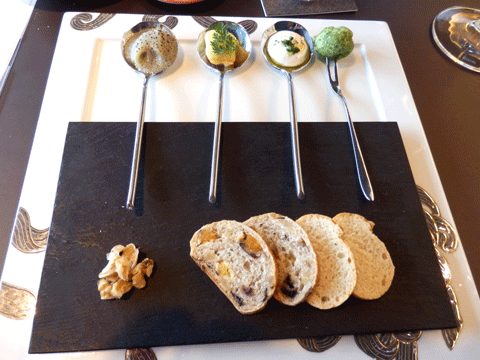 4 kinds of fromage cuisine. Cervelle de Canut, Beignet of Camembert, Roasted Comte and Mustard and Macaroni Gratin with Gorgonzola.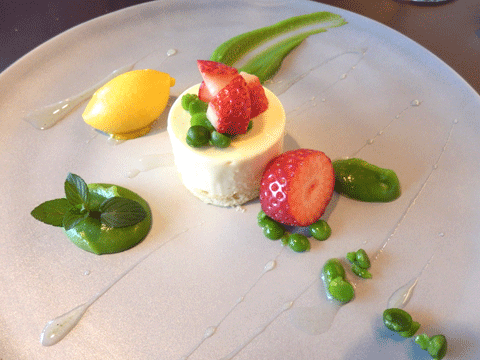 White Chocolate Mousse and Green Peas Compote.
comments powered by

Disqus