March 28, 2013 02:04 PM
Mr. Claudio Sandri, SPATHE PUBLIC HOUSE, owner chef[Singapore]
By Masaaki Yasuda Interviewed on March 20,2013
Keywords : Cafe  Hot dog  Jamie Oliver  SPATHE
Mohamed Sultan St. in Singapore is a unique shop houses gather. There Mr. Claudio Sandri, Swiss chef opened the cafe "
SPATHE PUBLIC HOUSE"
in last November. On weekends the café is fully booked nonstop. Big portion of food is only for the share. Also his personality is shared with his customers as well.
SPATHE PUBLIC HOUSE
8 Mohamed Sultan Road #01-01, Singapore 238958
Tel:+65 6735 1035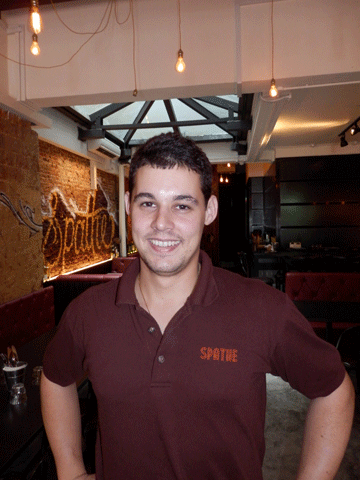 Mr. Claudio Sandri
SPATHE was renovated from the pre-war shop houses. The nearby Robertson Walk gathers restaurants for Westerners. Mohamed Sultan has gathered unique and individual stores since six years ago. Frontage is narrow, the back is long. Has a structure similar to Machiya, shop house in Kyoto, Japan. The café was renovated from Balinese massage shop. Peel off the bare brick walls and paint illustrations there the cafe has issued a casual atmosphere.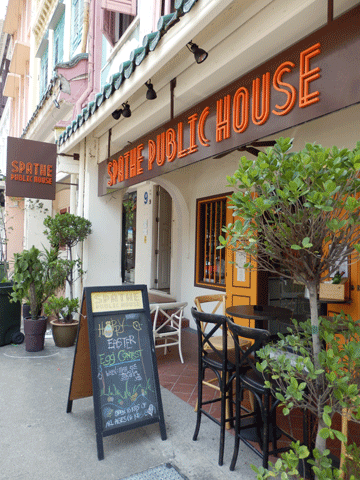 Facade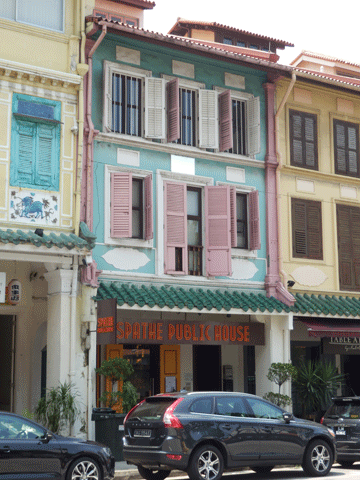 Renovated shop house.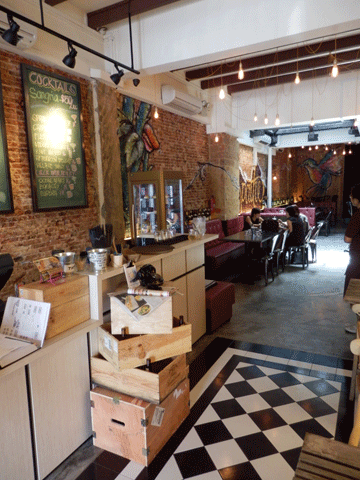 Next to the entrance to-go counter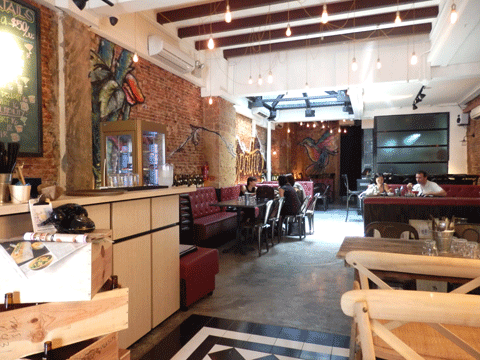 Frontage is narrow, the back is long.
The signature is mammoth dish. Giant cuisine. "SPATHE" means the first petal when a flower blooms in French. Colorful shovels for gardening likened to the petals are displayed. Furthermore, mammoth dishes are shared by such colorful shovels. All the dishes are for sharing with couples and groups. There is no food for one person.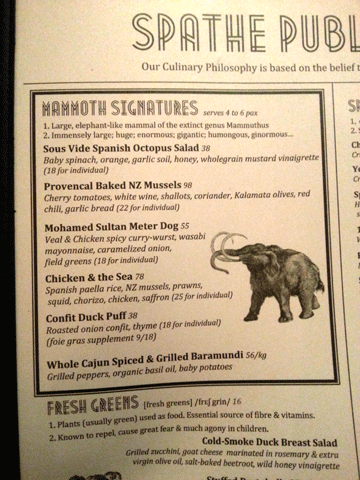 6 kinds of mammoth dishes.
One meter long hot dogs "Mohamed Sultan Meter Dog" of S$55, salad in a huge bucket "Sous Vide Spanish Octopus Salad" of S$38 and the other 4 items are mammoth dishes. If eaten Mohamed Sultan Meter Dog within 6 minutes, you get it for free during happy hour.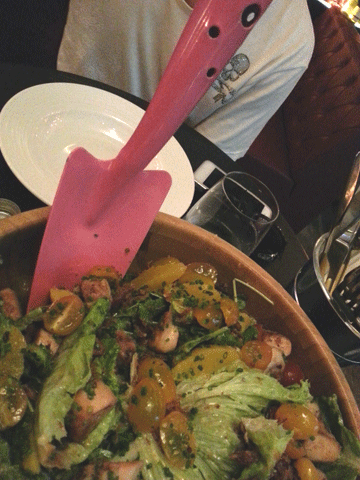 "Sous Vide Spanish Octopus Salad" shared by a colorful shovel.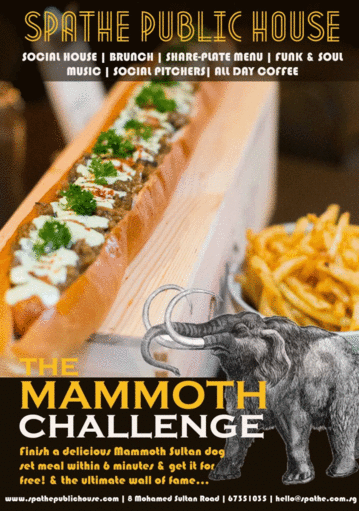 If eaten Mohamed Sultan Meter Dog within 6 minutes, you get it for free during happy hour.
Mr. Sandori, owner chef is Swiss. He has been studying a variety of categories in "NOBU" of London, hotels, Gastropub, Italian and so on. He says "All my life is chef. When I wake up in the morning, I cook my favorite Spaghetti alla Bolognese. Always I cook." SPATHE was opened in collaboration with partners to expand seven outlets in Singapore.
"I use Japanese ingredients like Shiso Vinegar, Sansho pepper, Yuzu. I mix Fresh yuzu paste with Singaporean ingredients. Also Singapore food culture is amazing. We don't just have Western food. We have authentic local foods made by people who have been doing in the past 30 to 40 years, not made by new people. Those recipes are come from Malaysia. That is amazing. That is why the taste is nice. I go eating local foods and very rare western foods. Japanese, Thai, Local Singaporean are my favorites."
Clientele is 40% local, 40% Europeans and Americans, 10% Japanese. It attracts all the races. Price per customer is S$40 casually. Mr. Sandori values the personal interaction with his customers and also by himself walk around the table out of the kitchen.
"We don't like shopping mall much. Shopping mall loses personality. Here you come in. I recognize you personally. And so you will come next month again. Comfortably sit down to relax and enjoy personal relationship with us. If you go into shopping mall, it is come-and-go and come-and-go."
"Our concept is personal base. I want to be a one stop shop. Mama with kids can take our cook home. If you like our sauce, you can buy it. If you were a host on dinner, all of us support you at dinner. We give you our recipes without secrecy. Basically everything is possible. Here is all sharing place."
"Café is very popular place. Fine dining is one time occasion for rich people. We target wider range. Portion is big with fresh ingredients. We serve value for money and fun eating."
"People want to go back to roots when mother cooks. Don't want dress up with tie and shoes to sit properly for 3 hours with little foods. That is why the café culture is coming up. SPATHE is like restaurant but it's a lifestyle place."
Mr. Sandori has solid cooking techniques and a clear concept. In addition, he looks good. He calls up the popular British chef, Mr. Jamie Oliver. There is no doubt that he should become a Singapore's popular chef.
comments powered by

Disqus