March 27, 2013 10:43 AM
Mr. Howard Lo "TANUKI" owner[Singapore]
By Masaaki Yasuda Reported on February 26,2013
Hot Topic of the town! Japanese fusion cuisine opened newly open in Singapore in December 2012. The fire starter of this popularity is the fantastic value of S$1 fresh oyster on their happy hour. This is a new concept restaurant done by Mr. Lo who owns 3 outlets of standing Sushi bar in Singapore and Jakarta. His creative arrangement skill to a Sushi has never stop impressing publics.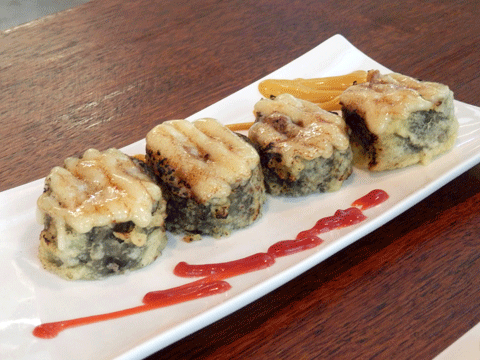 American Roll S$10 Sushi in Cheese burger style inspired by American food truck menu. Placing beef, cheese and pickles on the sushi rice and deep fried. Interestingly yummy.
TANUKI
opened in Orchard central located along Singapore biggest shopping street of Orchard in December 2012. They offer extremely happy hour in the time between 5pm to 8pm that fresh oyster is offered only at S$1, with alcohol drink and you can enjoy up to dozen of oysters per glass. Obviously, this happy hour promotion had grabbed attention from tons of oyster lovers in town.
TANUKI means raccoon in Japanese which have Japanese tales saying it changes its look and make naughty tricks. The name represents its meaning to Sushi transferring to create fusion cuisine. Many raw items such as Sushi, oysters and fruits are widely used in the dishes. The restaurants offer tapas style of Sushi with drinks.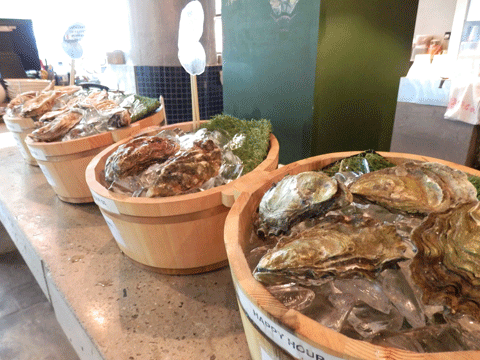 Fresh oysters mainly from France and 4 to 5 kinds are prepared at all times. Some oysters are from Hiroshima
Beside fresh oysters, there are fusion dishes such as "TANUKI creations" which are in tapas style dishes and "TANUKI Rolls", creative sushi rolls. There are many of unique idea menus which none of Japanese would come up with such as Sushi in Cheese burger style. Mix strong taste foods such as beef, cheese and fried foods with Sushi. Even from Japanese point of taste, it is uniquely matching and it goes well with drinks as well. Budget is S$30-S$35 per person.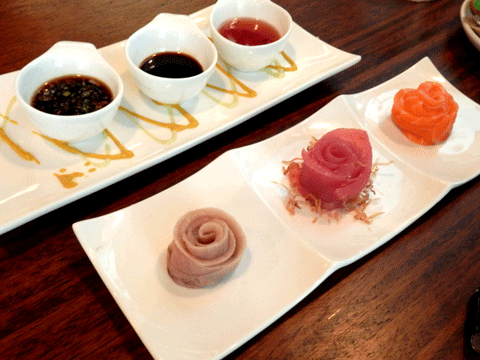 Trio Carpaccio S$15. Sword fish, Tuna and Salmon Sashimi with 3 kinds sauce of red wine vinegar, Soy sauce and Ponzu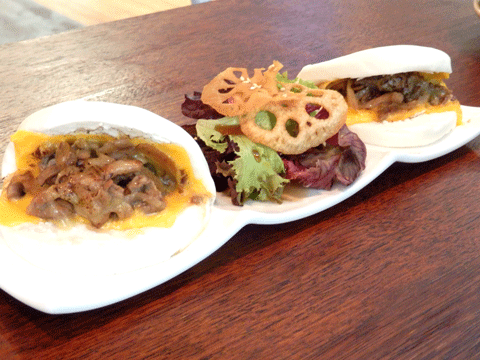 Trickstar Cheese Steak S$12 Yakiniku sandwiched in Chinese bun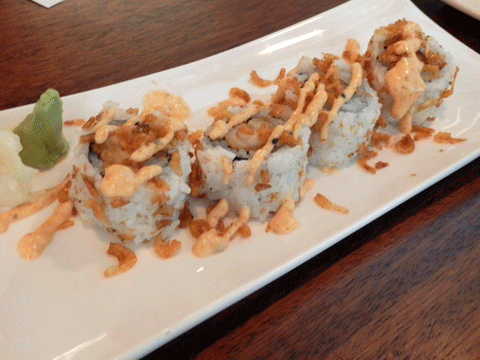 Shirimptastic S$10 Ebi fry roll sushi with small Sakura Ebi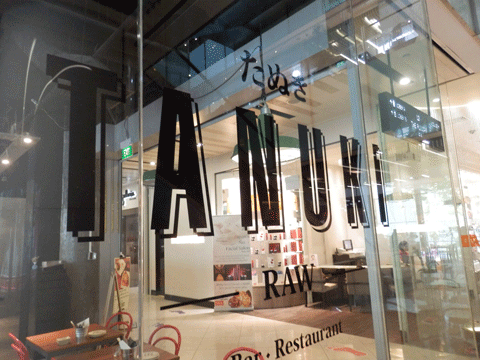 "TANUKI" Entrance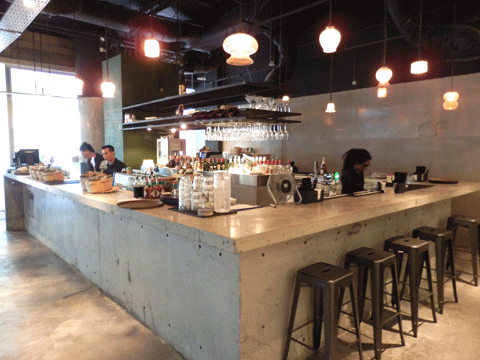 Counter Tables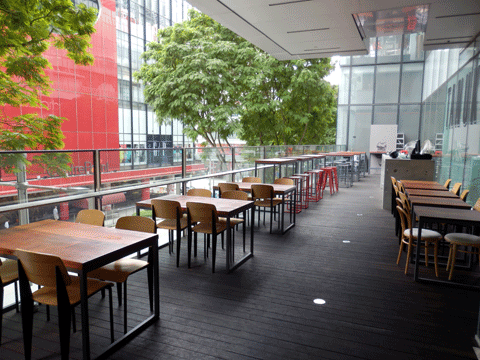 Terrace Seating
Founder, Mr. Lo was originally an engineer committed in Microsoft for 14 years. He started "Standing Sushi bar" in 2009 as his first business. He placed initial investment from his stock option allowance from Microsoft and with his saving.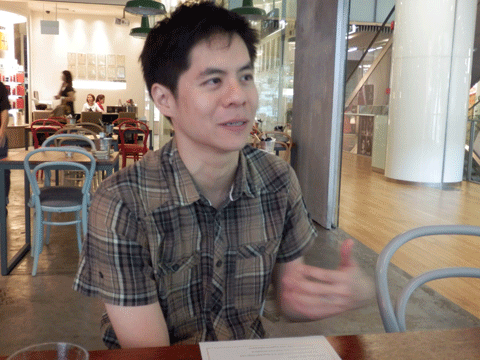 Mr. Howard Lo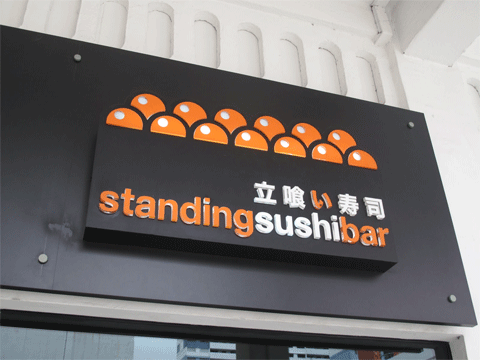 "Standing Sushi Bar" Logo
Exterior
"Standing Sushi Bar" is offering authentic Edomae Sushi at standing bar counter. There are 2 directly owned outlets in Singapore and a franchising outlet in Jakarta, Indonesia. 1 is located within facility of Singapore Art Museum where many students gather and another one in Marina Bay Link Mall placed in Singapore financial district. Budget is S$25 per person. Their competitor would be
Waraku
and
Sushitei
.  
Mr. Lo said "I have seen the standing sushi bar concept in Tokyo and brought it into Singapore. Singaporeans love Sushi but it is very pricey so I thought it could be much sellable if we can offer good quality at affordable price range. The Lehman shock just happened at the period of business start off which recession made me possible to open business by my own investment. There used to be Japanese Sushi chef in the restaurant but not anymore." He learned knowledge about fresh oysters from his past living experience in Vancouver.
"Only Japanese and Caucasians do not mind stand dining however Chinese always require seating so we places tables in the restaurants as well. As overseas holidays get popular, many people started to get used to stand dining."  
Currently, Mr. Lo manages 3 concept of night life fusion restaurant, "TANUKI", Student friendly "Standing Sushi Bar" and financial district business men targeting "Standing Sushi Bar". None of outlets has Japanese staff and not targeting much on Japanese customers too.  
"I want to expand these 3 concepts into South East Asia. Singapore labor and housing costs are increasing drastically recent days but Jakarta is so much cheaper. I do not want to spend too much on interior investment and make dishes casual and affordable for customers. Since my background is from Microsoft, I wish to bring in IT technology to F&B industry as well."  
Mr. Lo's next target concept is large sized Sushi take out. Mr. Lo commented, "I saw similar concept in New Zealand. It's like rice balls selling at S$1 or S$2 per piece. I am looking for good property right now." He is continuously bringing fusion Sushi improvised by his original unique concepts. Many Japanese are still digging into real and authentic Japanese food however we wish to welcome such an interesting genre of Sushi and let local people be more creative on arranging food to entertain.  
http://www.waraku.sg/Welcome.html
comments powered by

Disqus