In Shanghai, "Gyushige" Yakiniku chain was opened on January 17 this year. The concept of all-you-can-eat & drink with 88 yuan has attracted local people. It is managed by Soul Logic Corporation, the country franchiser of Gyushige in China. Under the slogan, "Expand Japanese F&B to the world", Soul Logic aims at the 100 outlets in China,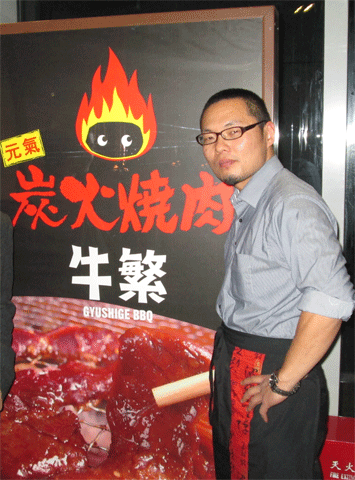 Mr. Youichi Tsunashima, ceo of Soul Logic Corporation.
The Yakiniku restaurant was located in the restaurants mall in the suburbs of Shanghai. There are companies, apartment complexes, and the university. On December 18, 2012, it started the soft opening and on January 17, 2013 turned to the grand opening. Japanese style Yakiniku and Roll Sushi, including Tsingtao beer are offered as a style of all-you-can eat & drink with only 88 yuan. Japanese-style hospitality such as loud voice greetings and order taking on their knees are becoming popular among local people. Also in Shanghai, "Nabegen", all-you-can-eat Roll Sushi and hot pots with 99 yuan operated by a Japanese F&B company, has become a thriving restaurant among local people. Restaurant with Roll Sushi seems to be popular.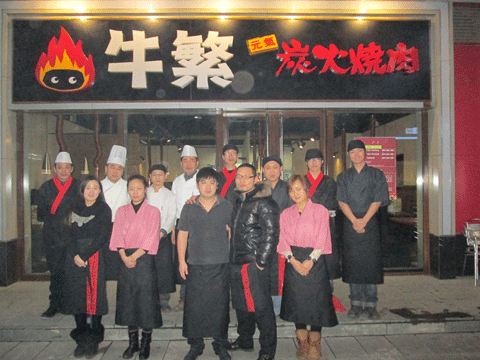 Outlooks and opening staffs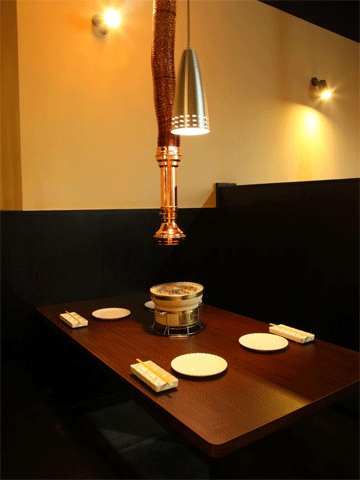 Interior design based on Japanese modern.
Mr. Tsunashima was the managing member of the mobile phone promotion company for F&B and has changed his mind to devote to F&B. In 2012 he took the rights of country franchiser in China of "Gyushige" which he sold the mobile promotion, and went to Shanghai with China dream.
A 100% wholly owned corporation established in Hong Kong invested to the company in Shanghai operating "Gyushige". Mr. Tsunashima left his family in Japan and had scoured the location about half a year with his limited funds. From the start he has planned to open many outlets and invited his friend, Mr. Kentaro Yamane as executive vice president to his company. While there are many expensive Japanese Yakiniku restaurants targeting Japanese expats in Shanghai, Mr. Tsunashima dares to aim only at local people. Initial investments are 550 000 yuan excluding the deposit for rent. The deposit was agreed by two months rent at the end of the negotiations.
"3,000 yuan of day sales are earned only by dinner business. Chinese feels the 88 yuan as a little luxury pricing. Though the all-you-can-eat buffet is limited for 120 minutes basically, now customers can stay the buffet until the time they like. However they go back in an hour to eat Yakiniku while holding Roll Sushi. Though Tsingtao beer is also all-you-can-drink item, they drink little to eat meat fully. There are all-you-can-eat Yakiniku restaurants with only 49 yuan where customers are students and the meats are poor. Conversely expensive restaurants cost over 200 yuan.", Mr. Tsunashima said.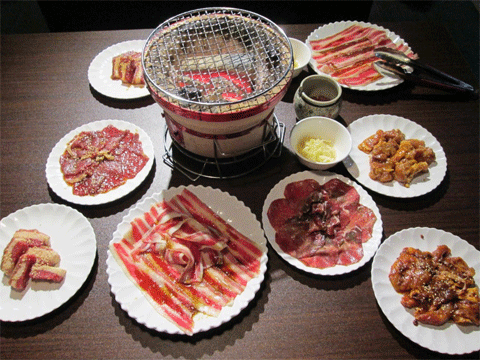 Charcoal Grilled Chinese beef rubbed by Gyushige original source.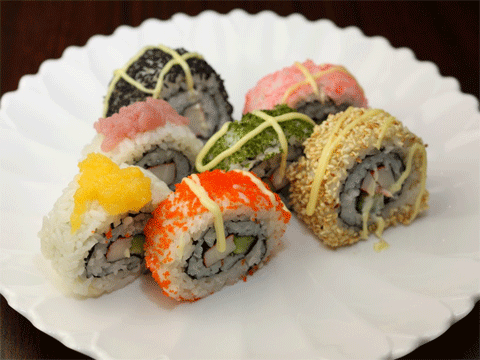 Popular Roll Sush. The cost is low because of no fresh fish.
Using Chinese beef with 1/3 cost of Japanese one, the cost rate is 36%. Personnel expenses are up to 17% because of a lot of manpower at the initial stage. The goal is 15% or less. The salary of employee coming out of the provisions shortly is about 2,200 yuan.
The location is the first floor of the restaurants mall. The rent is 5 yuan per square meter per day which is 18,000 yuan per month. Rent ratio is 12%. Also 60% of FLR(Food+Labor +Rent) is possible. The operating margin will be expected 30%. However, the 5.65% sales tax like GST is imposed for the total sales. No deduction. Therefore ultimately the operating margin is around 25%.
"I have realized the splendor of the chain operation again. Under the same meat and the same sauce the person of the headquarters make the taste change dramatically. The reaction of customers has changed with instance. Also at the daily meeting all the staffs chant hospitality words loudly. Customers are willing to be taken orders by the staffs on their knees. On the mouth to mouth site, we are estimated that our service is perfect. Unlike Japan we take the hospitality from the manual first. However washing-up is disliked. When I, president, am reluctantly dish-washing, no one help me."
""It has been said that part-time students can not be employed. I was a false. I can trust part-time students better than regular workers. They apologize for being late and do exactly what I said."
"Sales Promotions are my specialty because I had worked the business in Japan. WeChat, Chinese version of LINE with 300 million users, is my tool. Customers are invited to the members of WeChat when they come for the first time. Also the distribution of leaflets to people around at lunch time works."
"Winning or losing will become clear in 3 months. If the first review was bad, no customer comes. If cost performance was evaluated, many customers come back the next day."
"Developers and suppliers are very interested in Gyushige brand operating 100 outlets in Japan. Secondly employees are. They require short-term incentive better than future incentive when 100 outlets will be established. Customers are not. They do not evaluate such restaurants which do not have outlets."
The goal of Mr. Tsunashima carrying the slogan, "Expand Japanese F&B to the world", is to expand 100 outlets in China. He said "the first step has been started." In Asian countries, the middle classes are growing up one after another. Italian restaurant chain "Saizeriya" is the representative of Japanese F&B companies targeting local people in China. Many Japanese companies are still targeting Japanese expats. However I want to come out the real overseas companies targeting local people one company after another.
Masaaki Yasuda 
comments powered by

Disqus