March 21, 2013 11:34 AM
Mr. Sato Akira INSHOCK HONGKONG CEO[Singapore]
By Masaaki Yasuda Reported on March 12, 2013
Keywords : Investor  Magosaburo  WAGYU  Yakiniku
"Magosaburo" located in Singapore prestige shopping mall ION. Their unique selling point is Japan made Kuroge Wagyu beef purchased whole cow. Budget per person is around S$120 and gaining its popularity by high status group in South East Asia. The restaurant has started off in Hong Kong and flagship store is located in Singapore which is opened as their 3rd branch. They had newly opened in Bangkok, Thailand in February and planning for another expansion in Manila, Philippine in May this year. CEO, Mr. Sato is assembling and fully utilizing investor to achieve fast growth business.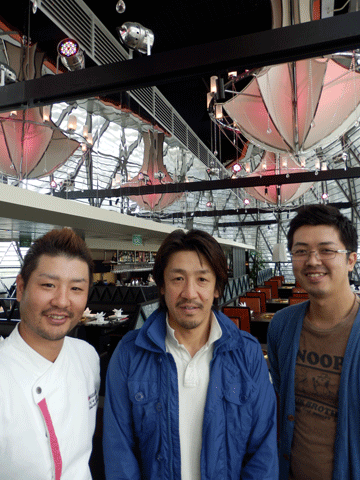 Mr. Sato Akira on center, Singapore general manager Mr. Takatsuki Toshiki on left and Manila general manager Mr. Motomatsu Takashi. Mr. Takatsuki and Mr.Motomatsu is chef.
"Magosaburo" is a new and young joiner in overseas since December 2011. They had opened 333 square meter size branch in huge food section located in IFC mall at Pundong district, Shanghai. The restaurant is attracting many tourists and business men from financial district. Followed by that, they had opened another casual concept branch in Kowloon district, Hong Kong near youngster city of Yau Tsim where Ganroku Sushi used to be located as well. In December 2012, they had opened luxurious concept flagship store at prestige shopping mall in Singapore.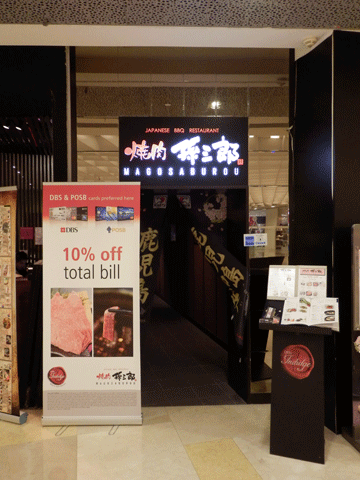 "Magosaburo" Singapore outlet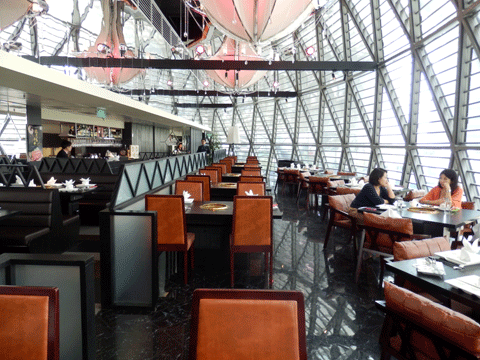 Modern and gorgeous interior
Cutting cost by purchasing whole A5 grade cow from Japan and achieve good cost performance within the budget of S$120 per person which attract high status customers. There are tons of Australian made marbled beef tagged as "WAGYU" sold in overseas market. However "Magosaburo" uses authentic Japan made. According to them, South East Asian high status group of people recognize its difference. They act as concept of "Wagyu hunter" and supply different kinds of beef from Japan every monthly. Only small portion of 20% is Japanese customers.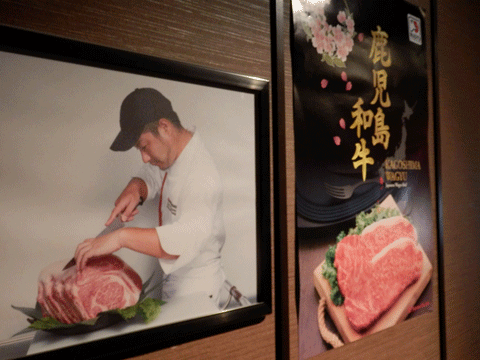 Supply different kind of Wagyu every monthly
Originally, "Magosaburo" is chained yakiniku restaurant managing 5 outlets in Kumamoto, Japan. They offer best quality Kurogewagyu "Kurokaba Gyu" purchased whole cow. Mr.Sato who is also originated from Kumamoto has licensing for overseas development.  
Mr.Sato's career started off as advertising industry. He is still taking charge in advertising for successful Japanese F&B firm in Asia, "Ajisen Ramen" which is also from Kumamoto. When he started to visit Hong Kong and Shanghai, He also involved in the start-off of "Itamae Sushi" in Hong Kong, which company is popular in Japan for Tsukiji market betting competition. After many experiences in Japan as well as in Asia, He had founded his own F&B company INSHOCK HONG KONG in October 2012.
He is managing "Smile curry" offering Japanese family taste curry rice in Juju mall shopping center located in Zhong Shan district Shanghai and affordable Sushi restaurant "Tairyo Naruto Ichiba".  Beside these restaurants, he is intending to open 7 outlets by its original concept of represent Kyoto utilizing whole floor in Juju mall.
Restaurants owned under the group is divided into 2 groups. One is direct management and another one is own brand franchising done by assembling capitals from investors.
Mr. Sato said "There is owner (investor) station in each franchising outlet and INSHOCK HONG KONG provides someone in house to manage. The manager will take charge of operating the restaurant. Manager is preferably a chef who can forecast on financial matters. Group will receive accidence fee and loyalty from franchisers." He also runs business for restaurant interior design and distributing meats from Japan.
"Eat-out frequency is high in Asia. It is the place where you can make successful F&B business. There are millions of opportunities that will appreciate in Asia although it is something common in Japan. It is matter of how to present it and having a good concept and good knowledge on trading is required." He impresses Asia by Japan made Wagyu beef.
"We would like to expand Magosaburo to many more countries and hopefully extend into 3 to 5 outlets per country. Smile curry and other original branding is a processing step for Magosaburo further expansion. We have already achieved to manage several outlets in Shanghai so next destination is Singapore. Gathering local investors and expand our outlets. Our focus is not on raising spending of customer because we want to make long-lasting restaurants."  
It is common in Asia to have business by gathering capitals from investor to create restaurants. Mr.Sato who is expert in this industry has been successfully expanding its outlets with speed. This fast pace is what is exactly required to meet fast growing Asia market today.
comments powered by

Disqus