The champion of the 8th S1 Server Grand Prix is Ms. Shinobu Kotani working at UCC Cafe Mercard Kyoto branch. Although she is over the age of 50, she is very charming. She started the server job to slow, but has not been discouraged against the pressure of age. Now she draws customers into Kotani's World by her services perceive all. Every customers are sure to remember her name at once, being repeated her name such as "Please leave it to me, Kotani."
In the performance of Ms. Kotani, I remembered the attitude of server "to dominate the table" said by Mr. Yoshihiro Shinkawa called "God of Service" in the Japanese F&B industry. He was vice president of Global Dining, service oriented F&B company and is ceo of HUGE, his own F&B company. Server should dominate customers with comfort without submitting to customers. You can feel a sense of accomplishment by selling difficult-to-sell menus and profitable ones. If such servers were shown up next by next, managements will be also happy. F&B business will be brighter.
S1 Server Grand Prix will start the qualification of servers this year. Three steps, "Gold Heart Server", "Silver Heart Server" and "Bronze Heart Server" are prepared. From September this year the school of "Silver Heart Server" is scheduled to open. It is qualified to write resumes. Everyone of servers and managements, please note the qualification. I am running this FOODRINK NEWS and also vice chairman of the organizer of S1 Server Grand Prix.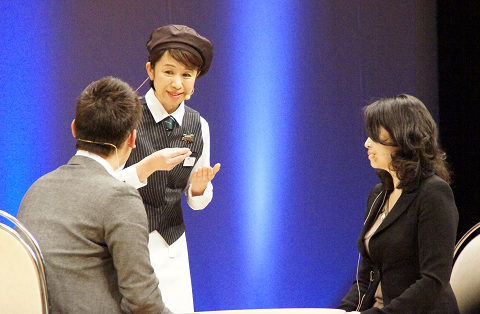 Ms. Shinobu Kotani, the champion of the 8th S1 Server Grand Prix.
comments powered by

Disqus