March 12, 2013 03:36 PM
Mr. Takahashi Tomonori CEO La Brea Dining Ltd. [USA]
By Masaaki Yasuda Reported on February 5, 2013
The company started its business in U.S in September 2008. In July 2010, they opened their first Tonkotsu Ramen restaurant "JINYA" in Beverly Hills, followed by the opening of their second business of Robatayaki "JINYA" in October the same year. The "JINYA Ramen bar" brand expanded their businesses through franchising. Today they operate 11 directly-owned and franchise outlets in various areas including big cities like New York and Jakarta. We interviewed the CEO, Mr. Takahashi while he was temporary back in Japan.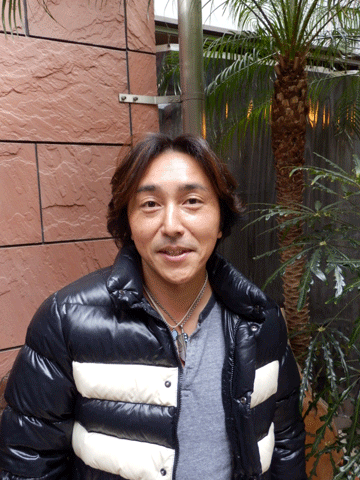 Mr.Takahashi in front of renewed "Sabakuro" restaurant at Ebisu, Tokyo
The "JINYA" brand is currently operating 4 directly-owned outlets in Los Angeles, 1 franchise outlet and another 1 outlet in Vancouver, Canada. They are planning to expand their franchise business into New York, San Francisco, Seattle, Dallas and Jakarta, Indonesia.
We decided to expand our franchise business by investing ourselves instead of gathering investors to manage many different outlets. Revenue is generated from the Franchisee's rights fee, royalty and food supply. Ingredients for Ramen, such as noodles, soup and sauce are supplied by the head quarter. Individual outlets supply their other needs locally. The company is partnering with a Japanese distributor (JFC, Nishimoto Trading) to export supplies to the United States. Japanese companies are more reliable when it comes to trading, especially in the aspect of inventory management and quality control. However the cost is 15% to 20% higher. We use the same company to ship to Jakarta as well.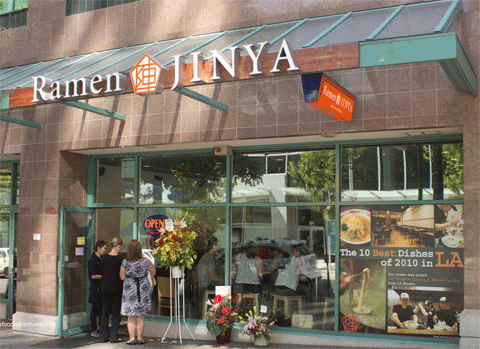 JINYA Ramen bar
It is difficult to get unsecured loans in the US. So the alternative would be an investor. A good example of this would be "nobu", a restaurant with successful global expansion through investments from Robert De Niro and others after Chef Nobuyuki Matsuhisa approached them. Sushi restaurant "KATSUYA" by sushi chef Katsuya Kamiji, and designed by Philippe Starck, is also a successful example of business expansion through investors. There are many Japanese chefs dreaming to be like them and open their restaurant in Hollywood.
The price on the menu differs from place to place. In Los Angeles the average price is $8.50, whereas in New York it is $13.
Actually, labor cost is lower in New York. The minimum wage is $8 in California, and $6 in New York. And New Yorkers are better tippers. The tip you get is 15 to 20% of the total bill at the restaurants in Hollywood. 70% of the total amount is divided amongst the waiters. So if you work both during lunch and dinner, you can earn up to $300 per person per day just from tips. In Japan, the staff usually quit their jobs if it gets too busy, but in US they don't because they can earn more from the tips. So the managers are able to make them work hard because they will endure it in order to earn more tips. Naturally, the service standard rises. However, the managers do not get tips, and so they usually monitor the waiters' shift closely so that their(the waiters) pay does not exceed theirs(the managers) to maintain a good working relationship. Sometimes when there are fewer tips, the waiters could be putting some directly in their pockets, so if the managers suspect something they will conduct checks."
"There are 8 kitchen staff and 8-9 waiters. It is twice as much as in Japan. We focus on providing good service in a short time. Customers in Japan usually stay for more than 2 hours but Americans only stay for an hour. They have their meals quickly and move on to a bar. So we need enough staff to serve the dishes as soon as an order comes in. We can reduce the number of staff if we wanted to but we intentionally don't. If we were to reduce the number of staff in Japan, there will be complaints from the remaining staff. But in US, the staff will be happy if there are fewer of them. This is because they will get a bigger share of the total tips. However, I believe it is important to provide better service to our customers so I always say it is better to have more staff."
"The robatayaki restaurant in Hollywood seats 55 people and the monthly sales is 15 million yen. Average spending per customer is $28 and many of them drink water instead of alcohol. Our reservation slots are spaced out every 75 minutes. American waiters are puzzled why Japanese customers can take up to 2 hours. They are confused why they do not move on to the next. If we have Japanese customers we only can turnover the table twice, whereas we can turnover 5-6 times for American customers which add up to 250-300 customers per day. Ratio of labor to the output (excluding earnings from tips) is 28%, cost percentage is 27-28%, and space rental is 4-5% due to high turnovers. If there are fewer turnovers then it adds up to more than 10%. The remaining 20% is the Operating Profit."
We seek franchisees through notices posted within the outlets and at exhibitions. There are no Japanese franchisees.
"We exhibited in FC shows in New York, Miami and in the West Coast, but people who actually became our franchisees are those who came to our outlets. So people who already knew JINYA. They found out that we were looking for potential franchisees through our website and from notices posted in our washrooms. None of the people we met at the FC shows became our franchisees. It costs us 1.5 million yen to exhibit in a show so we need to find at least 1 or 2 franchisees to cover our costs each time."
"You need to have 30-80 tsubo (1 tsubo is 3.3 square meters) of space and 35 million yen for initial investment. So if it is in New York, it would add up to about 100 million yen for a 60 tsubo outlet. Fees for Franchisee's rights is $35,000, royalty 4% and marketing (advertisements) 1%."
"We do not gain profit up to 30 (franchise) outlets. We pump in all our profit from our directly-owned outlets into the franchise outlets. We engage lawyers that cost $480 per hour to draft out contracts, to carry out registrations at state offices where the new outlet will be located, and so on. We also have 4 Japanese staff specially assigned to the franchise business. I am hoping to assign an American executive soon. We might face with various issues, but I do hear that there will be fewer complaints when an American personnel is assigned to a highly responsible position."
"A lot of work needs to be put in the franchise business in US. You need to check in many times as you do in directly-owned outlets. You receive tons of emails from your franchisees everyday even after they open their stores asking how to do this and that. That is why you need to create a proper package for them. We do conduct a 40 day training, but if they are unable to carry out certain matters, the headquarter needs to follow up. In Japan, we can leave them to solve their matters, however in US it is our responsibility to look after them until they are able to stand on their own feet. At times, I do feel I should have not started a franchise business (laughs). In order to be efficient, potential franchisees in areas that are further away need to be able to open at least 5 outlets, or we will not give them the right to be our franchisee. As long as you train the first outlet well, they can train the subsequent outlets."
We dominant Los Angeles by opening a directly-owned outlet, but other areas we leave it to our franchisees.
"80% of the franchisees in US manage less than 50 outlets. Out of those, 80% manage less than 5. Franchising in US is considered the most difficult, and so if you are successful there, you will be successful anywhere in the world. For example, if you imagine US as an adult in the franchise business, Japan is still in kindergarten, Korea is ahead of Japan and in primary school."
"JINYA" is said to be the pioneer in offering Ramen to Americans. 
"After the opening of 'nobu' and 'KATSUYA', the American people were anticipating the next. And there came our $10 ramen. They originally liked noodles and soup, and so eating ramen was 'cool'. Until now, ramen was for Japanese. But we became instantly successful targeting the Americans. We never had a Japanese menu from the beginning."
"We aimed to create a ramen that Caucasians will like, using less oil and adding spinach and crispy ingredients. Initially we had many bad feedbacks because it was a new experience for the customers. One customer came into the kitchen screaming "Are you trying to kill me?!" Another customer thought it was 'tonkatsu (deep fried pork cutlet)' ramen instead of 'tonkotsu (pork bone stock)' ramen and complained his/her ramen did not come with a 'tonkatsu'. So we listened to our customers' voices and improved our menu gradually."
"Although we could have listened to our Japanese customers because we can understand what they are saying, we chose not to listen to them. We brushed up our menu only from the feedback from our American customers. After 4 months, Jonathan Gold, a gourmet writer from LA Times visited JINYA and wrote about how delicious our ramen is, and that immediately created an outburst of customers rushing to our doors. His article had a tremendous impact, which was similar to the time when we were featured on TV, Hanako and Tokyo Calendar in Japan 15 years ago."
"Now the stock of our soup is 60% tonkotsu base, 30% chicken, and 10% vegetable. Although tonkotsu stock is widely accepted, the Jews do not eat it. There are many ramen stores opened now and newly opened ramen stores are nothing new to the market. It would have been big news 2 years ago but not anymore. Since we were successful with our business targeted to the Caucasians, other companies seem to think they can make it too."
"When you think about an Izakaya (Japanese style pub), there needs to be certain things to carry out that welcoming atmosphere. When an Izakaya is newly opened, first, the Japanese will come, then the Chinese, and if you just listened to them, you will lose your direction. After 3 months when the Americans come, you already have lost that welcoming atmosphere. Japanese likes to huddle up and open their store near each other. It is nothing wrong to cater to the Japanese crowd, but Japanese easily get board. So even if you try to attract Caucasians at that point, your store is already in the taste of the Japanese crowd and Caucasians will not be attracted that."
"You need to identify who your target is. You need to shake off the others or else your store will be neither here or there. There is an income disparity in US and some will consider $8 cheap and some will consider it too expensive. Many Japanese businesses fail because they don't understand the country. It took me 1 year to open my restaurant here. I thought I knew a lot about the US before opening, but now when I look back, I didn't understand half of it. So of course you will fail if you open your store in merely 2-3 months."
Japanese cuisine has been popular overseas, but the popularity has just shifted from the Japanese residents living there to the locals. This means there is still much more growth to be expected. Just as Italian cuisine in Japan, I hope that one day Japanese food can be casually enjoyed by everyone.
comments powered by

Disqus