March 7, 2013 12:18 PM
[Japan]
By Sonoko Takahashi Reported on February 28, 2013
Keywords : Nap Cafe
For women who work in Akasaka, Tokyo it may be good news. Nap Cafe "Qusca", Japan's first nap cafe featuring nap rooms limited for women, was opened on December 6 last year. "I want a place where women feel free to rest", it's a relaxing space that was born from such opinions.
Nap Cafe "Qusca"
2-13-33, 2F Sakaeyashimizu Bldg, Akasaka, Tokyo, Japan
Tel: +81-30-3583-1201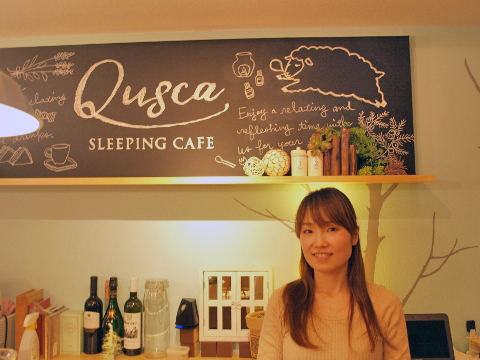 Ms.Midori Murase, owner. The logo of sheep is popular because of its healing character.
Ms.Midori Murase, owner was engaged in advertising business and spent busy days. She could not recover her tired body only on weekends. She fought drowsiness attacked after lunch. At such time only Manga Cafe was her retreat to take a nap. Although Manga Cafe was convenient, it is difficult to use for women. "I hope to have female-friendly place to rest in moderation." The idea from the era of such company employee was inflated and this cafe was to be opened.
Pricing is 150 yen per 10 minutes. The space is divided into cafe and nap. You are freely available for both. In the cafe space along with daily specials like fresh juices and herbal tea, healthy deli plates devised by diet advisers are offered. Since the plates are
soft to stomachs, it's also safe to nap immediately after eating. She distinguish it from Manga Cafe serving junk foods like instant noodles. Of course, electrical outlets for each seats and free wifi are prepared to work at the cafe. Various applications are available.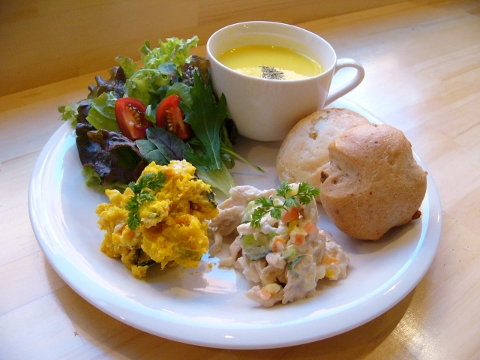 "Healthy deli plate you can choose" 600 yen, plus 100 yen with soup.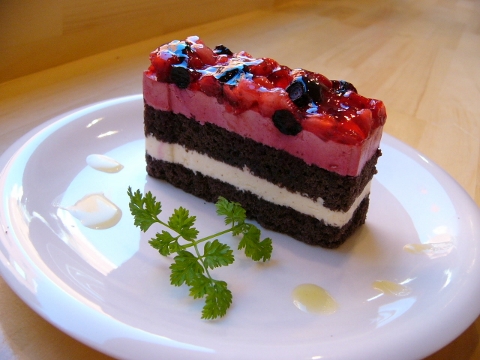 Mix berries cake 380 yen. There are also happy to provide sweets for women.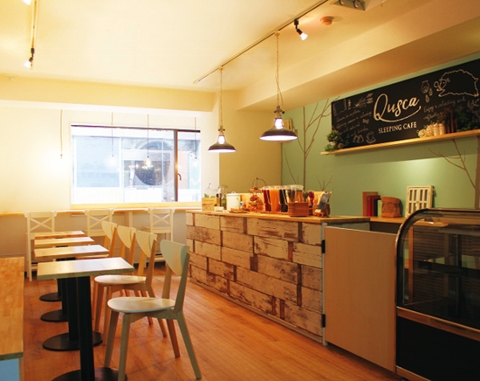 Cafe space with woodgrain friendly atmosphere.
2 beds and 4 relaxing chairs are placed in the nap space with aroma scent. Calm colors, good feeling bed and amber lighting bring you relaxation. Too relax, you also would go to sleep deep. Okay, earphone alarm clocks are for rent. Unlike cell phone alarm, wakeup sound rings only in your ears. In addition, after taking a nap, make-up space is prepared to fix your make-up. It is very polite.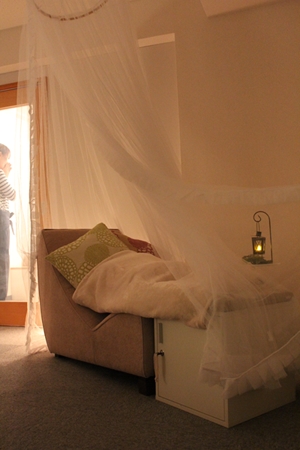 Sleep soundly without worrying about grabbing in a nap space with canopy curtains.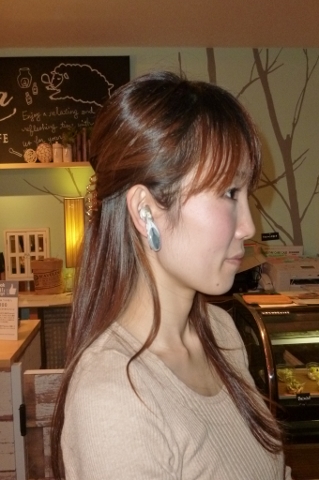 Earphone alarm clock.
Short nap of about 15-30 minutes is referred to as "power nap". It is said that working efficiency after power nap is up 20%. Rather than working from lack of sleep, taking a nap will work better. "It seems there were many customers who have a fear about Nap Cafe at first. However two months after opening, women with the idea of ​​harambee after rest are
increasing little by little. "
Murase said with aggressiveness, "I will disseminate information by SNS to let people know what is Nap Cafe. Also collaboration with other companies will be programmed." Some customers request her to
open outlets close to their companies. In near future Nap Cafe may come near to your companies.
comments powered by

Disqus