Pan cakes trend is unstoppably booming among young ladies in Japan. Any gourmet media and female magazines are featuring on its popular pan cake restaurants. 1 to 2 hours waiting in the queue is a commonly happening even in winter time. What is the key for making Pan Cake as such a big issue in the market?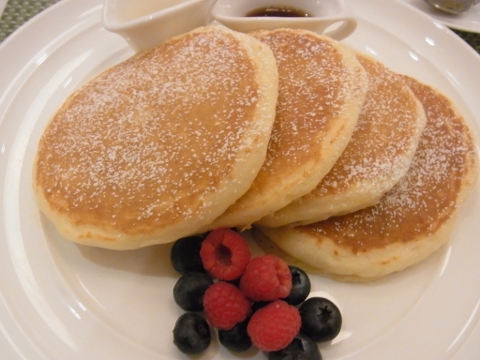 Lemon Ricotta pancake from "Queen of NY breakfast", Sarabeth 1400yen
The first visited pancake restaurant was in competitive city of Harajyuku. There is famous names such as Hawai born "Eggs'n Things Harajyuku outlet" since 1974 and "RAINBOW PANCAKE" also from Hawaii.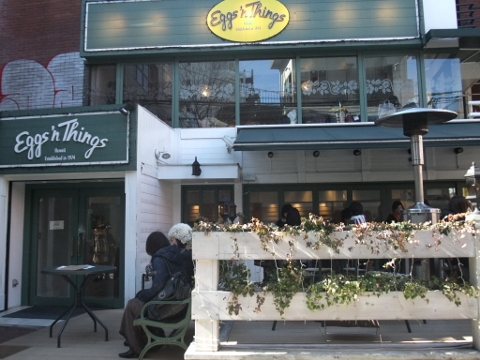 Eggs'n things Harajyuku outlet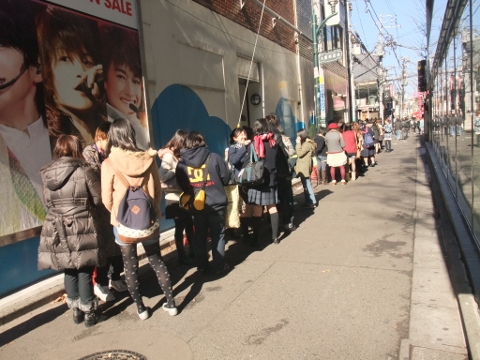 Approximately 15 groups are in this long queue at 1:30pm on weekday
Foodrink had visited "Eggs'n Things Harajyuku outlet". The rumors of longest queue were true, waiting of 2 hours for weekday afternoon. I was going to give us just by hearing its queue length but teenagers and young ladies in the queue said they can resist its cold windy day just for a popular Pan cake indulge. 
Such queue management needs good shop staff skills as well. Once anybody tries to join the queue, staff will kindly tell you your position and waiting time. Staff will quickly offer menu to the customers at the queue. The customers are fantasizing their soon-to-indulge pancakes indulge with their friends while waiting.  
Late comers to join its pan cake boom was "Slappy Cakes" newly opened in Lumine Est Shinjyuku on 31st January 2013. Customers can make their own cake on the hot plate facilitated at each table. Because of its great location choice, there is long queue made by ladies after nearby shopping.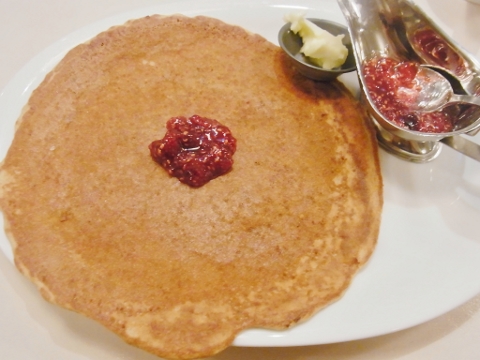 Slappy cakes "Banana and chocolate chip pancake with raspberry jam" 1100yen
Shinjuku is also "Sarabeth" termed the ""Queen of NY breakfast" as well.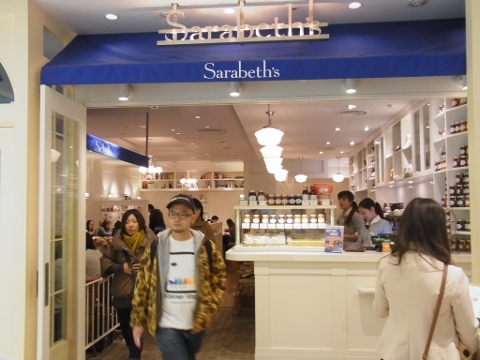 "Queen of NY Breakfast" Sarabeth is also located in Shinjyuku Sarabeth Lumine Est Shinjyuku outlet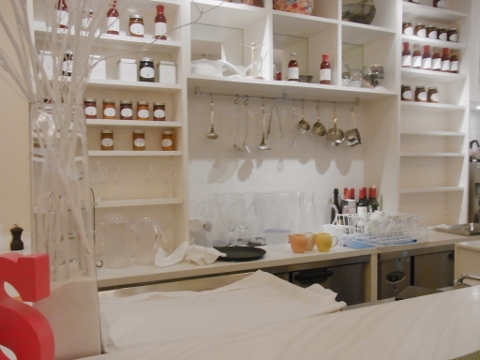 Clean and simple white interior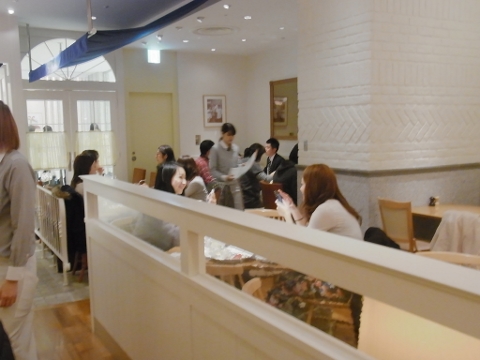 Perfect girls chatting time
What makes ladies so strong to wait 2 hours to have pancakes? My friend showed me a picture of pancake at famous pancake restaurant when they visited Tokyo. Perhaps, my guess is this. Picture shows photogenic pancake and big smile of herself next to it. Its picture structure is attracting all ladies' heart. The picture will be shared to their friends through social network services. Its "Trend" makes them want to share the world that they have waited so long for its pretty pancake proofed in the picture. We are not sure which world they are targeting to appeal to either anybody or guys however its "Kawaii" material comes from pan cake is the key trend starter for ladies at this picture culture world like today.
Today most of F&B businesses are actively making use of social network service such as facebook and twitters to attract customers. Trend follower ladies will upload their pan cake pictures on their own SNS account and their friends go and join the queue and do the same. This loop is making endless queue to the pancake restaurants.
Most of popular restaurants are from Hawaii joining the market with its trend start. Like at "Egg'n Things", there is open terrace seating and shop staffs are in Aloha shirt as their uniform. Interior is decorated carefully in Hawaii style such as small items and interior is chosen as exactly what girls are dreaming of. Japanese has strong image of Hawaii as vacation. These pancake restaurants bring you in relaxing vacation mood even you remain in the city. This temporary dream vacation experience keeps attracting ladies to visit similar pan cake restaurants one and other.  
Big convenience store chain Lawson had officially started authentic pancake "Grilled apple and fresh fruits pancake with red wine sauce" at 350yen in limited period between 5th (Tue) to 18th (Mon) February. Even convenience stores are joining its pancake trend. Pancake boom never knows its end and its "Kawaii" pan cake boom would continue to remain in the market. 
comments powered by

Disqus