February 1, 2013 09:22 AM
[Thailand]
By Masaaki Yasuda Reported on January 31, 2013
Keywords : Motsu-Nabe  Nagiya  Yakitori
Thailand company of Open Dining Co. Ltd. in Tokyo operates 6 outlets of "Tenkaichi Nagiya", Yakitori & Motsu-Nabe Izakaya at Japanese towns and shopping malls in Bangkok, Thailand. Those are thriving mainly among Japanese people living in Thailand and has recently become popular with local and whites.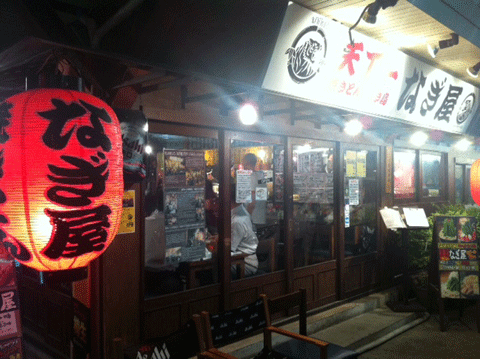 "Tenkaichi Nagiya" Japan village outlet
87 Soi Akkapat(Thonglor 13), Sukhumvit 55 Rd., Bangkok, Thailand
Phone: Japanese 02-185-2363 Thai 02-185-2364
I visited the second outlet in the Japanese village, a dining mall in Thonglor where many expats of Japanese and Westerner live. 7 Japanese restaurants are there. "Nagiya" is located on the first floor with the most prominent.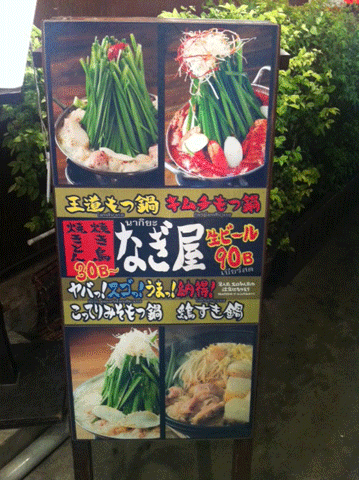 Signboard. Hot pod "Nabe" is popular here.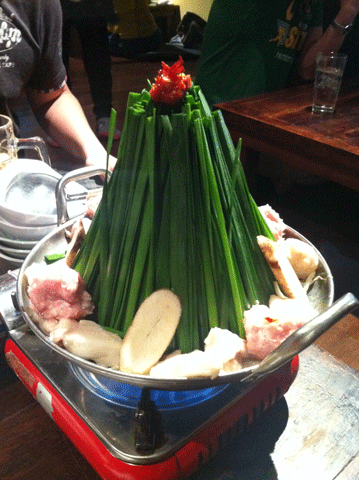 Motsu-Nabe 600 baht per 2 persons. Customers prefer chicken and pork.
Total 100 seats include counter, table and wood floor room. Cost per customer is 1000 baht (about 3,000 yen). On weekends you can see lines and the monthly sales would be thriving 3.5 to 4.0 million baht (about 10.5 to 12.0 million yen). Minimum wage salary is 9,000 baht(about 27,000yen) in Thailand. However, it is impossible to employ in the minimum wage because of the state labor shortage. Managers would be 40,000 to 50,000 baht (about 120 to 170 thousand yen). Because labor costs are low, FL is likely suppressed to about 40%. However, rent is up in economic growth.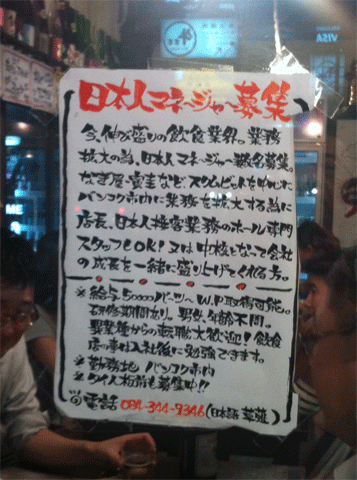 Thailand has so many Japanese, there are many outlets that employ locally hired Japanese people.
Open Dining Co. Ltd. operates 6 outlets in Tokyo. It established a Thai corporation and opened the first outlet in Japan Town, a dining mall in March 2010. It became a topic that many people were in a line. In May 2011 opened a second shop this. Then it also opened in such shopping malls like "Ekamai Gateway", "The Scene" and "Thanya Shopping Park" because of the high awareness. Together, it have become six outlets in Bangkok including public bar "Yoshitora".
Aimed at the local people, the future seems to have plans to expand the area opened many outlets in the suburbs of Bangkok. Alcohol sales can not be expected because its customers are not Japanese. It would be such a restaurant as to price 300 to 400 baht per customer. The outlets in the current shopping mall will be its model.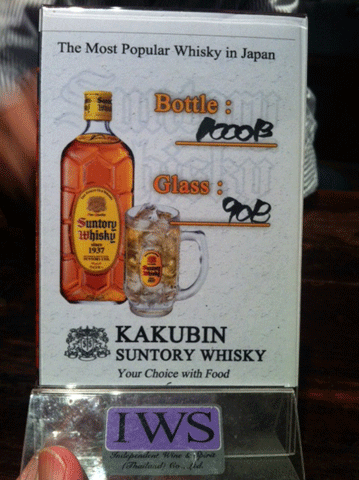 Kaku highball 90 baht per plass.
The representative to achieve 100 outlets of Japanese food is "Hachiban Ramen" in Thailand. It is operated by the local franchisee. "Nagiya" seems to be trying to follow it.
comments powered by

Disqus