On 5th January 2013 Saturday, Tokyo Tsukiji market celebrated its first Magoro bit. 222kg Aomori made Oomasan black Magoro was bit at highest price in the history record, 155million and 400 thousands yen by Sushizanmai for a whole Maguro. It became one of the biggest news for this year. Followed by last year the company who bit the highest was Kiyomura Ltd., who operates Sushizanmai. Because of this news, Could Sushizanmai achieve a big attention from the crowds? They have conducted live cutting of its 155 million bit Ooma Maguro. We have reported "Sushizanmai" flagship store at Tsukiji market.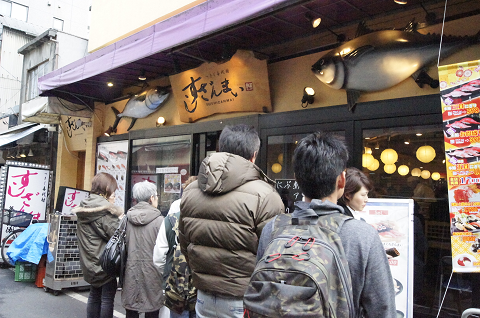 Sushi Zanmai head office. Matrix can be just for tuna.
"Sushizanmai" flagship store is located in the street within Tsukiji market where 39 restaurants are lining up. It is a highly competitive area where their direct competitor "Tsukiji Sushi ichiban" is also located. Sushi cuisine is known for its difficulty of making a attractive uniqueness therefore Sushi chefs mindset is strong and fishes are carefully chosen especially on representative Sushi dish Maguro has intimate competition.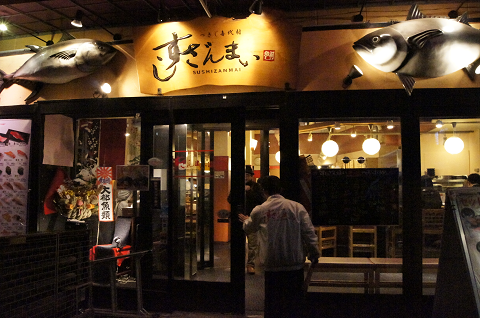 Sushi Zanmai head office.
Foodrink had visited the store in mid-January at 9 o'clock in the night. Only 24 hours Sushi shops lights are bright on the street. 70% among 132 seats were filled with business men after works in the restaurant.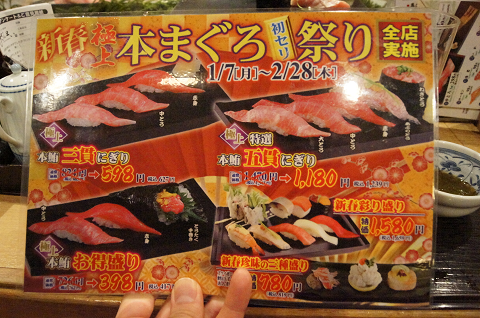 "Maguro Festival's first book Seri best New Year" campaign special menu.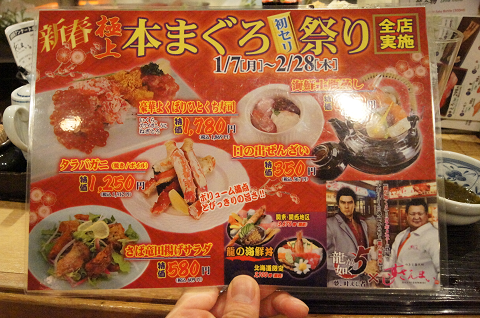 Table menu. Provide value for money than just Maguro.
First thing came to our eyes was the "New year exclusive Hon Maguro first bit festival" in the menu. Maguro dishes such as Ootoro, Chutoro, Akami, Aburi-Toro, Negi-Toro and Torotaku hand rolls were offered at about 280 yen cheaper than regular price. Valid date was between 7th January (Monday) to 28th February (Thursday). Bitted Maguro should have been finished already however festive mood still continues for Maguro dishes in the menu.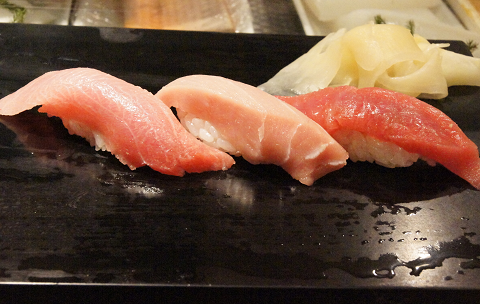 Ootoro(left), Chutoro (middle), Akami(right).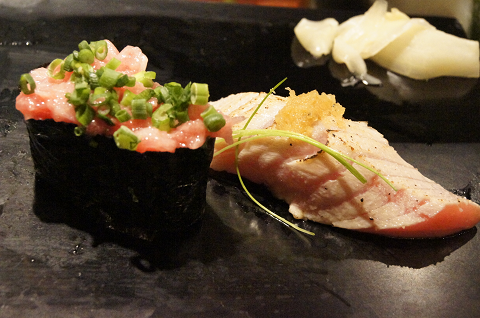 Negi-Toro (left),Aburi-Toro(right).
Chefs told us Maguro has been selling really well. The cause seems like its discounted price rather than Maguro first bit topic because other 24hours sushi shops was also packed with customers as much as Sushizanmai. It seems like positioning strategies against other competitors was not done well. 
Foodrink had visited on weekday lunch on other day. There are much more visitors in Tsukichi market in day time compare to night time. There are many tourists and popular restaurants have queues outside. Traditional Sushi restaurants in Tsukiji market seems like they have stronger identity compare to chain Sushi restaurants. The advantage on having a store in Tsukiji market is definite strength though.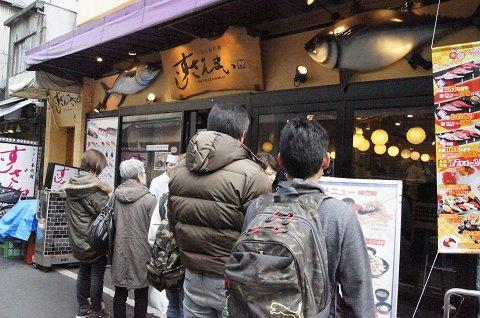 During lunch I can matrix.
Among other restaurant, Sushizanmai flagship store was filled with customers and long queue on outside. Some of the customer in the queue was taking picture of the huge poster of "New year exclusive Hon Maguro first bit festival". Tourist customers increased drastically since first bit. The promotion of "New year exclusive Hon Maguro first bit festival" is conducted in all stores however only flagship store has strong popularity and the other 2 branches located in the same Tsukiji market has no queue. It made us wonder why.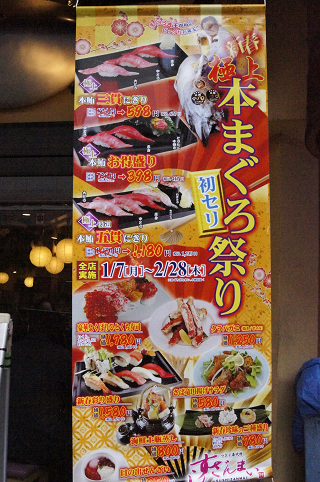 Poster shop.
1 shot of 15 second TV commercial would cost 2 million yen. Countless hours and many media companies has featured Sushizanmai's bit in variety programs. Was there a strong promotion effect by spending over 155million yen for a Maguro bit? The company director Mr. Kimura Kiyoshi had commented on TV that the bit was not for promotional purpose and bit Maguro has used up in flagship store. No matter the reason, the fact caused definite interest by its audience and consumers. The flagship store business is doing well. The bit Maguro has been sold out however customer queue never stopped to indulge the talk-about Maguro. However there is concern that other branches are quiet and not in festive mood as flagship do. I just hope it will not be a temporary one shot fame.
comments powered by

Disqus