Since opening on May 22, "Tokyo Sky Tree" new landmark in Tokyo tourists visit endlessly every day. Reservations are required still at the two observatories overlooking the Kanto Plain. Not just observatories and the world's tallest tower of 634m, it subdues shopping mall "Tokyo Soramachi", tourist facilities "Sumida Aquarium" and "Konica Minolta Planetarium", office building "Tokyo Sky Tree East Tower ". However there is no cinema complex and housing, it forms "Tokyo Sky Tree Town" by the idea of making one town.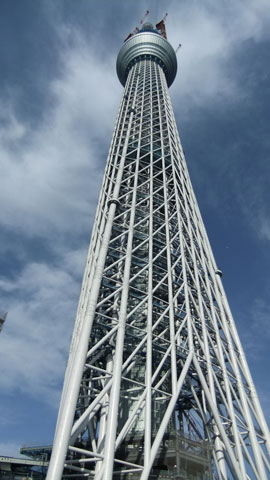 "Tokyo Sky Tree"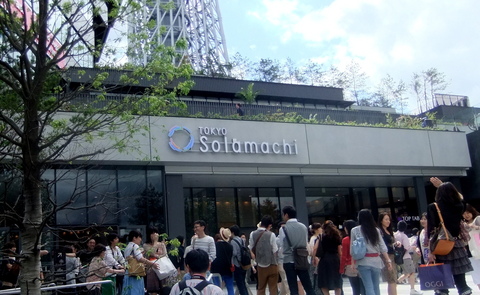 "Tokyo Soramachi"
At the restaurants in "Tokyo Soramachi" tourists are overflowing. They should wait for a long time in a line. However its high rent is worrisome, the ability to attract people is better than expected. For the time being the number of tourists does not seem to fall.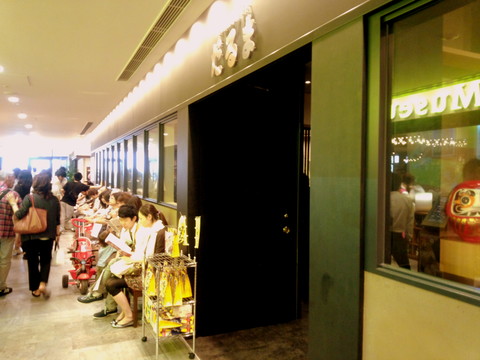 "Daruma" specialized in Monja, a street food in Tokyo is one of the most thriving shop in "Tokyo Soramachi."
Apparently, "Daruma" specialized in Monja, a street food in Tokyo and "Rikyu" specialized in Gyutan, charcoaled beef tongue, seem to be the particularly strong. That many senior tourists, that Sumida is a downtown, would be reasons of their strength. "Rokurinsha" of Tsukemen, noodles accompanied by soup for dipping and "Tamahide" of Oyako-Don, bowl of rice topped with chicken and eggs will become popular in future.
In addition, young couples of child-rearing generation want to live around "Tokyo Sky Tree". They use "Tokyo Soramachi " as the common shopping place and have demand to enjoy smart restaurants on holidays and off-time. As a pioneer to catch such customers, "Brasserie Ozami", "Rigoletto Rotisserie & Wine" and "Amara Authentic Indian" are challenging.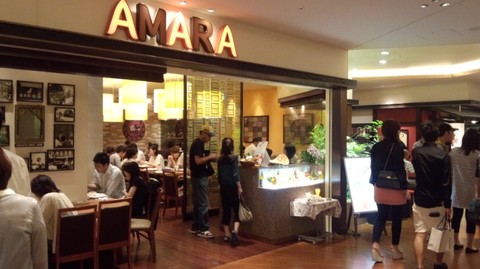 "Amara" healthy Indian cuisine is served in the principles of Ayurveda. Also open second restaurant in "Lazona Kawasaki".
Being deprived of their customer the shopping district outside "Tokyo Soramachi" seems to have smaller customers than before. However the population will increase in the long term. Such business categories which are fit to new residents will prosper. As mimic of "Tokyo Sky Tree", "Soba Kamimura" offers "Tower-Don" and "Sakura Cafe" does "Sky Tree parfait" Those restaurants are thriving.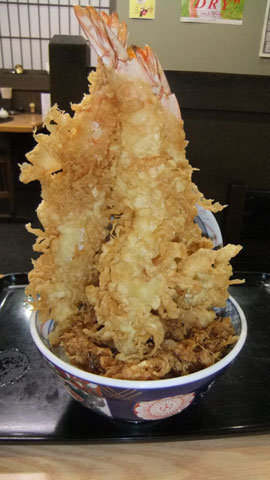 "Soba Kamimura" offers "Tower-Don".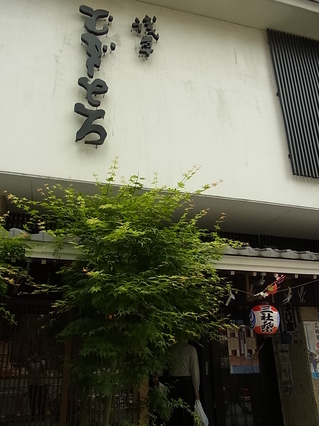 "Asakusa Mugitoro" specialized in Japanese yam cuisine, has benefited from the increase in tourists in Asakusa.
As a tourist destination set, Asakusa is also activated. Not only long-established restaurants like "Asakusa Mugitoro", "Asakusa Imahan", "Yoshikami" and "Daikokuya Tempura", chained Izakaya like "Watami" and "Tsubohachi" are thriving. Increase in population, various downtowns, Hikifune, Mukojima, Yahiro, Kuramae, Ryogoku, Kinshicho and Kameido around Asakusa, has been gradually crowded.
In Oshiage, east side of "Tokyo Sky Tree" there are restaurants renovated from old houses like wine restaurant "Endo Risaburou Shouten", Soba café "Choujuan", Sake bar "Suika" and Curry café "Spice Café". People are hopping among these restaurants.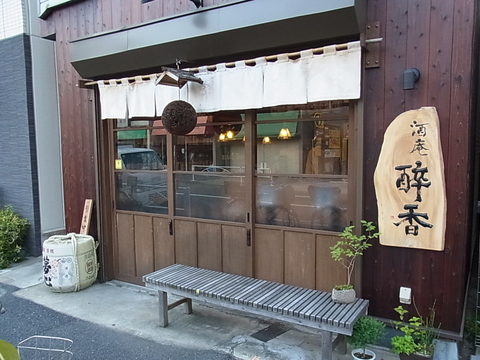 "Suika", popular Sake bar.
Cafe "Cielo y Rio" facing the Sumida River is full of housewives to take lunch in between to and from a child to kindergarten. In Kameido Yakiniku and Horumonyaki, grilled beef or pork offal like "Kameido Horumon" are booming. Meat lovers rally around.
In this way economic ripple effect of the "Tokyo Sky Tree" is extensive, being created a vast new F&B market on the east side of "Tokyo Sky Tree" and both sides of the Sumida River.
comments powered by

Disqus