January 7, 2013 02:49 PM
Mr. Matsumoto Takashi RDC Ltd., Executive managing director of products and international affairs[Japan]
By Junnosuke Nagahama Reported on December 4
Keywords : China  Gatten Sushi  Korea  RDC Ltd.
Starting from gourmet Kaiten sushi (Conveyer belt sushi) "Gatten Sushi", RDC Ltd., (Headquater located in Kumagaya city, Saitama) has been developing various kinds of F&B businesses. Japanese style Gatten Sushi had joined global market in 2008 from Shanghai followed by Seoul, Korea and Los Angeles, United States. Currently group holds total of 13 global outlets including 4 outlets in Shanghai, 3 outlets in Seoul suburb area, and 6 outlets in Los Angeles district. The group has never compromised on keeping the original Japan style as domestic and it has never been fail to grow. They are intending to grow their business bigger by remaining aggressive attitude towards China and Korea.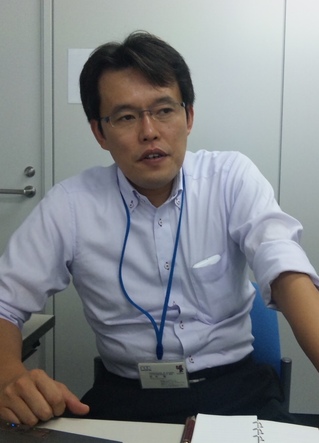 Mr. Matsumoto Takashi RDC Ltd., Executive managing director of products and international affairs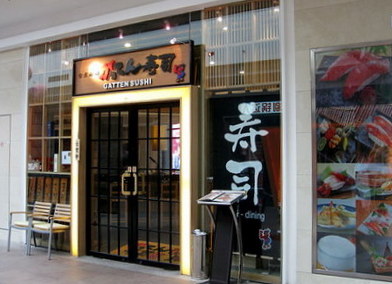 Gatten Sushi first branch in Shanghai located Cloud Nine shopping center in Pudong
"The reason of joining global market was to penetrate real Sushi culture to the world which was the strong wish from deceased director, Mr. Ooshima Satoshi. "We were not particular about the location as long as we can manage by sole ownership. Korea was 80% confirmed as first branch at the time however some problem occurred and we were considering either Los Angeles or Bangkok. However Shanghai project came up in sudden and condition had perfectly matched so we have contracted and decided to start from Shanghai."
At the period, Most of Kaiten Sushi in overseas was just cheap in price. Itacho Sushi in Hong Kong was the only gourmet Kaiten Sushi in overseas. We focused on how Sushi chef workmanship and technique can be adopted at each country. Potential investors in Shanghai advised to take a different strategy and style than what has been done in Japan such as making price lower, focus more on Teishoku set meal and to change to eat-all-you-can system. However Mr. Ooshima insisted the style must remain the same as Japan and offer authentic taste to foreigners.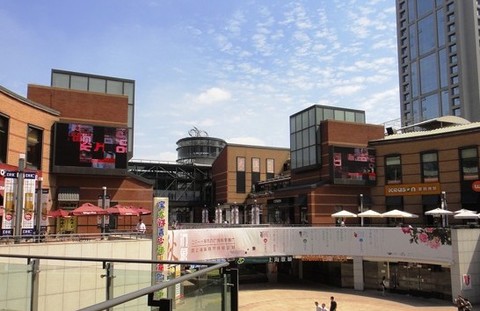 Cloud Nine shopping center where all luxury brands are located
Partners in Shanghai are a Japanese system engineering company based in Shanghai and they had one Japanese speaking Chinese accountant. At the time, Japanese Izakaya in Shanghai charges only 168 yuen for eat all you can, casual Italian restaurant "Saizeriya" budget was 38yuen. 1 plate of Sushi costs 6 yuen. It was worried if higher price setting of 130 yuen per person can be well penetrated in Shanghai market. After careful discussion among team, last word of Mr. Ooshima was the key to decide on this business start. He said "As long as we do what we want to do, there is no regret even it results failure." Private room is provided in the restaurant to make an exclusive feel.
Location for first branch was chosen at newly opened shopping center in Pudong. The contract had been made in June 2008 and planned to open in November. However when shopping center opening ceremony was held in November, fully ready-to business tenants was less than 10% where around 100 outlets supposed to be opened at the time. It is often happen in China that it will take about 1 year to fill the tenant spaces active in the new mall.
"Gatten Sushi" also had to bare some delay of 3 weeks and opened just before Christmas season. The restaurant was packed with neighborhood construction work noise and dusts. There was no way to make a relaxing dinner atmosphere.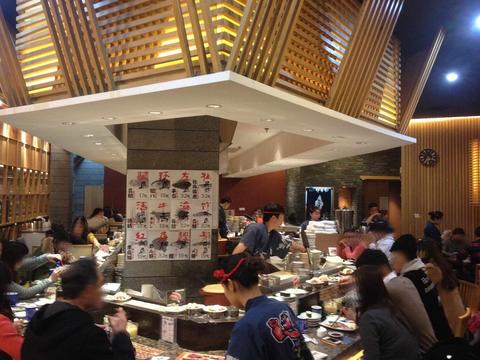 Gatten Sushi Shanghai outlets, interior
Shanghai method is different from Japan, where make a big opening event to attract customers. There was expectation of visits from 10 thousand local Japanese who lives in East Pudong across Yan Zi Jiang. However we later found out 4 times more Japanese lives in Puxi area in Shanghai. Our area marketing was not studied enough and obviously target market was smaller at Pudong. 
When restaurant was launched, many of Japanese customers arrived and filled 80% of the store. The shopping mall was in convenient location using local subway however Japanese customers gradually decreased. It made us realize Japanese in Shanghai cannot afford to have frequent Sushi dines costs around 2000 yen per person. They need to start targeting to rich Chinese. There are 600 to 800 thousands rich Chinese who owns more than 10 million yuen assets living in Shanghai. Research showed us that those people do not use subway to go around.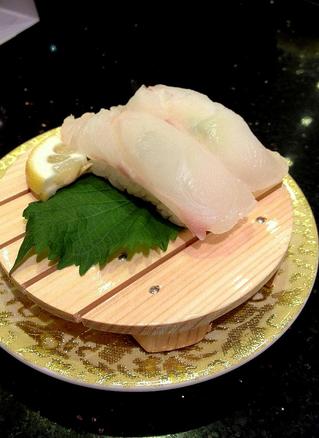 High grade fish longtooth grouper could be on the menu
Miracle happened in sudden. Chinese popular food media "大衆点評" ranked "Gatten sushi" 5 out of 5 marked by customer who have tried Gatten Sushi. The ranking was highly appreciated for all categories of taste, service and atmosphere by gourmet Chinese people.
"Japanese style of sushi chef making sushi roll dressed in Japanese traditional wear, Happi became popular in Shanghai. Chinese people preferred the concept that is unique and different at their neighborhood. We have 80% of Chinese customers today."
Quality of taste is of course part of the success however it is not enough to make a strong impression. "Gatten Sushi" made great success through internet word of mouth by presenting real and direct Japanese style Sushi without any compromise. Today there are more Chinese customers than Japanese. Mr. Ooshima's strong belief on his style was never wrong.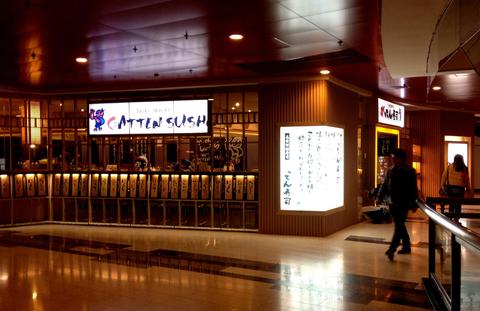 Gatten Sushi 4th outlet in Shanghai opened at Shanghai Super Brand Mall in Pudong
They struggle on supplying fresh seafood. They had start researching on the distribution line intimately and currently 10 main dishes offered at the restaurant including Tuna, Crab and Unagi is directly imported from the producing area.
There is no convenient and low cost courier service like in Japan available in Shanghai. Shop manager goes down to pick up location such as train station every day. Other ingredients are carefully chosen and supplied by local companies. "It is not in standard of serving customer with a smile in China. We need to train from scratch to become shop manager. All service standards are in Japanese style and it resulted to gain great appreciation by locals. We had a good luck in Shanghai business. "
The biggest difficulty we had in gourmet Kaiten Sushi restaurant business was the method of presenting reasonability. It is not only about cheap or expensive by looking at price amunt but to show the value of the goods in return. There is no standard price in Sushi and it is hard to define specifically. It is straight forward to present the value towards Japanese people since they have been in Sushi culture for long while but not for foreign business starter. Japanese owned company has such strength on having Sushi business presentation skill in overseas.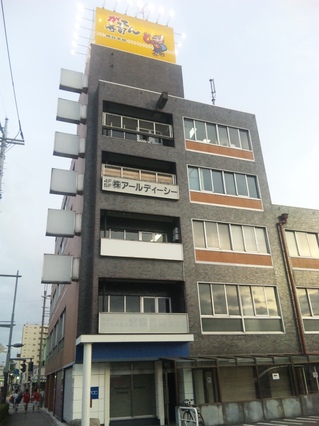 RDC headquarter in Kumagaya city, Saitama
Korea business is managed by local director. He is educated in Japan and entered the company and promoted to become management executive. He had started off his own business and now back to the company to support Korea district. They are intending to gather worldwide team to create better distribution model. 
Conflict between China and Japan continues today. "Demonstration is happening in suburbs where market is developing. Developed city like Shanghai stays cool." They believe cities where "Gatten Sushi" is trying to branch out has no such problem occurs. We ever refrain from opening the restaurant in the morning when there was rumor that demonstrators will come but it did not happen in the end.
Whole world is in Japanese food trend. Mr. Matsumoro commented proudly about his global expansion, "As long as you study and understand about market well, it is possible to make a demand such as Gourmet Kaiten Sushi in Hong Kong." The company is intending to branch out to Guangzhou and Shenzhen in China and Pusan in Korea.
comments powered by

Disqus