December 31, 2012 01:03 PM
[Japan]
By Masaaki Yasuda Reported on December 30
Japan in the future did not look good. Its confidence was gone. The accident that fall of the highway tunnel ceiling panel in the middle of December was shocking. Yellow signal has to be lighted at safety myth of Japan. At the time, I was in Singapore, it is not a Japanese election, flowing on television news, tunnel accident. Some audience might thought that Japan has been similar to China.
Abe Cabinet declares to perform at the highest priority of rebuilding the Japanese economy. To break away from deflation, and 2% increase in the rate of inflation. There is a hope in Japan's economic recovery. Yen become weaker and the Nikkei average was finished this year with the highest year-to-date.
"Yoshinoya", Gyudon restaurants developed "Kiwami" on October. A limited number of menu, available in 250 yen par one bowl. It is the cheapest price among several competitors. Two outlets in Tokyo. However, now they announced the price increase of 30 yen to 280 yen from January 1 next year. Just two months after opening. The number of customers does not meet up their expectations. Or they expect inflation by Abe Cabinet.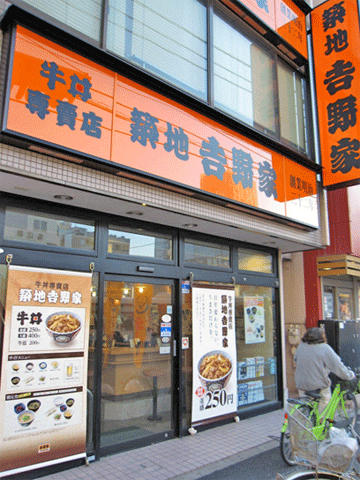 Yoshinoya Kiwami
McDonald's, the symbol of deflation is another. The sales at comparable outlets have been below the previous year from April to November. I went to McDonald's. No hand menu at the cash register, and staff to order early in silence. So to speak, the outlet was a huge vending machine.
Among deflation, "Singapore Seafood Republic", "Lawry's Prime Rib" and "Barbacoa Churrasco" seems to be thriving despite greater than 5000 yen per customer. I went to "Lawry's" in Singapore, It was thriving in quality exactly the same as in Japan. Also, there is a spinning salad, its signature menu. Brands surviving in the world's competition are strong.
Next year deflation may change to inflation. Even if it succeed, you can not expect just a price increase. There is a word "value for money" which has been overused, The judgement of whether there are valuable or not is difficult. Do not become self-righteous The judgment is polished by continuity to see a wide variety of prosperous outlets.
FOODRINK NEWS will continue to report a wide variety of prosperous outlets and those operating companies & executives. For everyone in the restaurant industry I wish to have a good year. Thank you for your supporting FOODRINK NEW also in next year.
comments powered by

Disqus