December 27, 2012 01:51 PM
Mr. Ueda Masanori Ab Out Ltd., Director, Chief of Management Planning Division and General Manager of Outlet Development Executive Division [Japan]
By Junnosuke Nagahama Reported on November 25,2012
Ramen SANTOUKA is a Ramen chain store business which originated in Asahikawa city, Hokkaido Prefecture and has 28 domestic and 19 overseas outlets. Recently the company has been rapidly growing overseas, and finally, the sales of the overseas outlets exceeded the domestic sales this year. When the company initially started its franchise chain business, many of the domestic outlets were small, with only 12-20 seats. On the other hand, the overseas outlets were mainly bigger outlets with 50 or 60 seats. In US, the outlets are located within food courts so the number of seats is not an issue. While a few domestic outlets closed this year, such as Shinsaibashi outlet (Chuo ward, Osaka Prefecture) in May, Takigawa outlet (Takigawa city, Hokkaido Prefecture) and Nakano outlet (Nakano ward, Tokyo) in September, the company's overseas expansion is doing very well. Overseas outlets opened this year include, Jakarta Plaza Indonesia outlet (Indonesia) in June, Beijing Station outlet (China) in October and Toronto Dundas Street outlet (Canada) in November. In total there are now 8 outlets in US, 2 in Canada, 3 in Hong Kong, 2 in Taiwan, 2 in Singapore, 1 in Malaysia and 1 in Indonesia.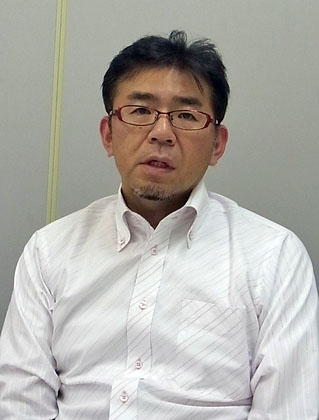 Mr. Ueda Masanori, Director, Chief of Management Planning Division and General Manager of Outlet Development Executive Division of Ab Out Ltd.,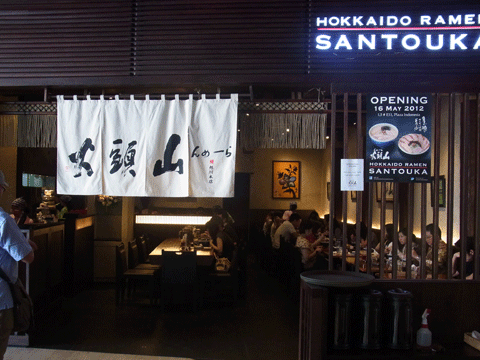 Santoka First Branch in Jakarta, Indonesia located in luxury shopping mall Plaza Indonesia
"Japanese food is popular everywhere around the world such as US, Canada and Southeast Asia. And thanks to the popularity of Ramen, we are receiving an enormous boost. In Japan, I don't think the Ramen market will grow any further. Especially with the aging popularity, even if the young people are crazy about it, if the elderly do not like it, not much can be anticipated. (That's why) there is more hope overseas", Mr. Ueda Masanori, Director, Chief of Management Planning Division and General Manager of Outlet Development Executive Division of Ab Out Ltd., (HQ in Chuo ward, Sapporo City) that manages SANTOUKA declared that they will be aggressively pursuing the overseas market rather than domestic from now on. One thing to be noted while expanding into overseas market is to be careful of the people's preference in taste. For Japanese, oily Ramen will be not an issue, whereas in overseas, people will consider it unhealthy and prefer not to eat it. Also, people in Southeast Asia like spicy but not so much sour or salty. For that matter, SANTOUKA's ramen has a light taste and is not so oily. We use pork bone broth for the soup which has a creamer texture without being too salty, so it is popular with our customers.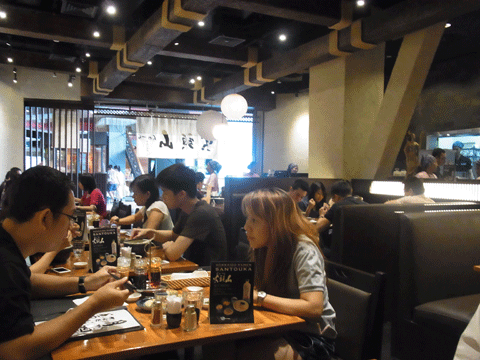 Restaurant is packed by local Indonesians. Ramen trend is also hot in Indonesia
In every overseas outlet, you can enjoy the exact same taste offered in Japan because "In all the outlets, we make our soup by slow cooking pork bone for about 16-18 hours. Of course each country has differences in its cooking heat intensity, water quality and temperature so we have to make small adjustments accordingly. But basically, we offer the same soup, noodles and char sew pork that we offer in Japan." However, it was not all smooth from the start. The very first overseas outlet opened in Hong Kong in 2003 ended in failure and the company had to pull out from the Hong Kong market in the end. "We had an offer from a Japanese owner so we went ahead with our franchise chain business (in Hong Kong). During the first year, we sent our people and worked hard on establishing our brand. But after the first year when our staff went back, (the local staff) changed the ingredients to cut cost without our permission. As expected, the sales dropped and resulted in closing the outlet. We learned a good lesson."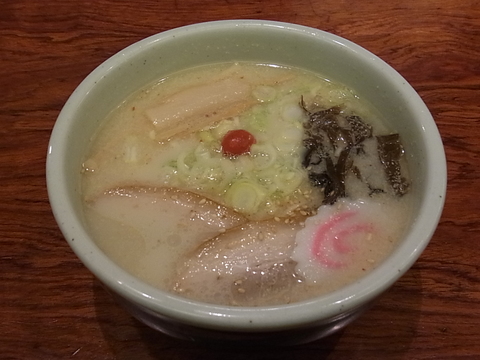 Santoka signature Shio Ramen. Topping sour plum looks like Japan flag. This flavor is spreading all around world.
The following year (2004), they opened an outlet in Costa Mesa, in suburban Los Angeles. Ab Out's Chairman Mr. Hitoshi Hatakeyama and CEO Mr. Shinichi Kikuta invested together with Kamei, a trading company in Sendai, as a joint venture and incorporated a local company for this project. All outlets in the North America group such as US and Canada are directly operated by this local company. It all started the previous year when they saw a business opportunity at a Hokkaido fair held at a shopping center called Mitsuwa Market Place, previously known as Yaohan, where many local Japanese residents gather. The fair was a big success and they saw a big demand. Outlets in Hong Kong and Taiwan are also now managed by Ab Out's wholly-owned subsidiary, not as a part of the franchise chain business. The Southeast Asia group with Singapore as its base is also a joint venture with Kamei. Although outlets in Malaysia and Indonesia are franchises chains, supervisors from Singapore visits the outlets twice a month.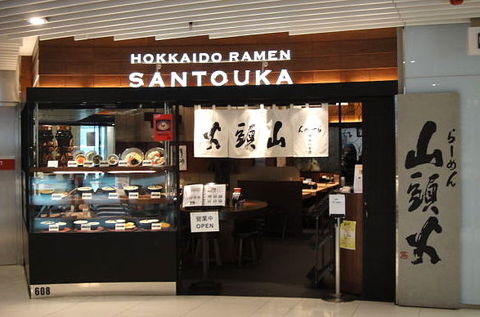 Santoka 2nd branch in Hong Kong opened in iSQUARE Tsim Sha Tsui in December 2009
Mr. Ueda stresses the importance to monitor overseas outlets more than domestic outlets in order to be consistent with the quality of food, "You should never neglect your overseas outlets. The Chairman, CEO and I visit and check the outlets about twice a month. It is difficult to constantly get the same ingredient overseas so someone who can be responsible with the quality needs to always monitor it. Especially when slow cooking the pork bones, it is difficult but very important to monitor the water level every now and then. We continuously re-train our staff." Our decision to re-enter the Hong Kong market was made when we were invited by Jusco, which we had good relations with in Japan, when they fully renovated their Kornhill outlet. Our outlets in Singapore are also located in shopping centers and (how we came about the idea to incorporate a local joint venture with Kamei is that) Kamei was looking for other business opportunities other than oil to venture into that has good growth potential and chose the Ramen business. The ramen prices are priced similarly as in Japan at around 800yen in all the overseas outlets. At the moment, the Japanese Yen is strong so in US it is cheaper at about 650yen but more expensive in Singapore at about 950yen. "It is unimaginable to eat pork bone broth ramen in Muslim countries like Malaysia and Indonesia but the local Chinese can enjoy it. In Malaysia we state our store as non-Halal. There are many well-to-do local non-Muslim Chinese so we strategically locate our outlets in high-end shopping centers where they shop" which means you can spot SANTOUKA amongst luxury brands such as Hermes and Louis Vuitton. A 800yen ramen for lunch is about 3-5 times the average lunch spending and is considered very expensive for the average population in Malaysia and Indonesia but for the affluent local Chinese it is not a problem. However, it is still not considered cheap as it is an ongoing developing semi-developed country where house rents are high.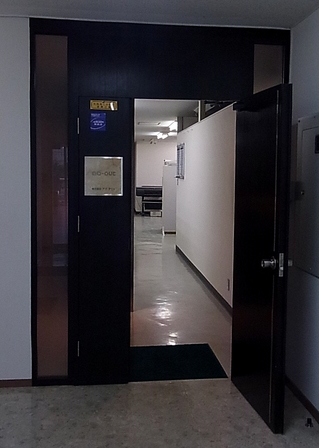 Ab Out Ltd., headquarter. Unlimited offer on opening another branch of Santoka
The company receives offers from overseas 2-3 times per week. They are planning to increase the number of outlets in Indonesia and entering the Thai market, as well as the Philippines. (They feel) there is more demand in US. Europe and Australia are also within their radar. On the contrary, Singapore's ramen market is in an excessive competition stage without much growth expected ahead. "What is good about Southeast Asia is that the people have a sense of adoration towards Hokkaido. And so we state clearly on our signboard that we offer "HOKKAIDO RAMEN" to call attention." When we talk about globally successful ramen chains, AJISEN RAMEN usually comes to mind. With its advantage of the favored Hokkaido image supporting them, SANTOUKA might become the next-AJISEN to be known as a global brand.
comments powered by

Disqus